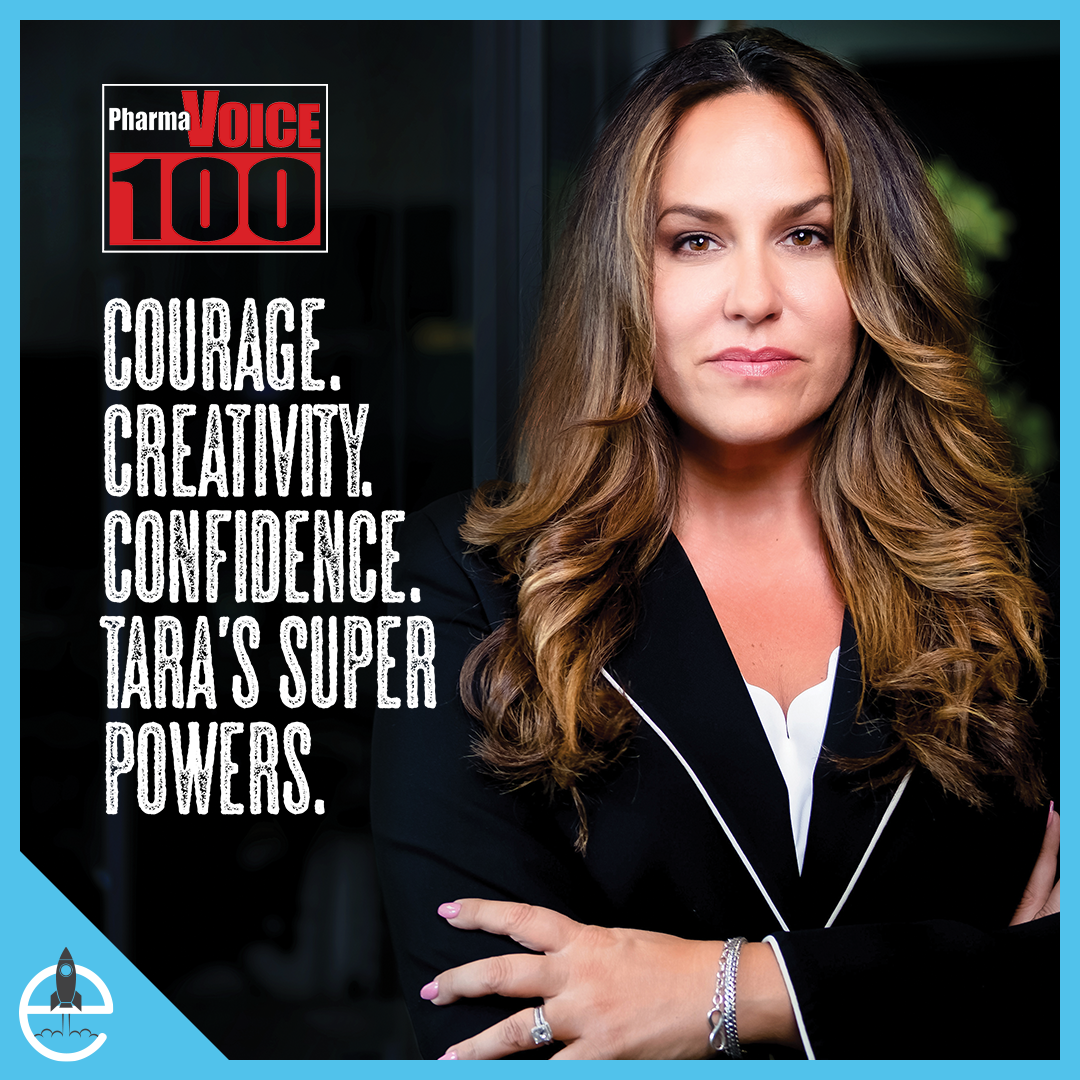 CREATIVE, STRATEGIST, MENTOR—AND NOW A MEMBER OF THE PHARMAVOICE 100
TARA POWERS HONORED AS ONE OF THE INDUSTRY'S MOST INSPIRATIONAL LEADERS
Over her two-decades-long career, VP, Creative Director of Elevate Tara Powers has proven time and time again that she possesses creative and strategic superpowers beyond those of us mere mortals. No matter the therapeutic category or creative challenge, Tara is capable of developing solutions that not only hit on the strategy but are also timely and engaging.
While she has a list of accomplishments that befit her creative talents, including awards from Clios, Manny's, MM+M, Trailblazers, PharmaChoice, PM360 Elite, The Rx Club, and the Doctors' Choice Awards, Tara has also demonstrated that she has legendary leadership skills and the ability to bring out the best in others. And so, it only seems appropriate that she has been included in this year's PharmaVOICE 100.
PharmaVOICE 100, which was launched by PharmaVOICE in 2005, is an annual list of the industry's top men and women throughout the life-sciences industry who have proven to be the most inspirational and innovative.
Barry Schmader, Chief Creative Officer of Elevate Healthcare, said, "Tara brings a unique set of skills to every assignment. She can seemingly do everything extremely well and, amazingly, on demand. She is a tremendous asset and one of our most essential resources."
Despite the unique challenges that the pandemic has created, Tara has only grown stronger and more capable in the face of adversity. Tara continues to cement herself as one of the best talents and leaders in the industry. As a result of her leadership over the past year, Elevate has thrived, winning new business, Agency of the Year and Professional Campaign of the Year honors from MM+M, and was named one of the Best Places to Work in Pennsylvania.
Paul Wesemann, Associate Creative Director of Elevate Healthcare, said, "Learning from Tara has been one of the best opportunities that I have had in my career. Her mentorship has led to career growth that I couldn't have imagined. We are always watching and learning from her, even when she's not teaching."
The entire team at Elevate would like to congratulate Tara on this incredible honor. We are thrilled to not only have her as one of our creative leaders, but as a key mentor for the next generation of talent in our industry.
The full list of PharmaVOICE 100 honorees will be celebrated at a virtual event this September. To reserve your free ticket, please visit the event website.
About PharmaVOICE
PharmaVOICE is expressly written and designed to deliver the views, opinions, and insights of executives who are shaping the direction of the dynamic life-sciences industry. PharmaVOICE reaches more than 46,000 BPA qualified subscribers and is distributed to 60,000 industry executives with the digital edition. Their circulation includes executives from pharmaceutical manufacturing, biotechnology, drug discovery, research and development, contract research, drug delivery, and device/diagnostic companies. The publication also targets decision makers at healthcare advertising, marketing, medical education, public relations, information technology, contract sales, traditional and nontraditional media, and other service support companies and organizations.