ACCRUFER® FEATURED IN PM360 2022 GREATEST CREATORS ISSUE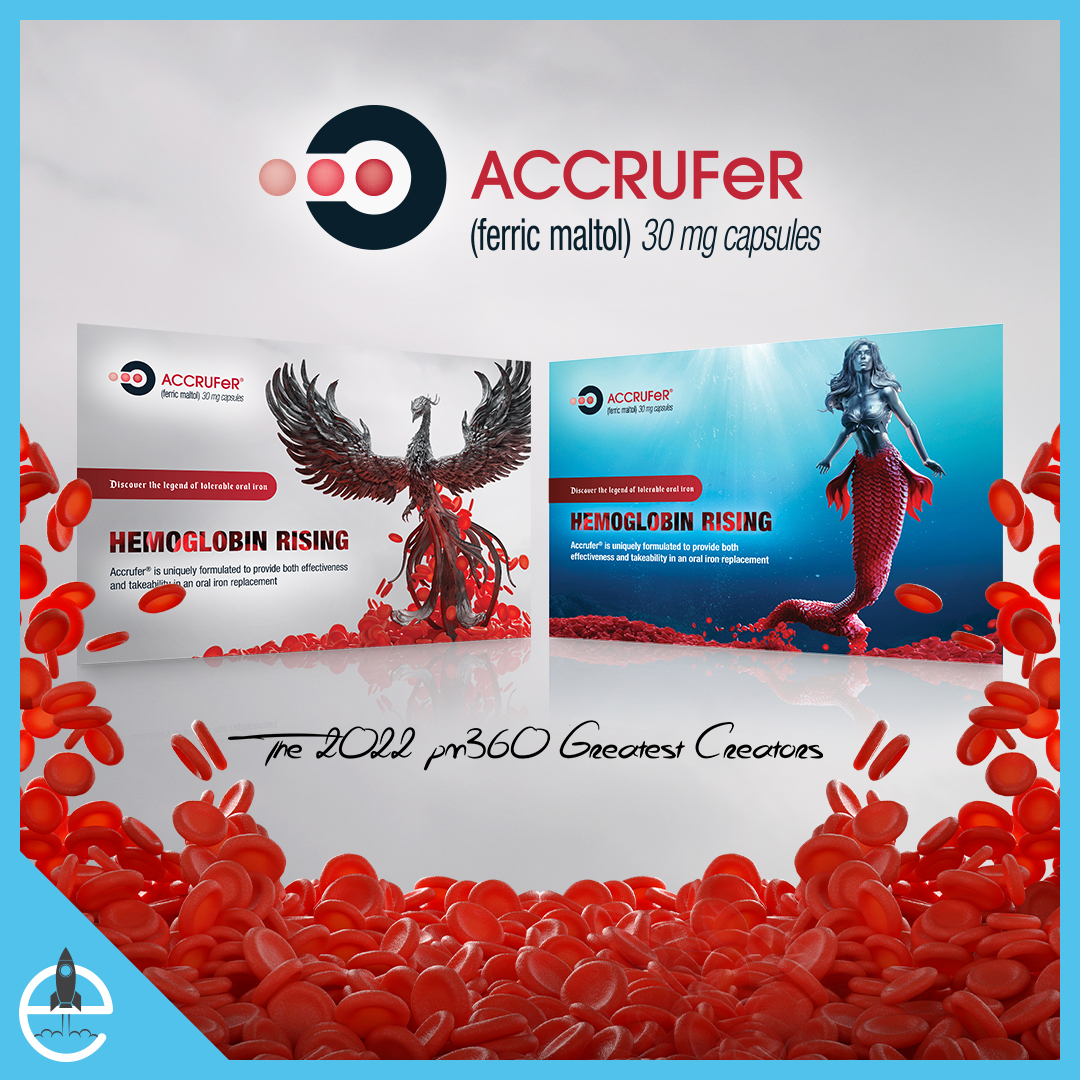 ACCRUFER® FEATURED IN PM360 2022 GREATEST CREATORS ISSUE
LAUNCH CAMPAIGN FROM SHIELD THERAPEUTICS STANDS OUT AND RISES UP
ACCRUFER® (ferric maltol) needed a professional launch campaign that had presence, power, and prominence. Elevate Healthcare is always looking to raise the standards of what impactful creative looks like. Both sides worked together to develop the healthcare provider campaign to raise awareness for the oral iron treatment. "Hemoglobin Rising" reimagined what creative can be, with the help of some imaginary creatures. PM360 recognized the campaign in the 2022 Greatest Creators issue, an honor that couldn't have been possible without the incredible marketing team at Shield Therapeutics.
ACCRUFER is different from other oral irons, which normally are hard on digestive systems. The team drew parallels to mythical creatures, and from there, the campaign was born. With the Phoenix, the legend of tolerable iron was born, later followed by the Mermaid in the campaign for women's health. The creatures rising above the red blood cells symbolize the increase in hemoglobin levels.
Elevate's Chief Creative Officer Barry Schmader said, "'Discover the legend of tolerable oral iron' speaks to the brand's unique 'takeable effectiveness,' our term for something that has been a myth until now—proven efficacy AND tolerability for patients. We knew a game-changing product needed a game-changing brand to match, and this one is going to be legendary in the oral iron space."
If the creative can tell the scientific side of the story while remaining striking and memorable, then success won't be too far behind. That proved true as the campaign resulted in a media performance click-through rate that exceeded industry benchmarks and helped drive high brand awareness throughout the launch efforts.
Tara Powers, VP, Creative Director, said, "We built this brand with an eye on relevant scientific references to effective red blood cell development juxtaposed with the steely greys of the brand representing successful iron replenishment. The mythical creatures were a perfect visual platform. The combination is just such an attention-grabbing and memorable ownable brand device. It doesn't just have stopping power, it has staying power."
For more on the 2022 Greatest Creators, visit PM360.com.
About PM360
PM360 is the premier, must-read magazine for marketing decision makers in the pharmaceutical, biotech, diagnostics, and medical device industries. Published monthly, PM360 is the only journal that focuses on delivering the full spectrum of practical information necessary for product managers and pharmaceutical marketing professionals to succeed in the complex and highly regulated healthcare environment. By providing the full circle of enriching content, PM360 is truly an indispensable tool for busy and productive marketing professionals to stay at the top of their game.