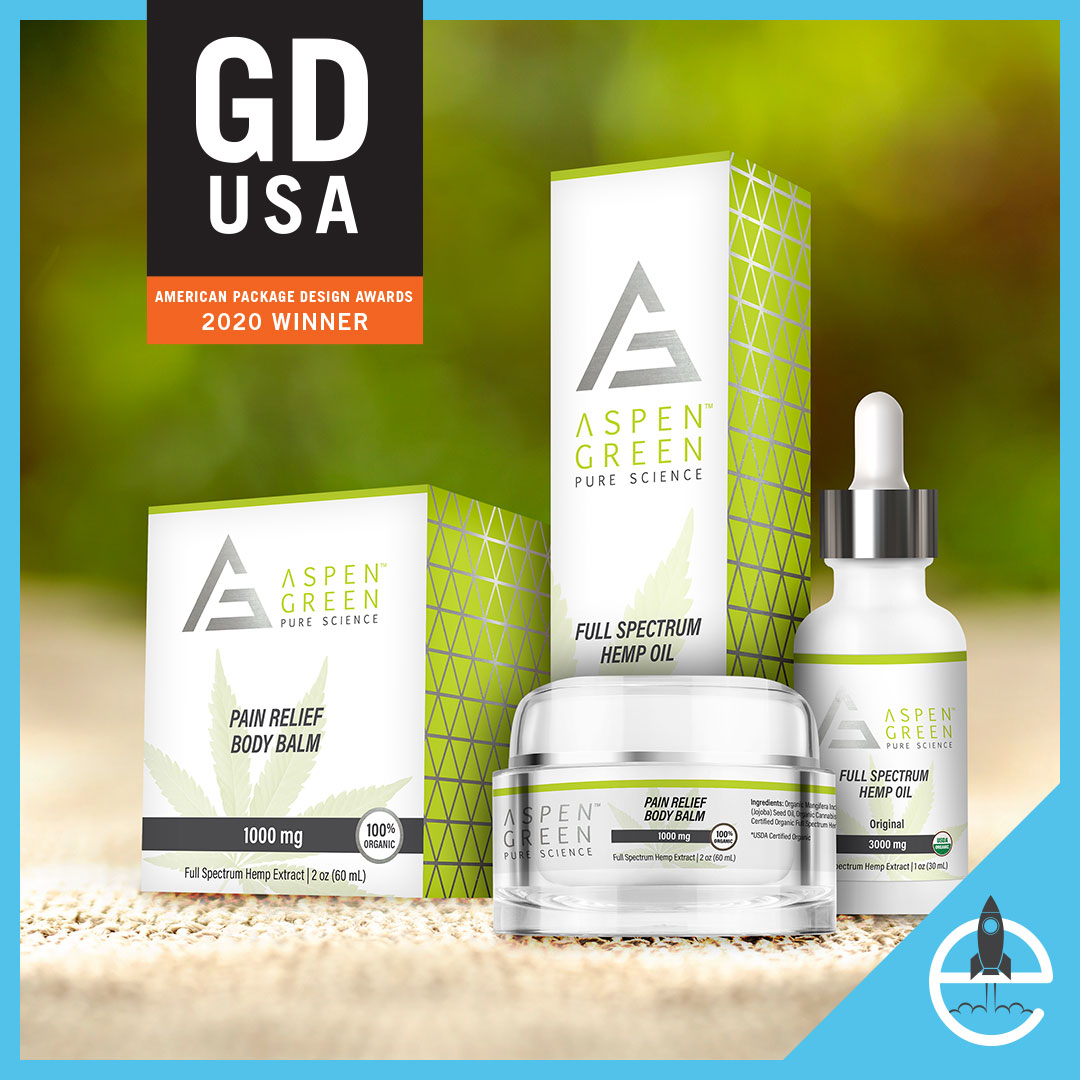 AMERICAN PACKAGE DESIGN AWARDS WINNER
Aspen Green packaging stands out among the competition
Graphic Design USA (GDUSA) hosted their annual American Package Design Awards, catering to different types of fields. These awards set out to celebrate the power of a great design, while staying true to the brand promise. II was an honor to take home a win for the Aspen Green packaging from such a valued source for graphic design professionals across the country.
Aspen Green is a CBD start-up that's bringing a new family of pure, USDA organic, full-spectrum hemp and CBD products to health-conscious people who practice wholesome, organic wellness. Focusing on science and purity, Aspen Green employs an exacting process to produce only the highest-quality, premium CBD products for its customers. It's about quality, integrity, and transparency. The packaging lists all the ingredients and highlights the potential benefits of the tinctures, balms, oils, and creams.
Our goal was to create packaging that reflected the brand's commitment to quality and that would position them as a luxury CBD company with the purest, USDA organic, full-spectrum hemp extract-meeting the expectations and standards of both Aspen Green and their customers. By showcasing the combination of science and innovation, we brought the strategy to life with awe-inspiring images of natural beauty.
The silver and green color scheme was chosen to juxtapose the high-end feel of a polished chrome with the uncoated green to represent nature. The A and the G form an icon that represents the mountain peak. Aspen Green hemp is grown in Colorado, which has the optimal climate and topography. They say Colorado is to hemp what Napa Valley is to wine.
Frank X. Powers, cofounder of Elevate, said, "I couldn't be prouder of this team and what we were able to accomplish. A lot of hard work went into getting the right design, but I think the end result speaks for itself."
Through a great partnership with Aspen Green, we were able to create packaging that represents their brand
and how they want to be introduced into the market.
Check out the full list of winners showcased in their Digital Edition.
About GDUSA
GDUSA covers news, people, project, trends, technology, products and services. The GDUSA brand now includes a 100,000 visitor-a-month website, a monthly e-newsletter, a digital version of the magazine formatted for desktop, tablet and phones, and several national design competitions that culminate in Annuals showcasing the best in Graphic Design, Inhouse Design, Web Design, Package Design, Healthcare Design, and Digital Design.