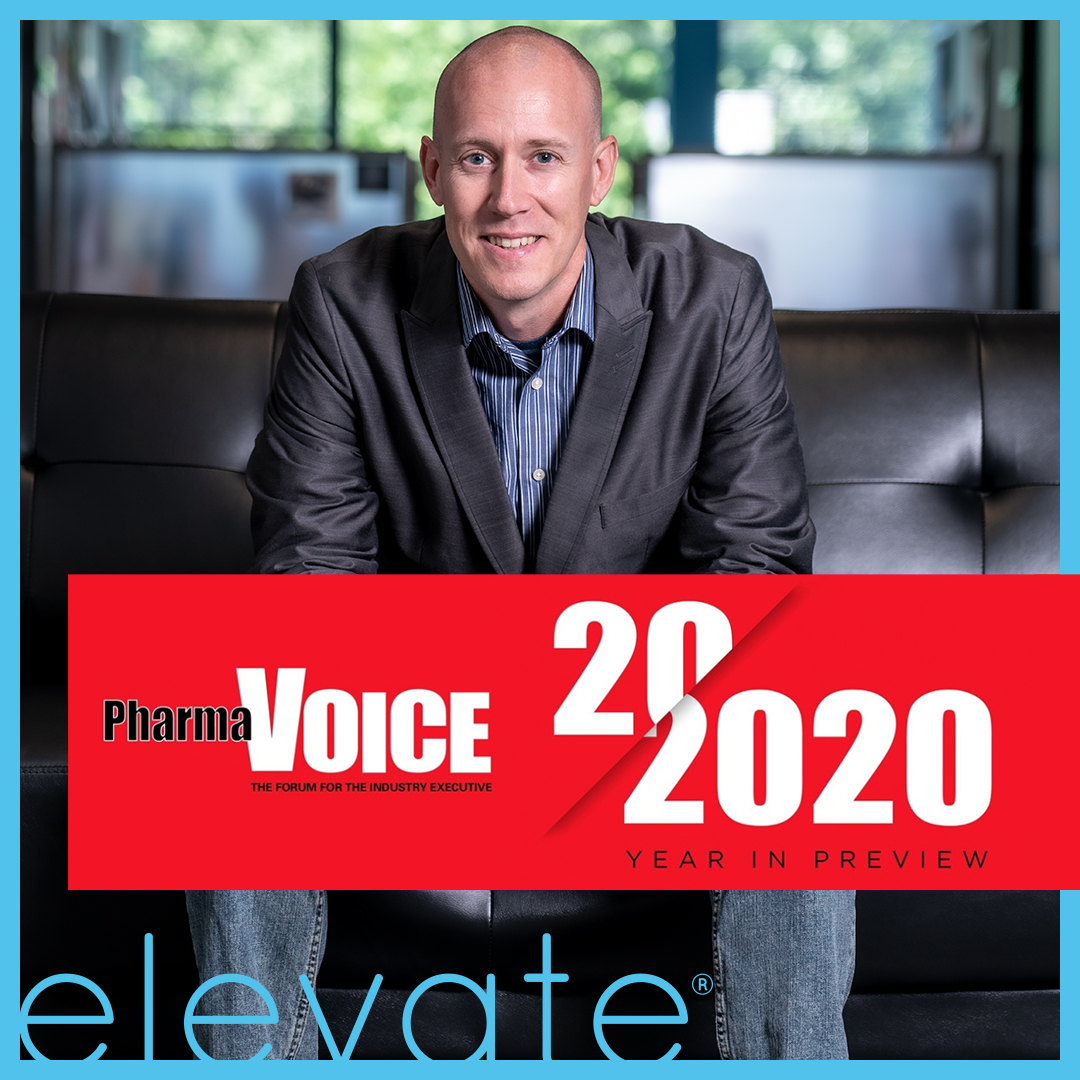 DAVE MARKS FEATURED IN PHARMAVOICE 2020 YEAR IN PREVIEW ISSUE
Elevate's VP, Medical Director, offered insights into the future of healthcare and more
Elevate is always looking toward the future. The more we can understand trends and become familiar with the latest developments in the healthcare industry, the more we will be able to produce work that stays ahead of the curve and pushes healthcare marketing forward. Keeping an eye on tomorrow allows us to help our clients stay ahead of the competition today.
The newest issue of PharmaVOICE is the 2020 Year in Preview, focusing on what the healthcare marketing landscape will look like. Dave Marks, Elevate's VP, Medical Director, was featured in the issue as he shared his insight about the direction he sees the industry heading.
When asked if robots could soon be replacing physicians, Dave pointed to the power and complexity of the human brain as to why a robot could never serve as an alternative to humans.
Dave added, "The sheer integrated processing power of a single human brain, with a lifetime of combined experiences, education, socialization, and memories in a network that is capable of endless adaptation, is staggering and could not be matched by any non-quantum computer."
It is widely known that research into Alzheimer's disease has been carried out with incredible amounts of funding, but a cure has yet to be found. Dave had an interesting take on this dilemma, tying it back to the study of cancer cells.
He pointed out, "It wasn't until we dug deeply into the biology of many cancer cell types that we learned just how different they are, and how cancers have different causes and are physiologically different from each other, though they all share the end result of rapid, unstoppable cell division. But their causes can be wildly different. The same could be true with Alzheimer's disease, where many disease processes all share the same end result.
Dave's comments on these topics are substantial considering the extent of his scientific background. His knowledge of the medical field is invaluable to everyone at the agency, and his resourcefulness plays a key part in our ability to deliver great work to our clients.
To read the full article and see what else Dave weighed in on, visit PharmaVOICE's website.
About PharmaVOICE
PharmaVOICE is expressly written and designed to deliver the views, opinions, and insights of executives who are shaping the direction of the dynamic life-sciences industry. PharmaVOICE reaches more than 46,000 BPA qualified subscribers and is distributed to 60,000 industry executives with the digital edition. Our circulation includes executives from pharmaceutical manufacturing, biotechnology, drug discovery, research & development, contract research, drug delivery, and device/diagnostic companies. The publication also targets decision makers at healthcare advertising, marketing, medical education, public relations, information technology, contract sales, traditional and nontraditional media, and other service support companies and organizations.