DePuy Synthes and Elevate Take Gold at the Pharma Choice Awards
A World of Plating Solutions Wins for Best Professional Campaign
PM360, a leading trade magazine for marketing decision makers in the pharmaceutical, biotech, medical device, and diagnostics industries, has named DePuy Synthes and Elevate Healthcare as the Professional Campaign Pharma Choice Gold Winner.
The "World of Plating Solutions" campaign was inspired by the DePuy Synthes global legacy of engineering excellence and unparalleled portfolio that provides traumatologists depth and choice to treat the most challenging clinical cases. It's a globe-full of plating solutions that gives surgeons the right solution for the right patient at the right time.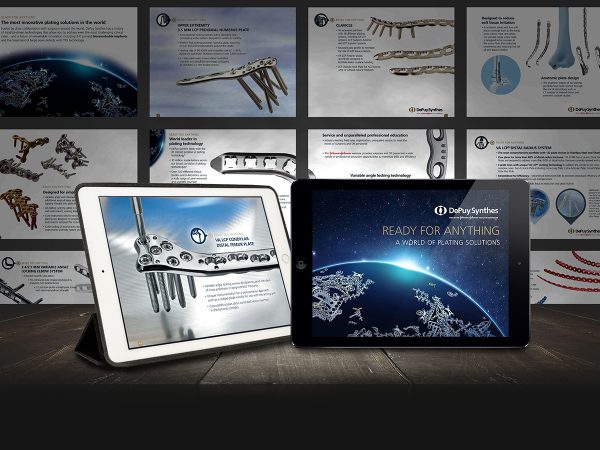 "We are thrilled to see the DePuy Synthes plating campaign recognized by the healthcare industry," said Elevate Creative Director, Tara Powers. "As one of the Pharma Choice Award's top vote getters overall, having the campaign grace the cover of the annual issue is truly a special honor and we are quite excited for the entire DPS team."
Since 2009, the PM360 Pharma Choice awards has served as the only industry awards to recognize outstanding achievement and creativity in healthcare marketing by allowing the industry as a whole to choose the winners. All submissions are placed online where anyone in the industry can vote for their favorites based on content, format, imagination, influence on the industry, and overall quality. More than 7,000 votes total were cast to decide this year's winners
"As the only awards in the industry that gives everyone a chance to offer their vote on who is most deserving of being honored, winning means that you earned the admiration of your peers," says Anna Stashower, CEO and Publisher of PM360. "We congratulate all of this year's winners whose high vote totals represent the fact that their colleagues believe they had the most creative, innovative, and insightful work of the year."
In total, 42 winners were named in 14 distinct categories: Animal Health, App, Consumer Website, DTC/DTP, Multichannel, Philanthropic, Professional Print Campaign, Professional Website, Sales Aid, Self-promotion, Social Media, Unbranded, Variety, and Video. A Gold, Silver, and Bronze award is given to the top three vote-getters in each category.
The winning work is featured in the January 2019 issue of PM360. And can be viewed online at www.pm360online.com/2018-pm360-pharma-choice-award-winners.
About PM360
PM360 is the premier, must-read magazine for marketing decision makers in the pharmaceutical, biotech, medical device, and diagnostics industries. Published monthly, PM360 is the only journal that focuses on delivering the full spectrum of practical information necessary for product managers and pharmaceutical marketing professionals to succeed in the complex and highly regulated healthcare environment.
The journal's targeted and insightful editorial focuses on issues that directly impact critical decision making, including: Planning and implementation of cutting edge strategies, trends, the latest technological advances, branding/marketing, advertising/promotion, patient/professional education, sales, market research, PR, and leadership. Additionally, the "360" in the title signifies the span of this critical, how-to info with personal and career insights for an enjoyable and thought-provoking read.
By providing the full circle of enriching content, PM360 is truly an indispensable tool for busy and productive marketing professionals to stay at the top of their game.
About Elevate Healthcare
Elevate is the only agency specializing in helping guide healthcare challenger brands—biopharma and medical device brands that need to overcome more powerful competitors, market limitations, and internal obstacles to achieve their full potential. Based in suburban Philadelphia, Elevate was founded in 2016 by two successful former healthcare agency presidents, Lorna Weir and Frank Powers, as a new kind of agency, purpose-built to serve clients in the current challenging and dynamic healthcare marketing landscape.