ELEVATE AND BIOFRONTERA WIN BIG AT 2022 PM360 TRAILBLAZER AWARDS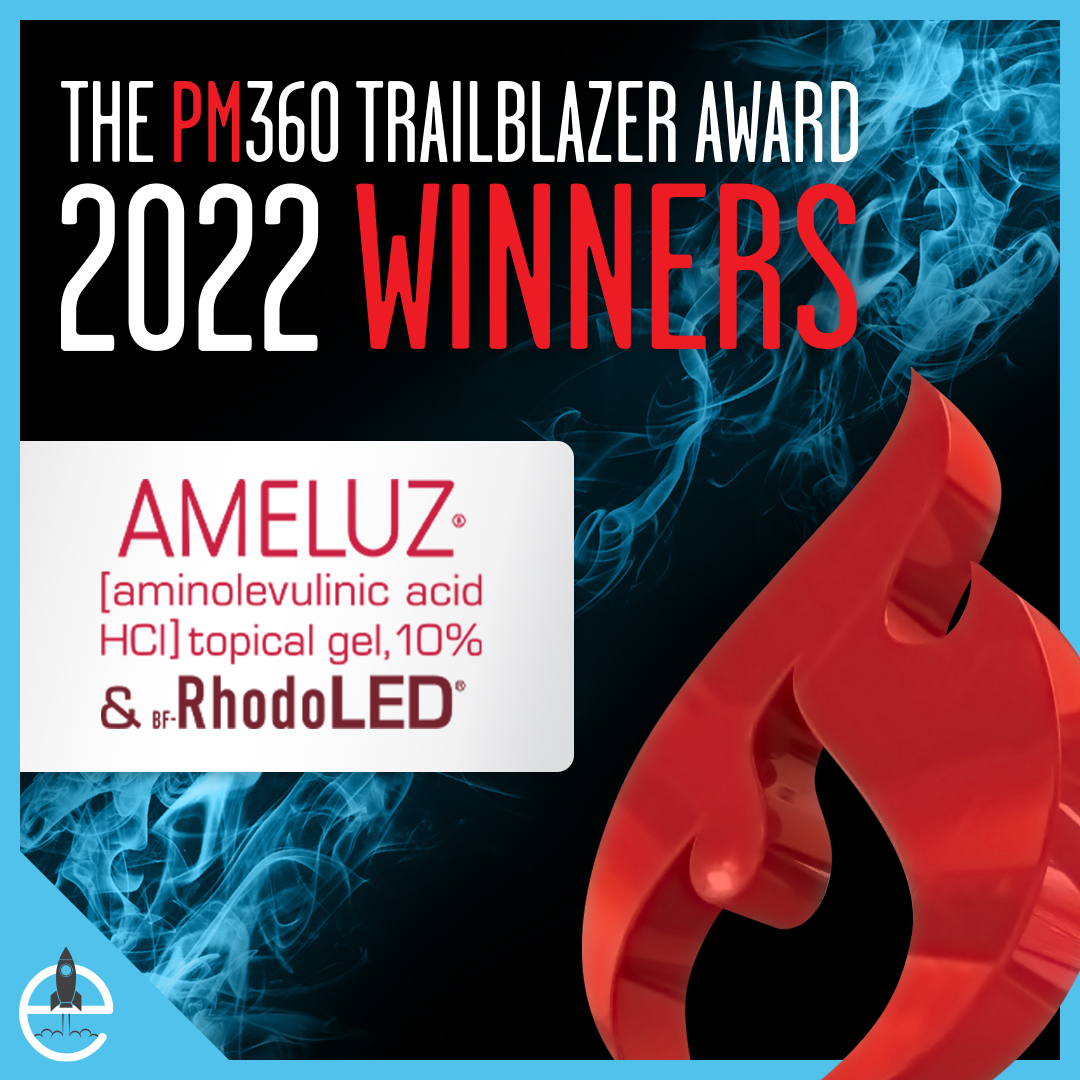 ELEVATE AND BIOFRONTERA WIN BIG AT 2022 PM360 TRAILBLAZER AWARDS
STRONG CLIENT/AGENCY PARTNERSHIP RESULTS IN HUGE NIGHT IN NEW YORK
The Elevate and AMELUZ® (aminolevulinic acid HCl) topical gel, 10% teams landed in the Big Apple at the 2022 PM360 Trailblazer Awards and walked out as winners. The powerhouse partnership brought in three trophies, showing that there's no better work than teamwork. The PM360 Trailblazer Awards recognize outstanding achievement and innovation in healthcare marketing, and this year was outstanding for Elevate and Biofrontera. Leslie Hopkins, Associate Director of Marketing at Biofrontera, was named the 2022 Dermatology Brand Champion, and the two campaign winners were Relaunch/Revitalization of the Year and Professional Website/Online Initiative for AMELUZ® with "Danger Lurks Below."
For the AMELUZ® relaunch, Biofrontera worked with Elevate to clearly communicate to dermatologists the danger of subclinical lesions. The campaign creates a greater sense of urgency around the treatment of actinic keratosis (AK) and the need to address AK lesions sooner by leveraging the strong clinical data and technology of AMELUZ®. The client/agency partnership was incredibly strong, with a full team at Biofrontera helping develop engaging content around the data. Professionals needed to understand the impact of AMELUZ® when it comes to subclinical lesions, and the teams worked together to change behavior and make a difference in the market.
Lorna Weir, Elevate cofounder, said, "It was such an amazing night to see the hard work pay off, work that both our team and our clients have put in to create an impactful campaign. We're proud of everything we do, and this campaign is a perfect example of the kind of heights you can reach with amazing collaboration and partnership."
Leslie Hopkins joined her agency partners at the award show. Since joining her team in August 2020, Leslie has provided strong insight and direction for her brand and for the Biofrontera marketing team. For "Danger Lurks Below" she motivated the team to disrupt current thinking among dermatologists by creating a greater sense of urgency around treating AK. Her leadership skills, attention to detail, and strategic vision for the brand helped to significantly increase sales revenue in 2021 and 2022 while transforming the dermatology market landscape.
In Biofrontera's press release about the award wins, Erica Monaco, Chief Executive Officer, recently stated, "We're very proud of our marketing team and the collaboration with Elevate Healthcare. Their efforts are not only recognized by the marketing industry but also are reflected in the improved revenue we're generating."
Congratulations to all involved in this successful launch that made a difference in the market—and now brings home industry acclaim. For more on the Trailblazer awards, check out all the winners.
About PM360
PM360 is the premier, must-read magazine for marketing decision makers in the pharmaceutical, biotech, diagnostics, and medical device industries. Published monthly, PM360 is the only journal that focuses on delivering the full spectrum of practical information necessary for product managers and pharmaceutical marketing professionals to succeed in the complex and highly regulated healthcare environment. By providing the full circle of enriching content, PM360 is truly an indispensable tool for busy and productive marketing professionals to stay at the top of their game.