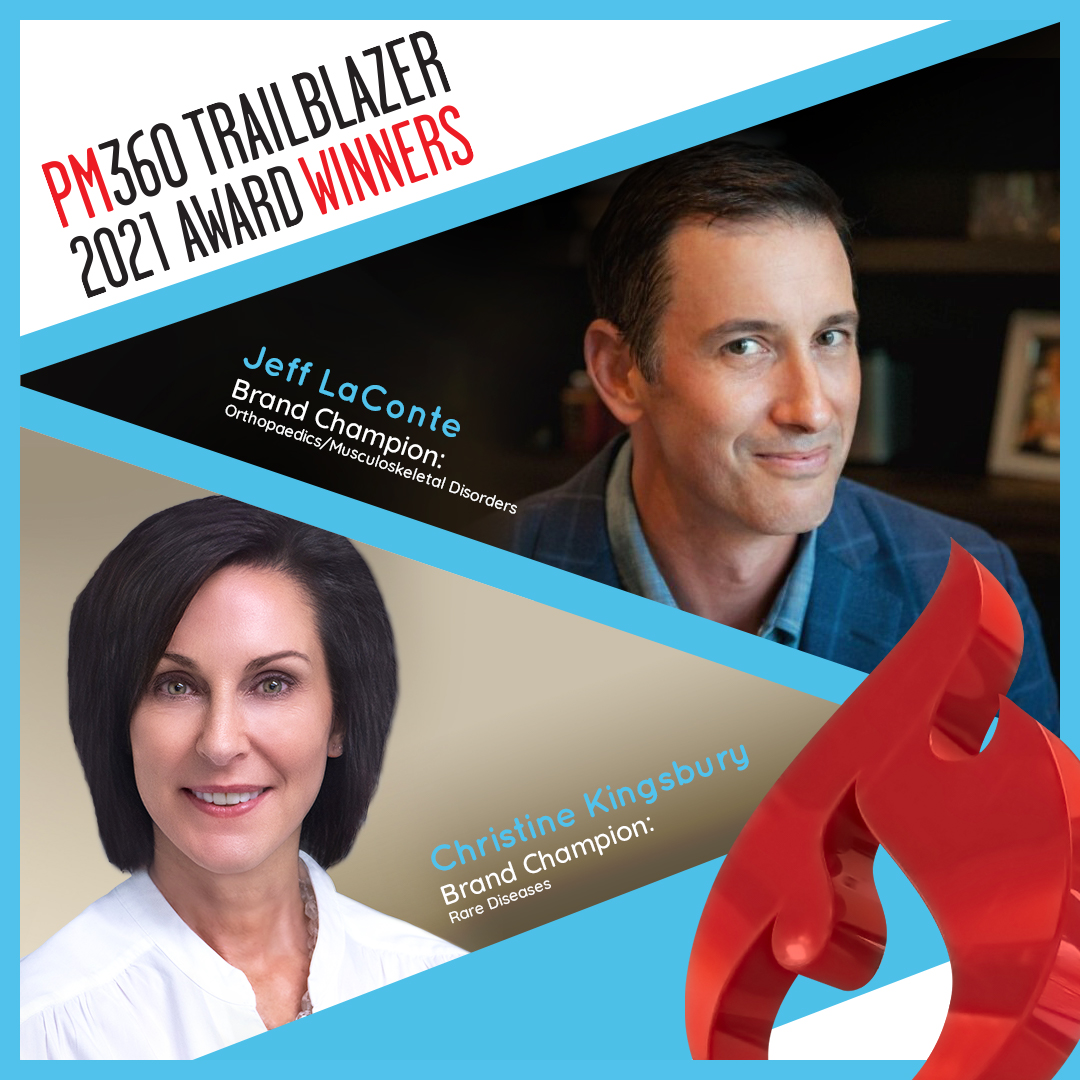 Elevate Client Partners Celebrated as 2021 Trailblazer Brand Champions
Jeff LaConte, Christine Kingsbury recognized by PM360 for their outstanding contributions
Being a brand champion means healthcare marketing professionals must be both experts in their field and advocates for their patients. DePuy Synthes Senior Director, Digital Surgery and Robotics, Jeff LaConte, and Recordati Rare Diseases Senior Director of Marketing Christine Kingsbury are prime examples of what embodies a PM360 Trailblazer Brand Champion.
The PM360 Trailblazer Awards are designed to recognize outstanding companies, marketers, marketing teams, brand managers, and initiatives that have shown innovation and achieved incredible results in the life sciences. The Brand Champion Awards are given to those who excel in several categories: skill, dedication, impact, and effectiveness of their work.
Jeff LaConte was awarded the 2021 Brand Champion for Orthopaedics/Musculoskeletal Disorders. He has over 10 years of experience in robotic end-effectors and digital robotic planning, in addition to over 15 in medical device leadership experience with success building teams, developing strategic vision, launching new products, growing core businesses, and building brands. Jeff helped DePuy Synthes elevate the surgical experience for patients and surgeons and also led the commercial launch for the VELYS™ Robotic-Assisted Solution.
Focusing on leading the business and team in outperforming innovation expectations, Jeff is extremely passionate about establishing the big-picture vision, developing creative solutions with an ability to translate complex issues into results-oriented outcomes that drive revenue and share.
"Jeff's knowledge, dedication, and years of experience with Johnson & Johnson Medical Device Companies shines through in all of the work he produces. His skill set extends beyond the ordinary, making him a valuable client partner and professional in the healthcare industry." – Frank X. Powers
Another one of our client partners being recognized for her advanced skills in the healthcare industry is Christine Kingsbury. Christine was awarded the Brand Champion for Rare Diseases. In 2021, she managed multiple marketing challenges and oversaw three different product launches. Christine is a resourceful and goal-oriented professional with over 18 years of experience in pharmaceutical and medical device marketing and sales. She has a long history in pharma marketing, excelling in the development of marketing strategy and bringing value by utilizing strong analytical, strategic planning, leadership, and communication skills to internal and external customers.
Utilizing her impressive skills, Christine specializes in insightful data analysis to inform strategic choices and incorporation into brand strategy and tactics. As a driving force behind the treatment support that Recordati gives to patients with rare diseases and their families, Christine led the brand team and overall marketing effort, championing a new paradigm for patients with rare diseases
"Christine has been entrenched in the rare disease market for years now and it was evident watching her navigate multiple work streams on the HCP and patient side of the business to support the respective launches in 2020. Her strong strategic and clinical acumen, partnered with our medical and creative expertise, were a perfect match to advance the portfolio for Recordati" –Scott Harper
We're continuously inspired by the work that Jeff and Christine bring to their brands. A big thank you for making an impact across the industry—the agency is incredibly grateful to get to work closely with the individuals who are passionate, dedicated, and trailblazers in the industry.
For more on the PM360 Trailblazer awards, check out their site here.
About PM360
PM360 is the premier, must-read magazine for marketing decision makers in the pharmaceutical, biotech, diagnostics, and medical device industries. Published monthly, PM360 is the only journal that focuses on delivering the full spectrum of practical information necessary for product managers and pharmaceutical marketing professionals to succeed in the complex and highly regulated healthcare environment. By providing the full circle of enriching content, PM360 is truly an indispensable tool for busy and productive marketing professionals to stay at the top of their game.