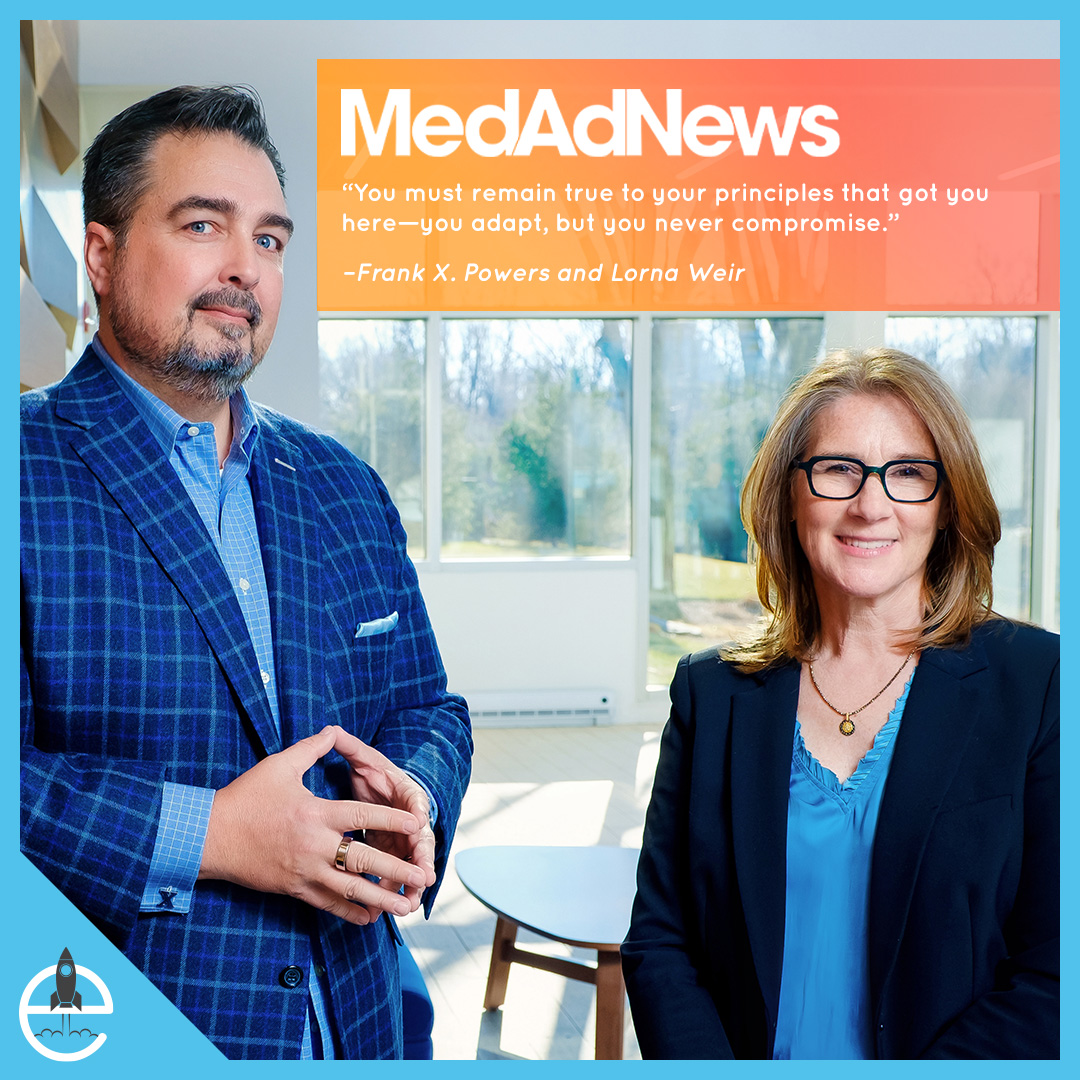 ELEVATE HEALTHCARE FEATURED IN 2022 MED AD NEWS AGENCY ISSUE
AGENCY'S 6th YEAR HIGHLIGHTED IN ANNUAL EDITION
Elevate cofounders Frank X. Powers and Lorna Weir marvel at how fast the last 6 years have passed. The small independent agency with big ideas and competitive spirit has swiftly moved from startup to the spotlight. The agency's success was highlighted in the latest edition of the Med Ad News annual Agency issue.
Frank X. Powers said, "Change is a constant and agility is a key reason for our success. Our ability to switch gears and pivot helps us respond quickly to our clients' ever-changing needs while exceeding their expectations."
While 2020 was defined by finding ways to succeed in a fully virtual environment, 2021 refined this "new normal" by adopting innovative ways to engage with clients. As a result, revenue increased by 25% as new brands were acquired. Elevate boasts a diverse client roster ranging from medical devices to biopharmaceuticals and rare diseases. The agency produced an array of award-winning work that continues to raise the creative bar, with multiple industry and individual achievements.
Lorna Weir said, "We continue to maintain our commitment to challenger brands and remain deeply entrenched in high science brands. It's satisfying to help raise awareness and be involved in marketing medical interventions that can make a difference for healthcare professionals and their patients."
Lorna and Frank's dedication to their strategic challenger model has paid off. They also pride themselves on maintaining the agency's unique culture, which sets them apart. As a result, Elevate is growing with more clients and employees, and redefining the standards of what a creative agency in healthcare can be.
Read the entire article at MedAdNews.
About Med Ad News
The pharmaceutical industry's publication of record for more than 30 years, Med Ad News provides broad coverage and incisive analysis of the issues, events, trends, and strategies shaping pharmaceutical business, marketing, and sales. More than 16,500 readers-composed of corporate executives, marketing, sales, and product managers-rely on Med Ad News and its staff for unparalleled content.