ELEVATE HEALTHCARE NAMED TO MM+M 2022 BEST PLACES TO WORK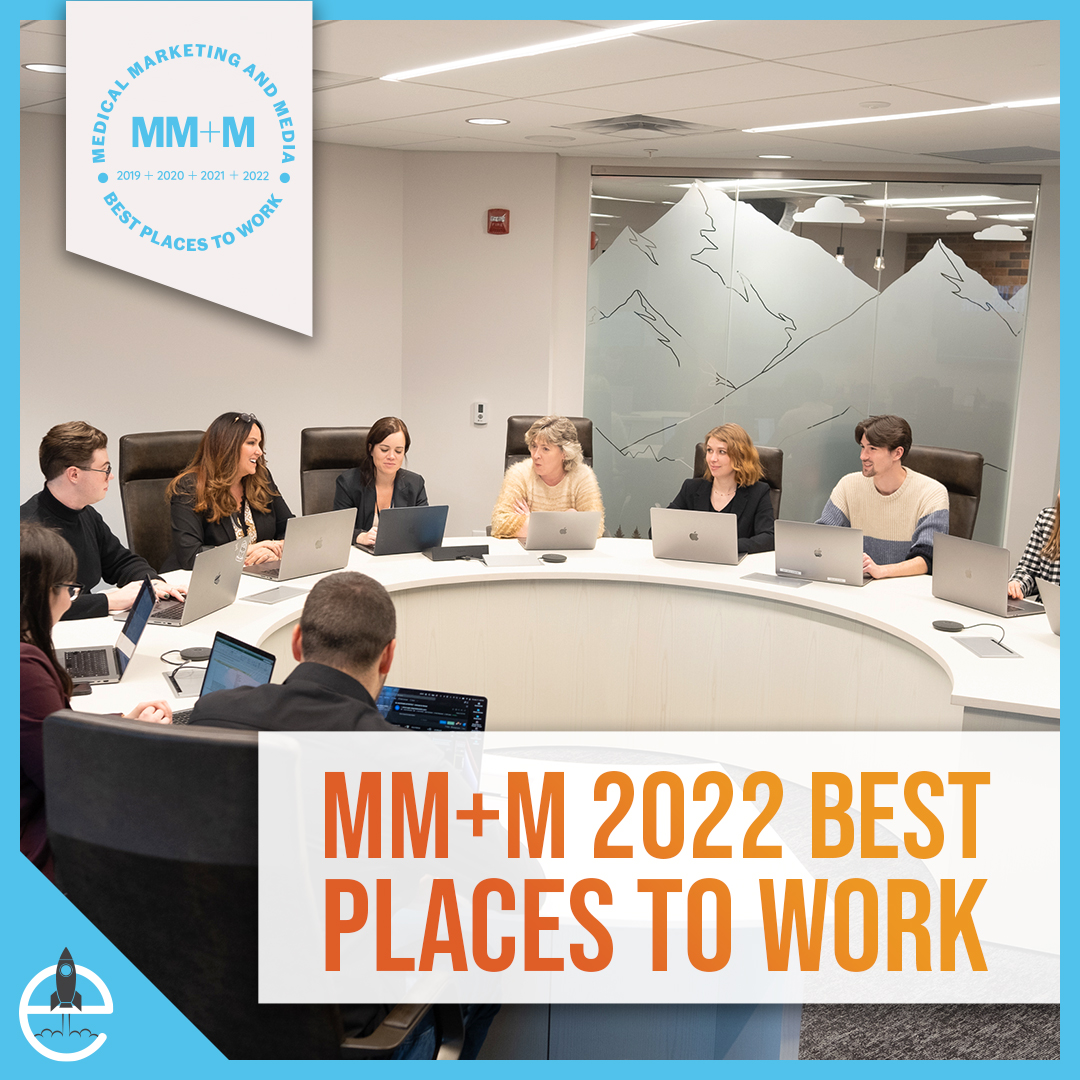 ELEVATE HEALTHCARE NAMED TO MM+M 2022 BEST PLACES TO WORK
AGENCY RECOGNIZED FOR 4TH TIME ON ANNUAL LIST
For seven years, Elevate Healthcare has set out to deliver the best. That means the best creative in the industry, and the best solutions for client partners and their challenger brands. That also has resulted in the best talent in the industry wanting to come to the agency, which has led to 3 straight wins at the MM+MAwards for "Small Agency of the Year." With Elevate also making the 2022 MM+M Best Places to Work list, now for the 4th time, it confirms that the best people help make the agency one of the best places to work.
It starts with leadership that listens to their employees and creates an environment where everyone can speak up. From there it's the Elevate colleagues who treat each other with respect and work together to focus on solutions. When everyone is on the same page and looking at the big picture as a team, the best kind of company culture follows.
Elevate cofounder Lorna Weir said, "We started this agency and set out for success, and success can be judged in so many ways. We've had tremendous success with our clients, our employees have helped us create an atmosphere and culture unlike anywhere else, and we all can say we've done it together. That's what success looks like for Elevate."
From holiday events to company-wide initiatives focusing on growth and recognition, Elevate puts employees first every day. This year the company instituted 100% benefits coverage, as well as unveiled a brand-new office to accommodate the growing employee roster in a flexible and state-of-the-art setup.
Thank you to MM+M for the recognition, and thank you to everyone at Elevate
About MM+M
MM+M is the media brand of record for pharmaceutical marketing and commercialization, delivering the most balanced and relevant coverage of its subject matter. The 50-year-old business title produces an essential mix of online breaking news and analysis combined with monthly print features — timely, objective, original editorial content for an executive audience of leaders and thinkers who work in pharma, medical device, diagnostics, and greater healthcare marketing. MM+M also develops annual conferences and live and virtual events, and it runs the industry's premier awards program, the MM+M Awards, which celebrate creativity and effectiveness in healthcare marketing.