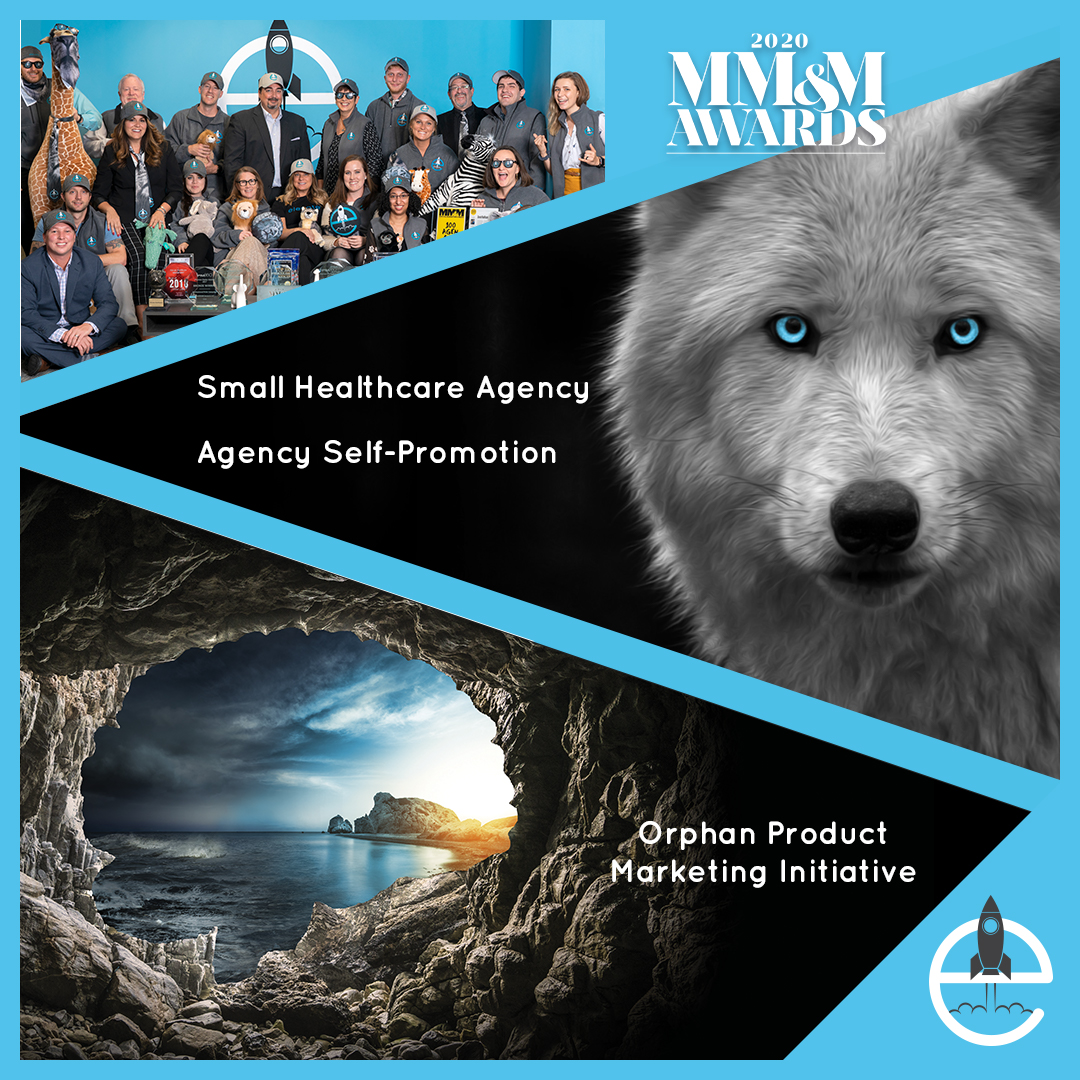 ELEVATE MADE THE SHORT LIST FOR 3 2020 MM&M AWARDS
FINALIST FOR BEST SMALL HEALTHCARE AGENCY—FOR DOING BIG THINGS FOR CHALLENGER BRANDS
MM&M magazine, considered by many as the leader in healthcare marketing and media, just released its short lists for the 2020 MM&M Awards. Like last year, Elevate continues to prove that a small agency can create as big of an impact as any. The team at Elevate is excited to be nominated in 3 award categories: Small Healthcare Agency, Agency Self-Promotion, and Orphan Product Marketing Initiative. While 2020 has already proven itself to be an award-winning year, Elevate looks to extend its winning streak this October.
Elevate is honored to be recognized as a creative and strategic leader for healthcare challenger brands. As 1 of 4 healthcare agencies nominated for Small Healthcare Agency of the Year honors, Elevate is proud of their purposeful size, the brands they serve, and the success those brands have realized. But where many agencies would see this kind of success as an opportunity to prioritize growth over service to their brands, the leaders at Elevate have a different philosophy.
Frank X. Powers, cofounder of Elevate, said, "We look at our size as an advantage, and it's something we've strived to maintain ever since we started. By taking a calculated approach to our growth, it's enabled us to create strong, personal client partnerships that stem from a culture grounded in collaboration, passion, and creative excellence."
The "Welcome to the Jungle" campaign, which is a finalist for Best Agency Self-Promotion, is just one characterization of what makes Elevate unique. While some back down from seemingly immovable challenges—metaphorically represented in the campaign as lions, elephants, and gorillas—Elevate never shrinks from a challenge and instead looks to discover new pathways that blaze through the thick jungle of competition. The campaign has proven effective in showing people exactly what Elevate stands for and the lengths the agency is willing to go to help brand reach their full potential—even if that brand is a small challenger or a market leader.
Elevate is also extremely proud of the team involved in bringing the "Help Settle the Storm" campaign to life, which is a finalist for the Best Orphan Product Marketing Initiative. This team, of course, includes the marketers at Recordati Rare Diseases. Without their strong client partnership and fearlessness to go bold, the campaign would never have come to fruition and been the success that it's been.
While the 2020 MM&M Awards Ceremony will be online this year, the team at Elevate is nonetheless excited and hoping to shoot off a few cannons of virtual confetti.
See all of the nominations for the 2020 MM&M Awards.
About MM&M
MM&M is the media brand of record for pharmaceutical marketing and commercialization, delivering the most balanced and relevant coverage of its subject matter. The 50-year-old business title produces an essential mix of online breaking news and analysis combined with monthly print features — timely, objective, original editorial content for an executive audience of leaders and thinkers who work in pharma, medical device, diagnostics, and greater healthcare marketing. MM&M also develops annual conferences and live and virtual events, and it runs the industry's premier awards program, the MM&M Awards, which celebrates creativity and effectiveness in healthcare marketing.