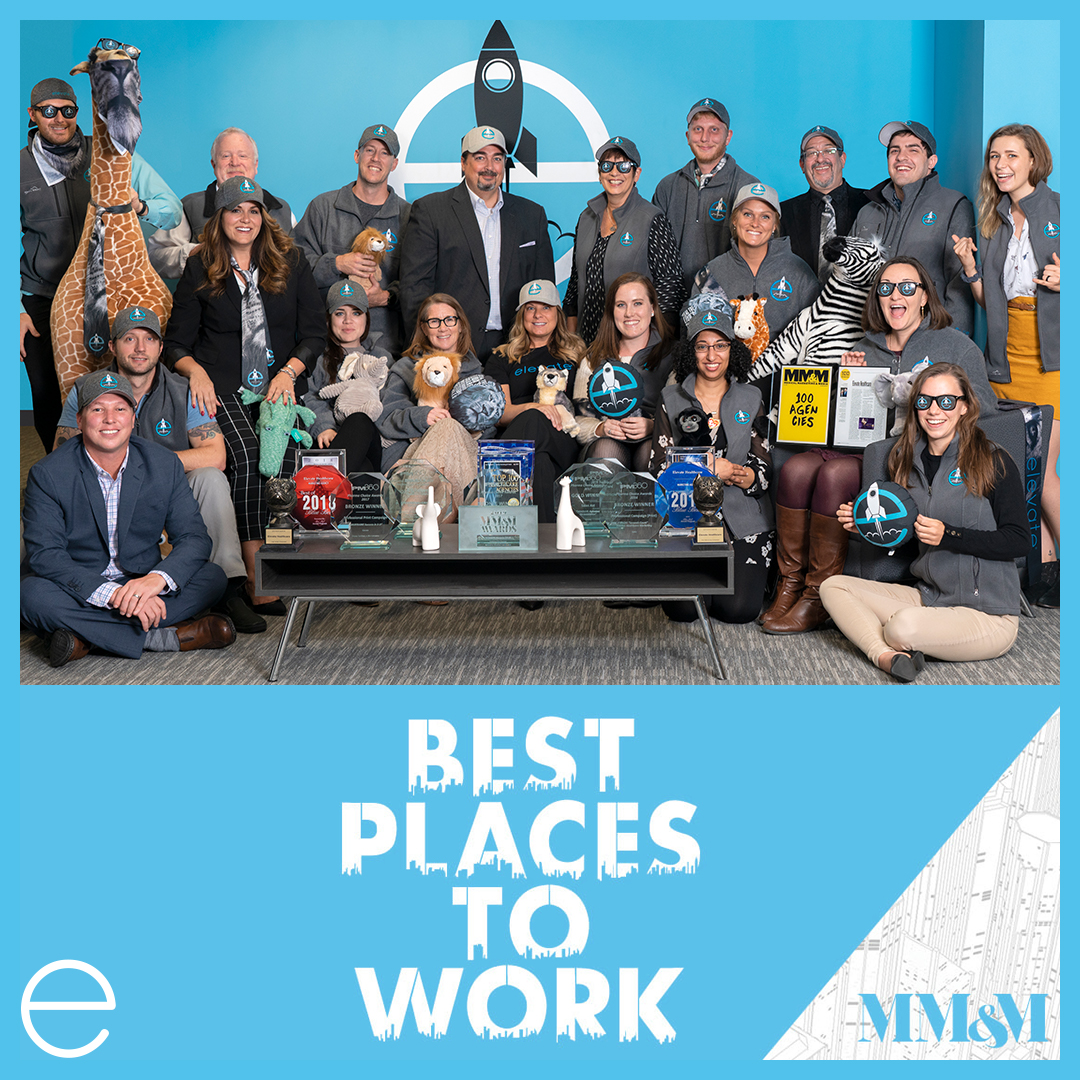 ELEVATE NAMED ONE OF MM&M'S BEST PLACES TO WORK
The culture speaks for itself with this huge honor
Elevate has been named one of MM&M's Best Places to Work for small agencies. MM&M, a leader in pharmaceutical marketing, released the winners for the Best Places to Work in 3 categories: small, medium, and large agencies. Winners are chosen based on responses to a confidential questionnaire sent to every employee. The questionnaire dives into detail about mentorship, culture. perks. programs. and professional opportunities.
When cofounders Lorna Weir and Frank Powers opened Elevate a few years ago, they had the same vision: to create an agency built for today, where people want to come to work. So they set out to achieve just that. Lorna and Frank found the right talent, set the bar high for creative work, and created a culture their entire team was proud to be part of. Now, 4 years later, they are named one of MM&M's Best Places to Work for small agencies.
Powers shared, "We put the focus on our employees and strive every day to make Elevate the best place to work. Hearing it firsthand from our team is the biggest accomplishment. This agency isn't just for us. it's for them. We are honored that we created a place that our talented team considers the best out there."
At Elevate, we understand that it's not just about producing great work for clients. It's about making sure that our employees are getting the mentorship they need, attending conferences and workshops that help advance their craft, having team bonding events, and showing appreciation for each person, no matter the level.
Lorna Weir said, "We believe that when your staff is happy, challenged, and motivated, then great work comes naturally."
This year has been a great success for Elevate. Between award-winning work and being named a Best Place to Work, we couldn't be prouder of our team that makes it possible. We are also very fortunate to have great clients who partner with us to create work that makes a difference.
About MM&M
MM&M is the media brand of record for pharmaceutical marketing and commercialization, delivering the most balanced and relevant coverage of its subject matter. The 50-year-old business title produces an essential mix of online breaking news and analysis combined with monthly print features – timely, objective, original editorial content for an executive audience of leaders and thinkers who work in pharma, medical device, diagnostics and greater healthcare marketing. MM&M also develops annual conferences and live and virtual events, and it runs the industry's premier awards program, the MM&M Awards, which celebrates creativity and effectiveness in healthcare marketing.