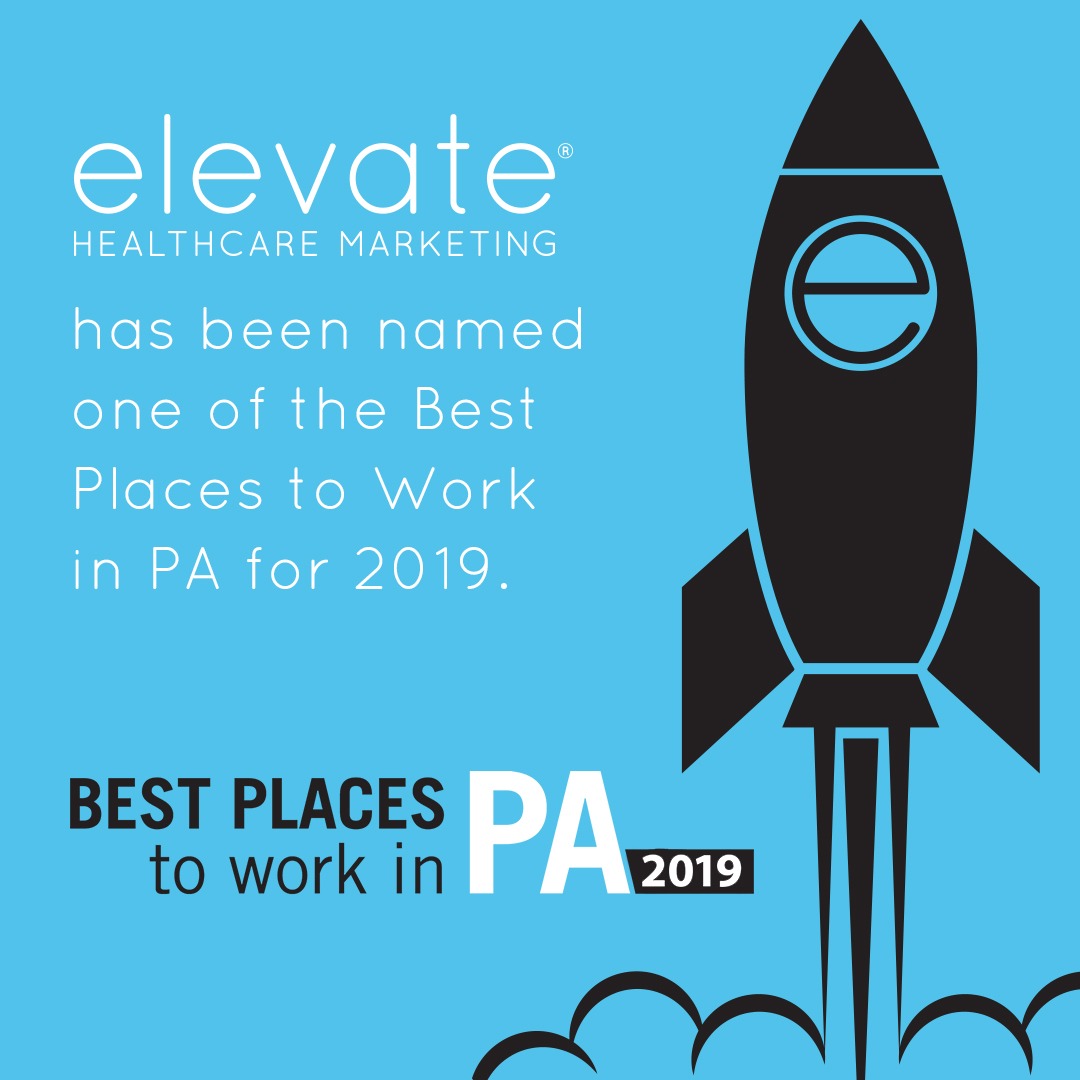 Elevate Healthcare Named 5th Best Place to Work in PA for 2019
From a Start-up to a Best Place to Work in Only a Few Years
Elevate Healthcare Marketing has been named the 5th Best Place to Work in PA for 2019. The award is an incredible honor, recognizing the best places of employment that are benefiting Pennsylvania's economy and workforce. Created in 2000, the Best Places to Work in PA awards program is one of the first statewide programs of its kind in the country. The program is a public/private partnership between Team Pennsylvania Foundation, the Pennsylvania Department of Community and Economic Development, the Pennsylvania State Council of the Society of Human Resource Management, and the Central Penn Business Journal. Winners are selected based on a review of each company's workforce policies, practices, philosophies, systems, demographics, and the results of an employee survey evaluating employee satisfaction.
Agency co-founder Frank X. Powers said, "Elevate was built on the belief that it was time for someone to step up and help healthcare challengers—biopharma and medical device brands that need help to overcome their obstacles, maximize their opportunities, and reach their full potential. And everyone at the agency wants to take that step together. From the beginning, Elevate Healthcare has been the name, but also a mission. We've tried to create a culture and a company that people want to be a part of, and it's thrilling to see it come to life with this honor."
Founded in 2015, Elevate was started with a vision of serving clients' strategic, business, and commercial aspirations on a higher level than tactical execution. Goals like that need the right kind of people to collaborate and create compelling ideas that help disrupt the status quo, compel an action, inspire a belief, or change a mindset. Those are the kind of people who work at Elevate.
Being named the 5th Best Place to Work in PA shows that our employees believe in our mission, and in each other. The goal was to create more than an agency, but a culture and an atmosphere that people want to be a part of. We wouldn't be able to win any kind of award or deliver amazing work for our clients without our talent, a word that truly couldn't be more fitting for the employees of Elevate. We are delighted with what each person brings to the company, from creative minds and hardworking spirits to positive attitudes and incredible personalities. Thank you to everyone who has helped make Elevate what it is today, a Best Place to Work in PA for 2019!