ELEVATE PROUD TO CELEBRATE 3 CLIENT PARTNERS AS PM360 2022 TRAILBLAZER AWARDS BRAND CHAMPIONS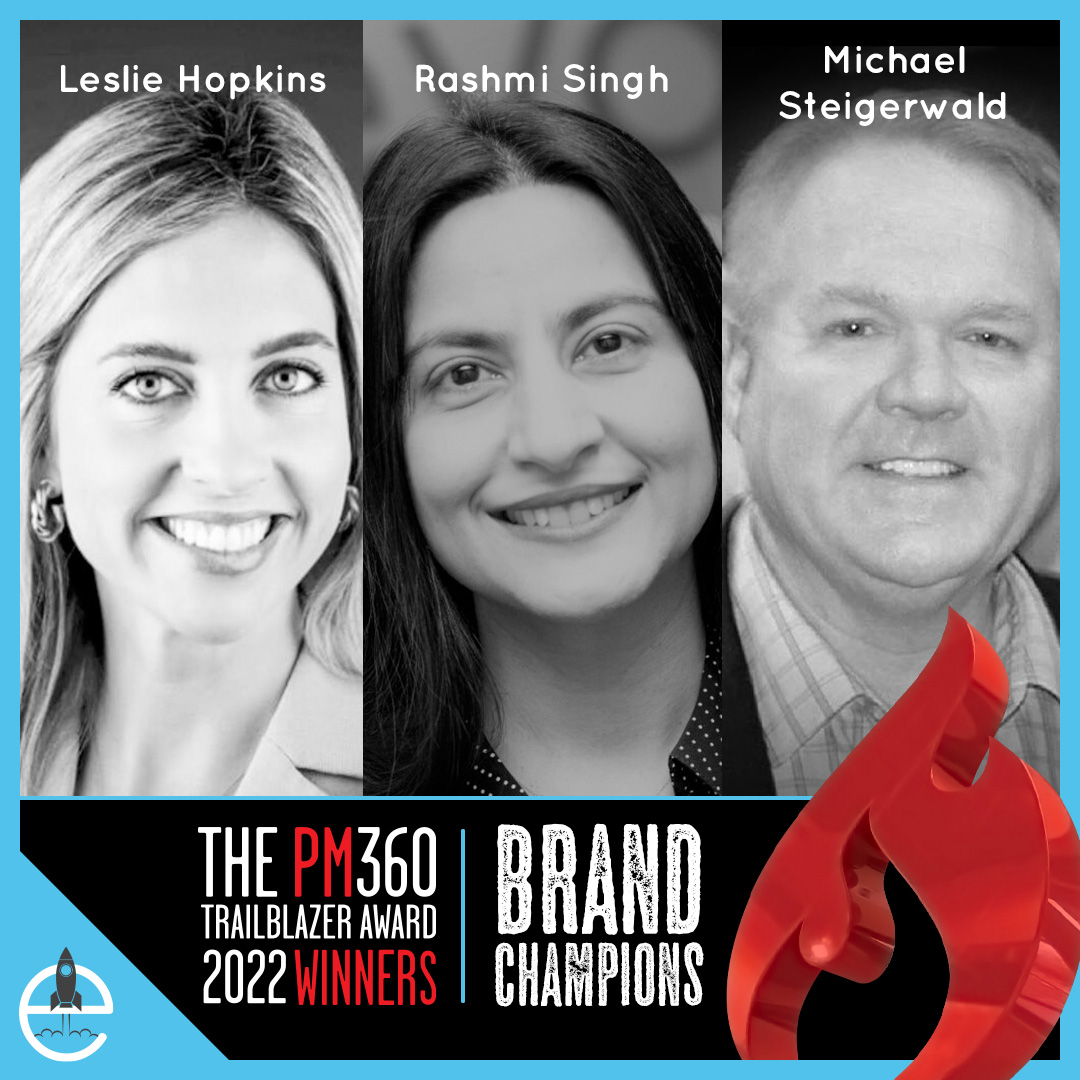 ELEVATE PROUD TO CELEBRATE 3 CLIENT PARTNERS AS PM360 2022 TRAILBLAZER AWARDS BRAND CHAMPIONS
 Client partners spotlighted for their remarkable achievements
The Elevate team is honored to congratulate 3 of our client partners for being PM360 2022 Trailblazer Awards Brand Champions! The PM360 Trailblazer Awards are designed to recognize outstanding companies, marketers, marketing teams, brand managers, and initiatives that have shown innovation and forged a path ahead for their brands. Leslie Hopkins, Associate Director of Marketing for Biofrontera; Michael Steigerwald, Grifols Deputy Director, Specialty Products; and Rashmi Singh, Associate Director, Santen, Ocular Surface Franchise are each stellar examples of what it means to be a PM360 Trailblazer Awards Brand Champion.
Leslie Hopkins is the 2022 Dermatology Brand Champion. Since joining her team in August 2020, she has provided strong insight and direction for her brand and for the Biofrontera marketing team. Via the powerful "When Danger Lurks Below the Surface" campaign, Leslie motivated the team to disrupt current thinking among dermatologists by creating a greater sense of urgency around treating actinic keratoses. Her leadership skills, attention to detail, and strategic vision for the brand helped to significantly increase sales revenue in 2021 and 2022 while transforming the dermatology market landscape.
The second client partner and 2022 Brand Champion is Michael Steigerwald, who is recognized for his tremendous work in the Infectious Disease/Vaccine Development category. Despite leading one of the most well-established brands for Grifols, Michael and his team approach each year like a launch, bringing a spirit of innovation and growth year after year. While his brand is the perennial market leader, Michael knew there was still an opportunity to understand their customer's needs even better and drove the brand to the most successful year in its more than 45-year history.
The third of our client partners being recognized for her top-tier trailblazing is Rashmi Singh. Rashmi was selected as the Brand Champion for Ophthalmology/Optometry. Through a major effort to conduct in-depth market research, Rashmi's team uncovered essential understandings, developing a differentiated positioning for the brand and establishing a clear link to the patient's symptoms to help physicians recognize the benefits of her brand over generics.  Rashmi's execution of the new "Stop Flares Fast" campaign, featuring the striking matchstick eyelash visual, has been powerfully motivating to doctors and a valuable tool for the Santen sales force.
Everyone at Elevate is continuously inspired by the work that Leslie, Michael, and Rashmi bring to their brands. The agency is incredibly grateful for the opportunity to work so closely with individuals who have such passion, dedication, and trailblazing vision. A huge thank you and congratulations are in order for making an impact across the industry.
About PM360
PM360 is the premier, must-read magazine for marketing decision makers in the pharmaceutical, biotech, diagnostics, and medical device industries. Published monthly, PM360 is the only journal that focuses on delivering the full spectrum of practical information necessary for product managers and pharmaceutical marketing professionals to succeed in the complex and highly regulated healthcare environment. By providing the full circle of enriching content, PM360 is truly an indispensable tool for busy and productive marketing professionals to stay at the top of their game.