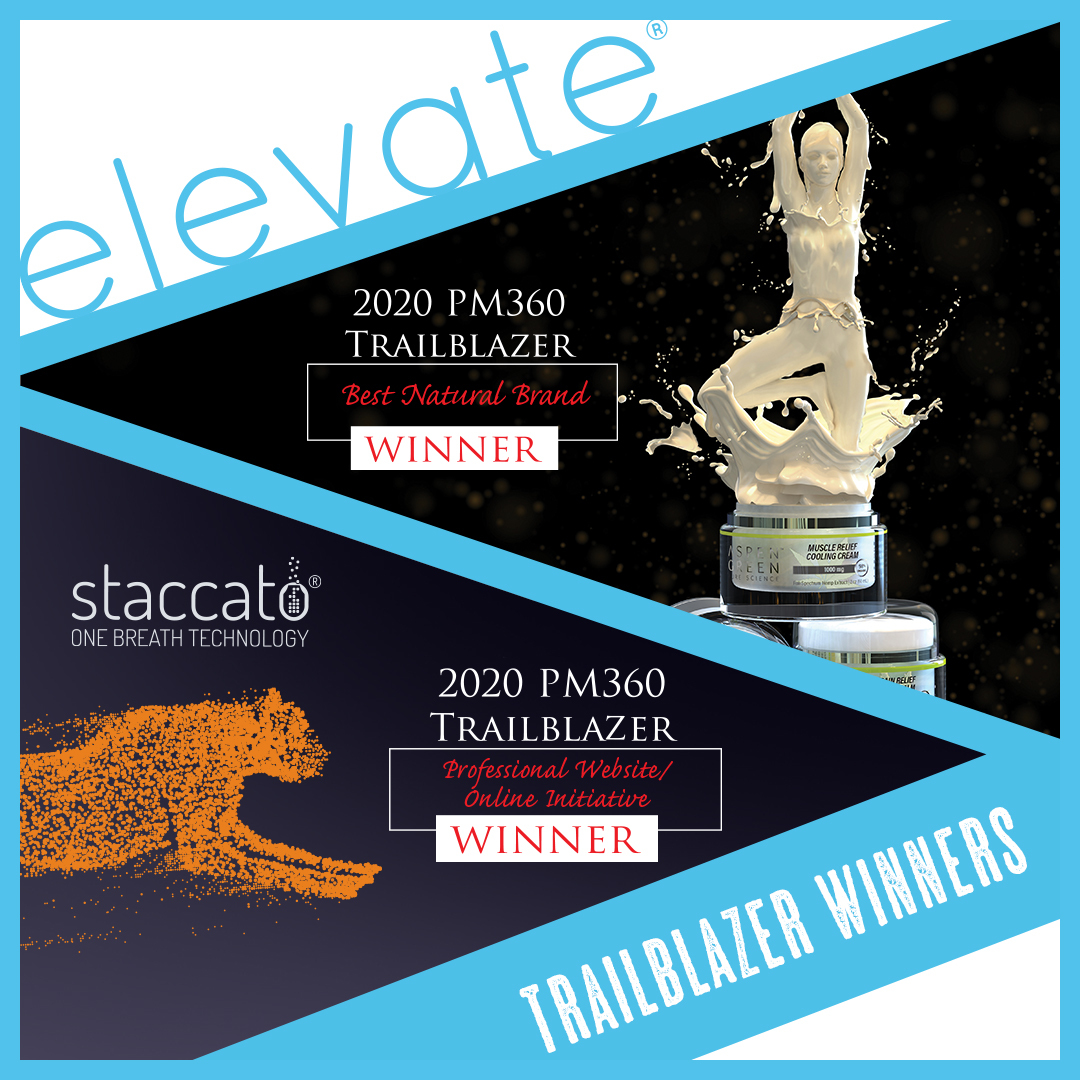 ELEVATE SCORES TWO PM360 TRAILBLAZER AWARDS
BEST NATURAL BRAND AND PROFESSIONAL WEBSITE
This year's virtual PM360 Trailblazer Awards proved to be a hit! Building on its previously announced win for Aspen Green as the Best Natural Brand, Elevate is honored to take home the Best Professional Website/Initiative Award for its efforts in creating the digital self-guided experience for Staccato® One Breath Technology™. This is now the second award for each of these initiatives; both of which were recognized earlier this year by Graphic Design USA.
Elevate co-founder Frank X. Powers said, "Winning a single award for a brand is a major accomplishment. But to win multiple awards for multiple brands—that's something special. We are extremely humbled and hope we can continue delivering big ideas for our clients."
While there are many companies marketing CBD products, Aspen Green stands apart from the competition. With a marketing strategy that puts science first, the Aspen Green brand has become synonymous with its purity in manufacturing, transparency in ingredients and process, and education surrounding what makes a high-quality product.
The "Unleash the Speed" campaign for Staccato® One Breath Technology™ quickly proved it can turn heads. The website was designed to be like the technology platform itself—simple and innovative—and that's made a big difference for the marketing team at Alexza Pharmaceuticals.
Elevate is ecstatic to bring home 2 new pieces of hardware and would like to thank PM360 and the judges and to congratulate all the other nominees and winners. The team is already looking forward to 2021—hoping it will be the third year in a row the agency is recognized by PM360.
About PM360
PM360 is the premier, must-read magazine for marketing decision makers in the pharmaceutical, biotech, diagnostics, and medical device industries. Published monthly, PM360 is the only journal that focuses on delivering the full spectrum of practical information necessary for product managers and pharmaceutical marketing professionals to succeed in the complex and highly regulated healthcare environment.
By providing the full circle of enriching content, PM360 is truly an indispensable tool for busy and productive marketing professionals to stay at the top of their game.