ELEVATE STANDS OUT TWICE AT THE 2022 DAVEY AWARDS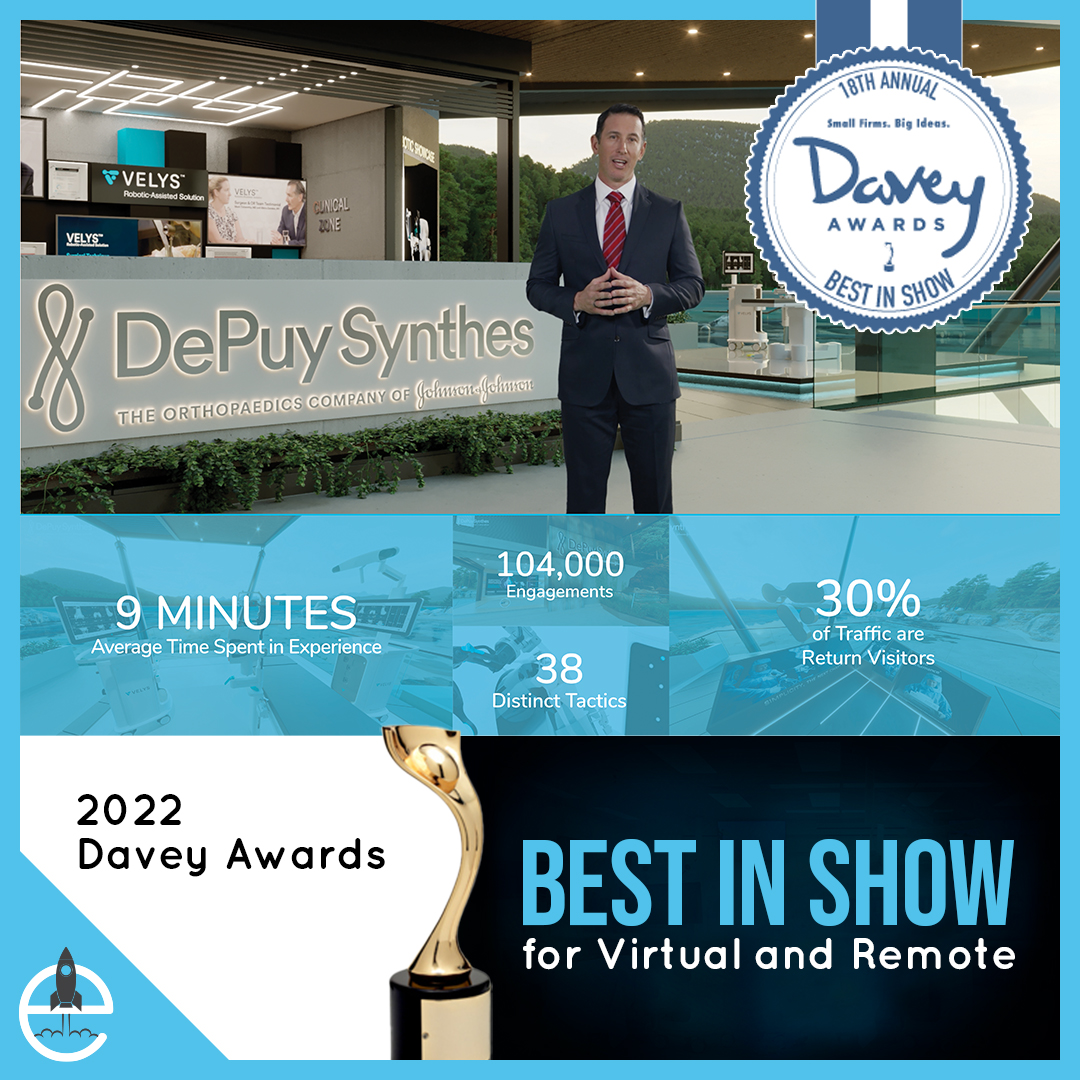 ELEVATE STANDS OUT TWICE AT THE 2022 DAVEY AWARDS
"SIMPLICITY" CAMPAIGN WINS BEST IN SHOW WHILE "DANGER LURKS BELOW" STRIKES GOLD
From day one, Elevate has been compact by design, allowing for the best talent in the industry to stay hands-on with every brand. This approach has resulted in two more impressive honors for clients who partner with the small agency with bigger than life ideas—the Best in Show win for the DePuy Synthes VELYS™ Robotic-Assisted Solution "Simplicity" campaign and virtual experience, and a gold award for the AMELUZ® (aminolevulinic acid hydrochloride) topical gel, 10% campaign, "Danger Lurks Below." 
The Davey Awards honor innovative creative work from agencies, production firms, in-house teams, graphic designers, PR firms, and more on a global scale. Led by the Academy of Interactive and Visual Arts (AIVA), the award recognizes the "Creative Davids" who take strength from their creative campaigns rather than giant budgets. Members of AIVA come from all over the media, advertising, interactive, and marketing worlds.
Tapping into virtual experiences provides the opportunity for brands to transport users to a totally unique and personalized world, built to display unique details in a novel and exciting way. For the VELYS™ Robotic-Assisted Solution "Simplicity" campaign, the virtual experience provided immersive education and truly brought the experience to life.
As Elevate co-founder and managing partner Frank X. Powers said, "In a digital environment, you need to innovate and engage differently to distinguish your brand. That is why we are so proud of our clients, and our team, for always looking to push the envelope of what's possible, creating memorable experiences with impact."
The "Danger Lurks Below" campaign was named gold winner in the General Health + Health Services category! Over 2,000 entries from all over the world were considered in the 18th Annual Davey Awards, so this campaign continues to stand out to audiences and judges alike.
Thank you to the teams involved on elevating the standards of creative excellence yet again: you're all "Creative Davids."
See more on the 2022 award winners at the Davey Awards website.
About Davey Awards
The Davey Awards exclusively honor the "Davids" of creativity, the finest small agencies, firms, and companies worldwide. David defeated the giant Goliath with a big idea and a little rock­­ —the sort of thing small agencies do each year. The Davey Awards may be for smaller companies, but the judges have big reputations. The Davey is sanctioned and judged by the Academy of Interactive and Visual Arts, an invitation-only body consisting of top-tier professionals from a "Who's Who" of acclaimed media, advertising, and marketing firms. AIVA members include executives from organizations such as Condé Nast, Disney, GE, Keller Crescent, Microsoft, Monster.com, MTV, Push., Publicis, Sesame Workshops, The Marketing Store, Worktank, Yahoo!, and many more.