ELEVATE STRIKES GOLD AT THE 2021 PHARMA CHOICE AWARDS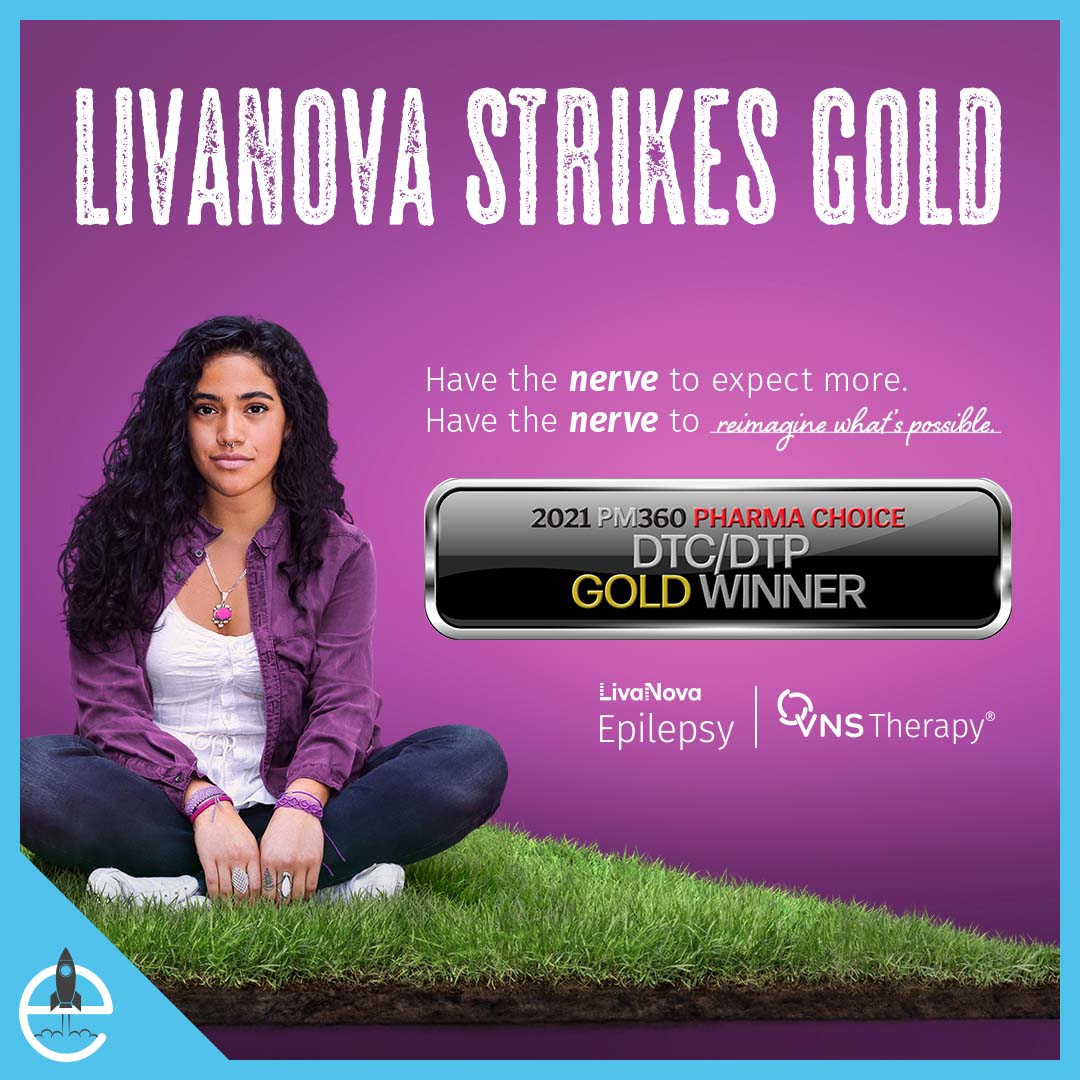 ELEVATE STRIKES GOLD AT THE 2021 PHARMA CHOICE AWARDS
VOTED BEST DIRECT-TO-CONSUMER/DIRECT-TO-PATIENT CREATIVE CAMPAIGN
The PM360 Pharma Choice Awards are a celebration of the best work from 2020 to 2021—chosen by professionals in the life sciences and health advertising industry.
When our client had the nerve to try a different idea to creatively solve a problem, it was a "golden" opportunity to make a difference for patients. Elevate is thrilled to announce that the "Nerve" creative campaign for our client LivaNova has won Gold in the direct-to-consumer/direct-to-patient category.
For patients with epilepsy, tasks like going to school or hanging with friends can be daunting, as the threat of a seizure is always near. This is only exacerbated in patients with drug-resistant epilepsy, a type of epilepsy that can't be managed by medication alone.
Working with our client partners at LivaNova, we created a campaign that challenges patients with drug-resistant epilepsy and their caregivers to "have the nerve" to expect more from their treatment. This serves as a double entendre—nodding to an attitudinal desire as well as the mechanism of action of VNS Therapy, which sends electrical pulses to the vagus nerve in the brain.
Developing this campaign took extensive research, in which interviews were conducted with healthcare professionals and patients/caregivers. It was through these conversations that we learned about the gaps in the treatment paradigm as well as how patients/caregivers and healthcare professionals communicate with each other. Ultimately, this campaign leverages a truth that applies to both audiences: a treatment type is directly related to improving a patient's quality of life.
Scott Harper, VP, Client Engagement at Elevate, said, "We are grateful to the marketing and leadership team at LivaNova for their dedication to being bold and focused on patient outcomes, which made this campaign possible."
The Elevate team is also thankful for the recognition from our industry peers.  As one of the top 4 highest vote-getting entries across all categories, the campaign is featured on the latest cover of PM360 magazine. Click here to see the full list of PM360 Pharma Choice Award winners.
About PM360
PM360 is the premier, must-read magazine for marketing decision makers in the pharmaceutical, biotech, medical device, and diagnostics industries. PM360 is the only journal that focuses on delivering the full spectrum of practical information necessary for product managers and pharmaceutical marketing professionals to succeed in the complex and highly regulated healthcare environment.
The journal's targeted and insightful editorial focuses on issues that directly impact critical decision making, including: planning and implementation of cutting-edge strategies, trends, the latest technological advances, branding/marketing, advertising/promotion, patient/professional education, sales, market research, PR, and leadership. Additionally, the "360" in the title signifies the span of this critical, how-to info with personal and career insights for an enjoyable and thought-provoking read.
By providing the full circle of enriching content, PM360 is truly an indispensable tool for busy and productive marketing professionals to stay at the top of their game.