ELEVATE WINS 3RD IN A ROW, NAMED 2022 SMALL AGENCY OF THE YEAR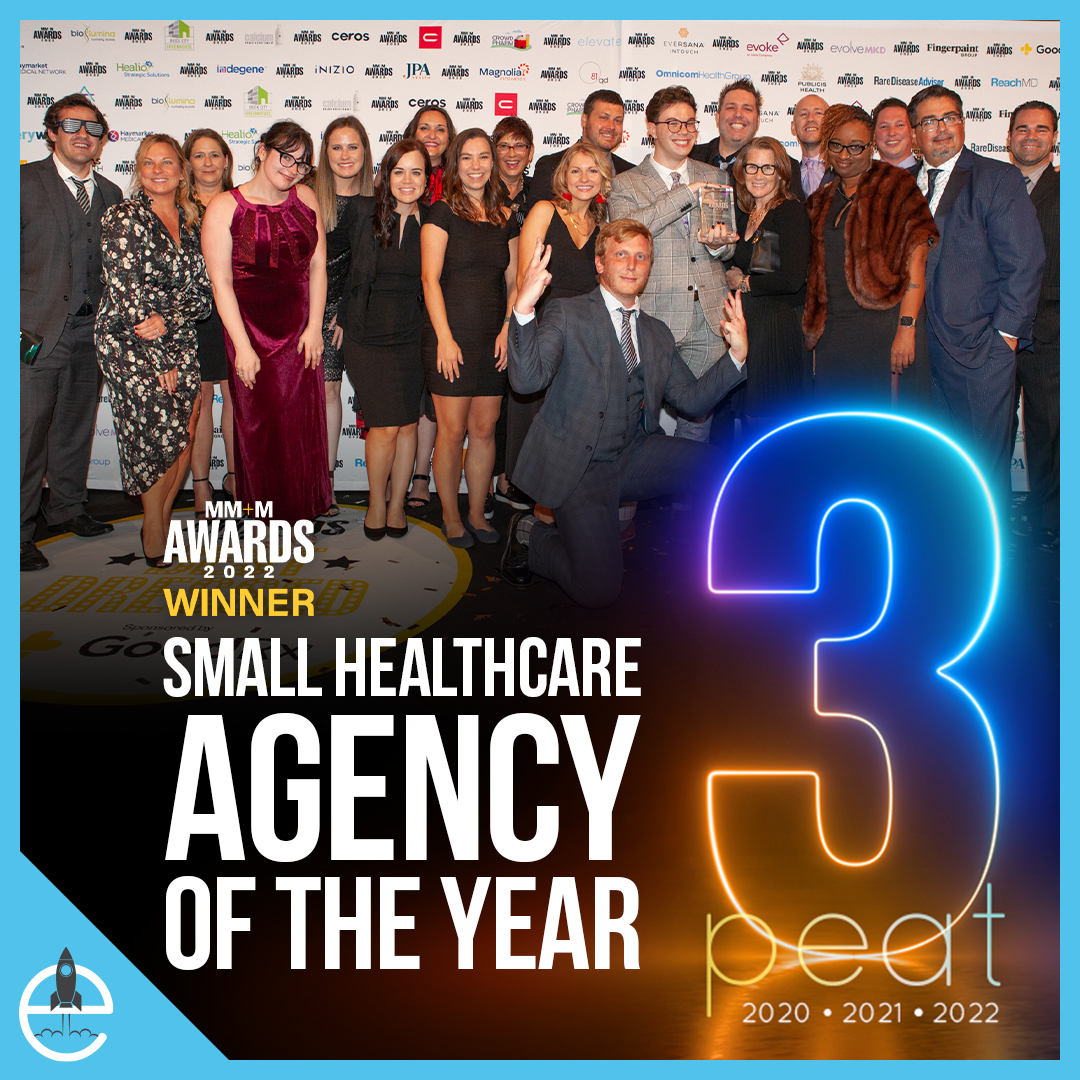 ELEVATE WINS 3RD IN A ROW, NAMED 2022 SMALL AGENCY OF THE YEAR
AGENCY GOES BACK-TO-BACK-TO-BACK AT ANNUAL MM+M AWARDS
Elevate Healthcare did it again and took home a big prize at the MM+M Awards, winning Small Healthcare Agency of the Year for the 3rd consecutive year. Agency colleagues celebrated together at Cipriani Wall Street in Manhattan at the 2022 MM+M Awards, one of the most prestigious award shows in healthcare marketing. They set out to recognize, champion, and celebrate effective creative in healthcare.
The Elevate model is to be purposely built, to be highly focused and scaled to serve clients better. Being recognized by marketing peers as the top small agency three straight times is an unprecedented honor, proving that vision is working.
MM+M judges felt "the challenger brand champions" became even more relevant in 2021, as healthcare companies continue to fight their way through industry upheavals. That mindset is also a promise to help our clients find new ways to compete, overcoming assumptions, perceptions, complacency, ignorance, and, sometimes, even themselves.
This agency may have set the standard for agency excellence three years in a row, but the Elevate difference goes beyond award-winning campaigns. Elevate's mission is to help client partners and their brands achieve new heights, inspire beliefs, change mindsets, and disrupt markets. When it comes to employees, Elevate has doubled down on today's work environment. The agency moved to new office space, designed to accommodate any mix of remote, hybrid, and full-time colleagues. Additional mental health initiatives at multiple levels, prioritizing self-care and career development, and culture-building exercises are putting an emphasis on connections and collaboration.
Elevate cofounder Frank X. Powers said, "Winning 'Small Healthcare Agency of the Year' allows us to look at our world around us and think bigger than ever. Our new headquarters was built with collaboration in mind, in-person or virtual. We've added people to key positions to help lead our colleagues and continue to deliver the highest quality of work. Every department contributes to the work we do, and the effort of every person at the company is why we have been recognized three years running as the top agency. Advertising is a team sport, and I couldn't ask for a better team."
The efforts of the Elevate team are about making a difference for not just client partners, but in the communities we live in. Elevate staffers frequently visit local college campuses, talking about healthcare advertising to the next generation of marketers. Elevate isn't just a name, it is a mission, and for 3 years straight, that mission has been recognized by the industry. Thank you for the honor, and congratulations to everyone who has shaped Elevate into what it is today.
For more about the MM+M awards, visit their site.