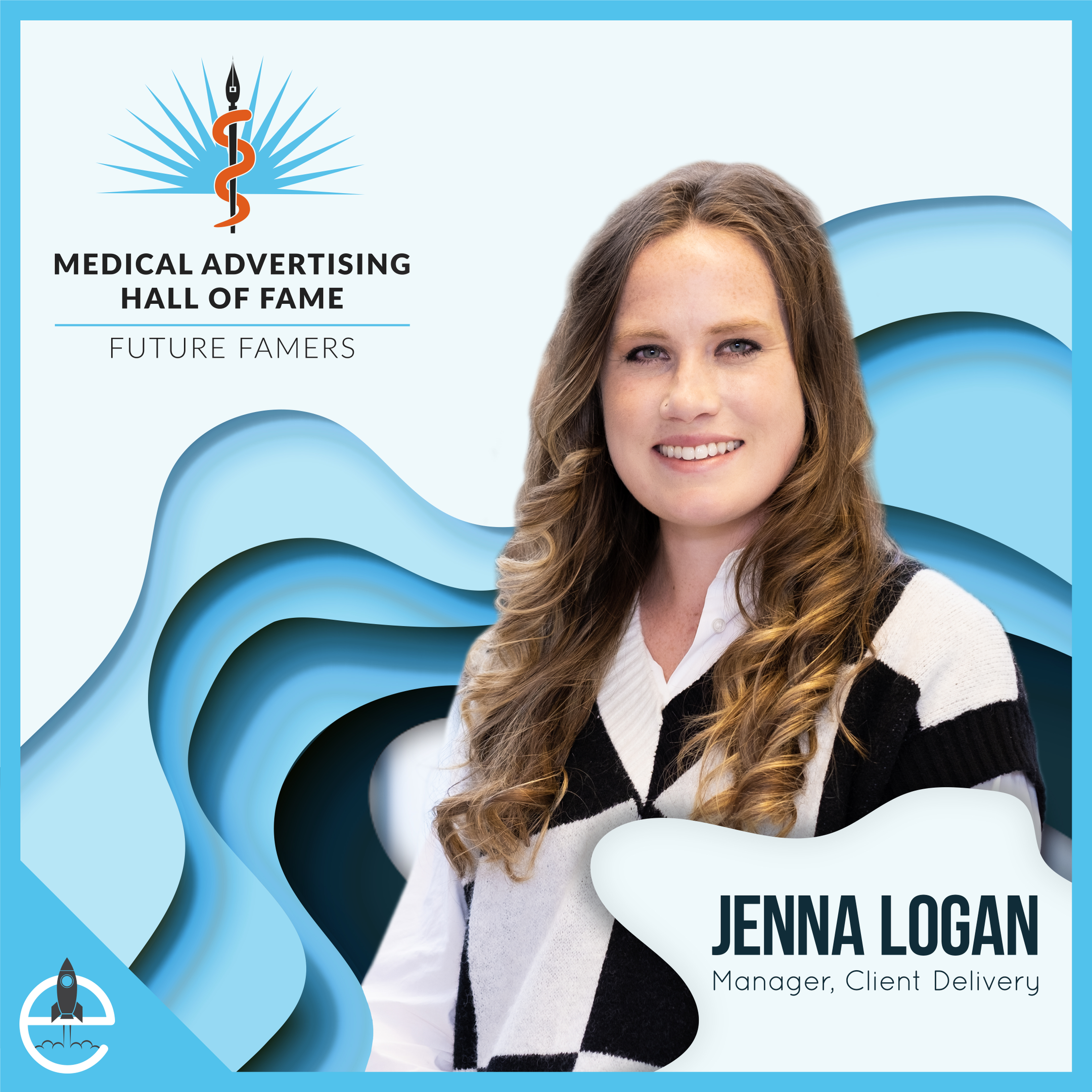 ELEVATE'S JENNA LOGAN NAMED 2023 MAHF FUTURE FAMER
CLIENT DELIVERY MANAGER EMBODIES PROMISING FUTURE OF INDUSTRY
Jenna Logan is always full speed ahead, taking on any challenges she faces head on. The Manager, Client Delivery, has grown in her role at Elevate from the first project she worked on. Jenna is a solution-oriented team player who understands the importance of aligning on priorities and setting expectations. Some of the work she has kept moving forward in her time at the agency includes multiple launches, rebrands, campaigns, and more. That's why it's so special to announce she has been named a 2023 Future Famer by the Medical Advertising Hall of Fame (MAHF).
Each year, the MAHF recognizes future leaders who embody the culture of their companies. Everyone at Elevate could give you hundreds of examples of why Jenna is the perfect pick for this honor, as she has built strong relationships across the entire company. Seeing Jenna get recognized by the industry is even more special, because the Temple University grad has been a special talent from day one.
Nick Stackhouse, Senior Manager, Client Delivery, said, "The best project managers are those that keep you organized, on task, and motivated. Jenna demonstrates all those talents effortlessly and does it all while leading through laughter."
Jenna can do it all and then some. She makes a difference in every endeavor and focuses on finding solutions, big or small, for her colleagues. This honor also gives Elevate it's third Future Famer in as many years.
Erin Hlivia, VP, Client Delivery, said, "Jenna is always looking ahead so if anyone is an ideal Future Famer, it would be her. We've always known she was going to be a difference maker in our industry's future, and we cannot wait to celebrate this amazing achievement."
Thank you to the MAHF, and congrats to Jenna! The agency is lucky to have you! Read more about the 2023 Future Famers on the MAHF site.
About The Medical Advertising Hall Of Fame
The MAHF was founded in 1996 to document the history of the industry, honor the retired men and women who have made significant contributions to the medical advertising profession (MAHF Inductees), attract and honor next-generation talent to the medical advertising profession (Future Famers), and honor industry creatives by recognizing great, retired campaigns (Heritage Awards). MAHF membership is open to healthcare advertising agencies and publications and currently consists of the leaders of nearly 40 agencies and publishing companies.