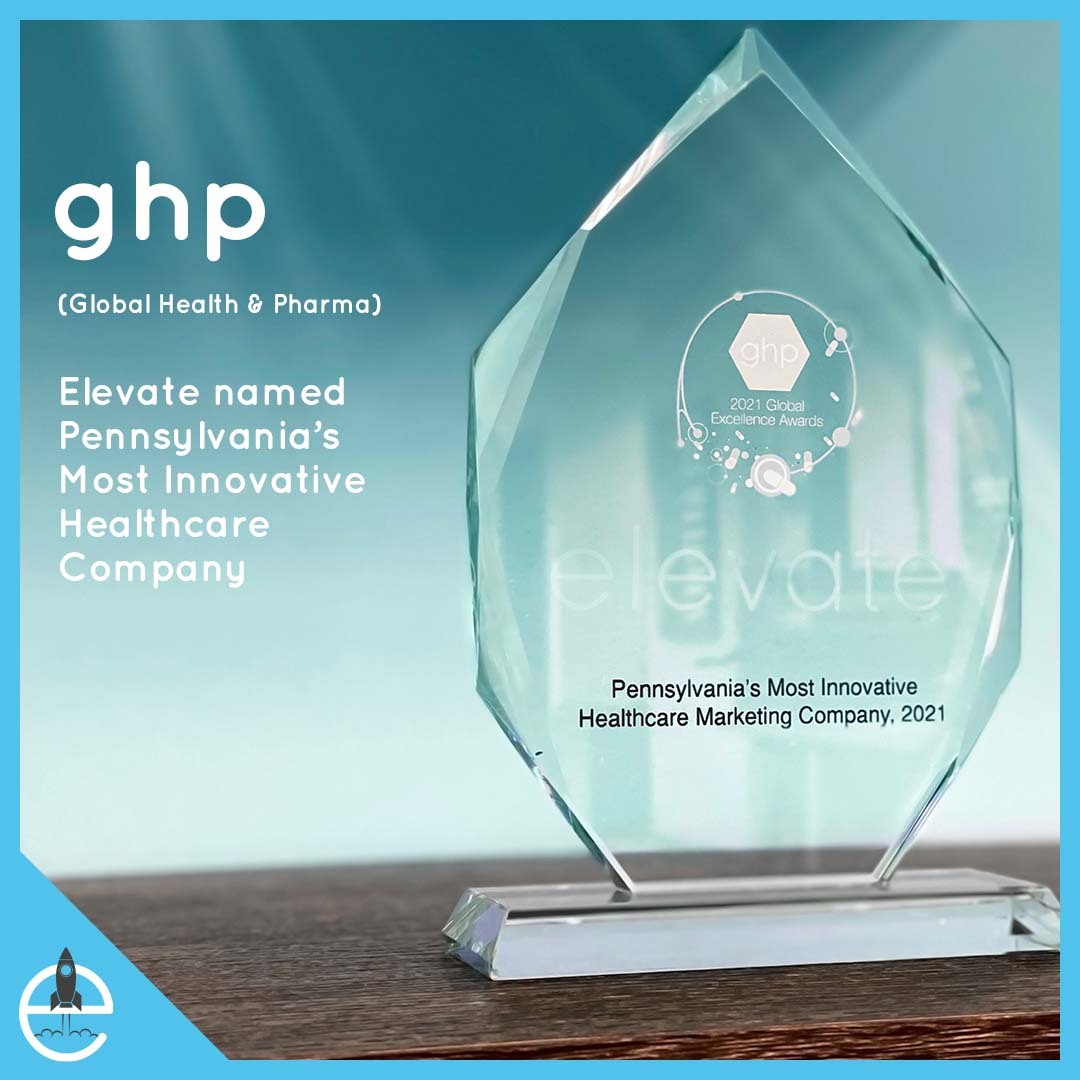 FOR THE SECOND YEAR IN A ROW, ELEVATE NAMED MOST INNOVATIVE HEALTHCARE AGENCY IN PA
DEDICATED TO SHAPING THE FUTURE OF HEALTHCARE MARKETING
Every year, Global Health & Pharma (GHP) recognizes the top innovators in the healthcare and pharmaceutical industry from around the world. This year, Elevate Healthcare Marketing does it again by being named Most Innovative Healthcare Marketing Company in PA for two years running. This honor comes on the heels of winning the coveted MM+M Small Agency of the Year award in both 2020 and 2021.
While awards and accolades are much appreciated, Elevate is not resting on its laurels. Since its inception in 2015, agency co-founders Frank X. Powers and Lorna Weir have motivated their teams to produce innovative, cutting-edge work for the pharmaceutical, biotechnology, and medical device industries.
"It is wonderful to be recognized by GHP once again. Now that Elevate is in its sixth year, we have a solid perspective of what works best for us," says Powers, managing partner. "By disrupting the status quo and driving change instead of simply responding to it, Elevate has helped countless challenger brands reach new heights."
What's the secret sauce behind innovation? The answer is multifaceted. Elevate is not trying to be like every other agency. By honoring its mission and remaining smaller and leaner than many competitors, Elevate can quickly pivot in response to customers' needs. This is crucial in the dynamic healthcare arena. Clients receive a collaborative partner who provides strategies that are actionable, profitable, and sustainable. These deep strategic insights also need to translate into innovative tactics that deliver results in a digital and multiplatform world.
Part of Elevate's innovative approach includes programs and initiatives instituted to attract and retain the best talent in the industry.
"Our staff retention has been incredible, and we have nearly all of our original employees," Powers states. "We have added several new hires this year in response to our substantial growth."
The healthcare industry is constantly changing, and those who survive must change with it. Elevate will continue to innovate in preparation for the challenges that lie ahead.
About GHP
GHP is a global information sharing platform focused on communication and collaboration within the human, animal, and environmental health categories. Published quarterly, the GHP magazine delivers the latest industry news and spotlights key innovators from around the world.