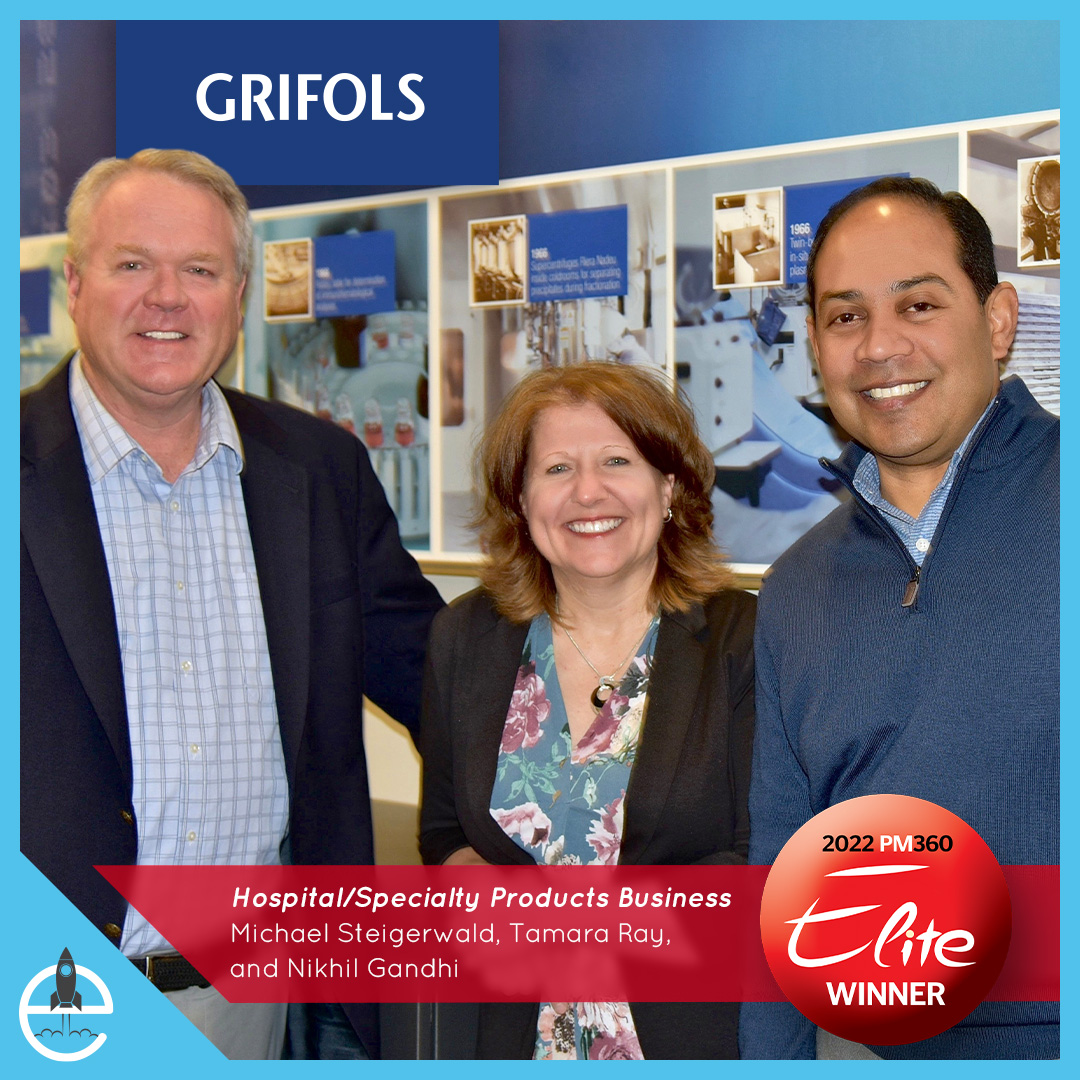 GRIFOLS HYPERRAB MARKETING TEAM SCORES PM360 2022 ELITE WIN
HOW THE MARKET LEADER STAYS AHEAD
There are a lot of layers beneath greatness, but the most influential layer is inspiration. As an agency, being inspired by our client partners is an important factor to developing impactful work. That is why we're thrilled to announce the HyperRAB team's PM360 2022 ELITE win in the Marketing Teams category.
While the HyperRAB brand is approaching 40 years young—thanks to Nik Gandhi (Director of Marketing, Hospitality/Special Business), Michael Steigerwald (Deputy Director, Specialty Products), Tamara Ray (Associate Director, Market Research), and team—every year is like a launch year, filled with the spirit of innovation, insight, and education, as well as an ever-improving understanding of the needs of customers—and acting urgently on them.
Elevate cofounder Lorna Weir said, "For Nik, Michael, and Tamara doing all the right things, like altruistic leadership initiatives and enhanced investment in serving customers better, is just part of how they operate. But when those efforts end up paying you back by raising your brand's leadership position and growth even more? Well, that is when we know that team is operating as an ELITE marketing team. Thank you to Nik, Michael, and Tamara for always motivating us to be the best."
We are thrilled to celebrate and congratulate our client partners on this well-deserved achievement. It takes a strong partnership to continuously raise to bar for strong, impactful work.
To learn more about the PM360 Awards, click here.
About PM360
PM360 is the premier, must-read magazine for marketing decision makers in the pharmaceutical, biotech, diagnostics, and medical device industries. Published monthly, PM360 is the only journal that focuses on delivering the full spectrum of practical information necessary for product managers and pharmaceutical marketing professionals to succeed in the complex and highly regulated healthcare environment. By providing the full circle of enriching content, PM360 is truly an indispensable tool for busy and productive marketing professionals to stay at the top of their game.