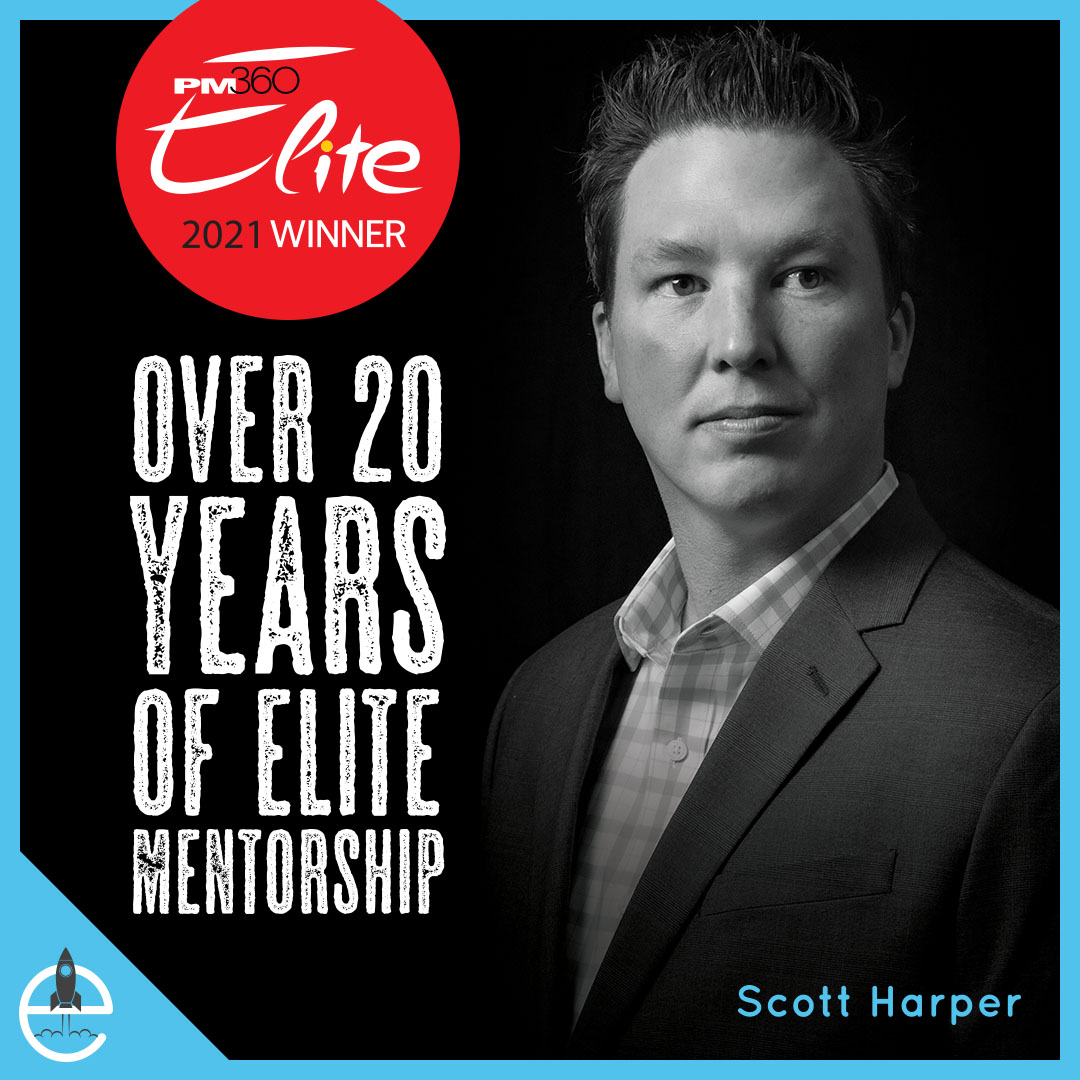 Honoring a Mentor with Elite status
Scott Harper recognized as PM360 ELITE winner
PM360 announced its winners for the 7th annual ELITE Awards. The ELITE awards were created to recognize the most influential people in the industry, those who are Exceptional, Leaders, Innovators,Transformers, and Entrepreneurs. There were more than 500 submissions, but it is no surprise to us that Scott Harper, VP, Client Engagement, was recognized as an ELITE Mentor.
Scott's mentoring abilities, adaptability, and an approach are unmatched in the industry. He has worn several hats throughout his 20-year career. Today, one of the most valuable roles Scott plays is mentor to Elevate's growing client-engagement teams.
When Scott first joined Elevate, we knew he was exactly the right person to lead the department—to identify his teams' strengths and help them overcome their weaknesses. Scott oversees the development of strategic marketing communications, supervises internal support mechanisms, directs day-to-day client services, coordinates all marketing and communication initiatives for individual client needs, and still finds time to mentor Elevate's growing client-engagement teams.
Scott is an invaluable member of the Elevate team. Each day, he embodies what a leader should, not only pushing himself to be great but elevating everyone around him. Scott has mentored dozens of professionals in his career, including account, project management, and creative.
Nick Stackhouse, Senior Manager, Client Delivery, at Elevate said, "Scott is the type of manager that remains calm in the most stressful situations. It is a simple concept, but one that is so effective in reassuring his mentees (myself included) that taking the time to pause is all that is needed to come up with a practical solution. He has made me a stronger project manager—one that is more inclined to take the time to think through a solution instead of just reacting." 
It wasn't just one person's opinion of Scott that led to this achievement. It was a collection of testimonials from his bosses, clients, colleagues, and experience. With two decades of experience in the industry, Scott continues to set the bar high and help others along the way.
Frank X. Powers, co-founder of Elevate, said, "Scott works extremely well with the creative team and, more importantly, he optimizes both internal and client resources on behalf of the brand to develop innovative marketing solutions that drive market share. In addition to his tireless work ethic and can-do attitude, Scott has consistently demonstrated an ability to manage even the most difficult projects and timelines at our advertising agency while still serving as mentor to countless associates."
Throughout his career, Scott's mentoring skills have been recognized by his mentees, clients, and his superiors, and we are thrilled that Scott is being recognized with the honor of PM360 ELITE designation for mentoring.
Click here to read the full article at PM360.