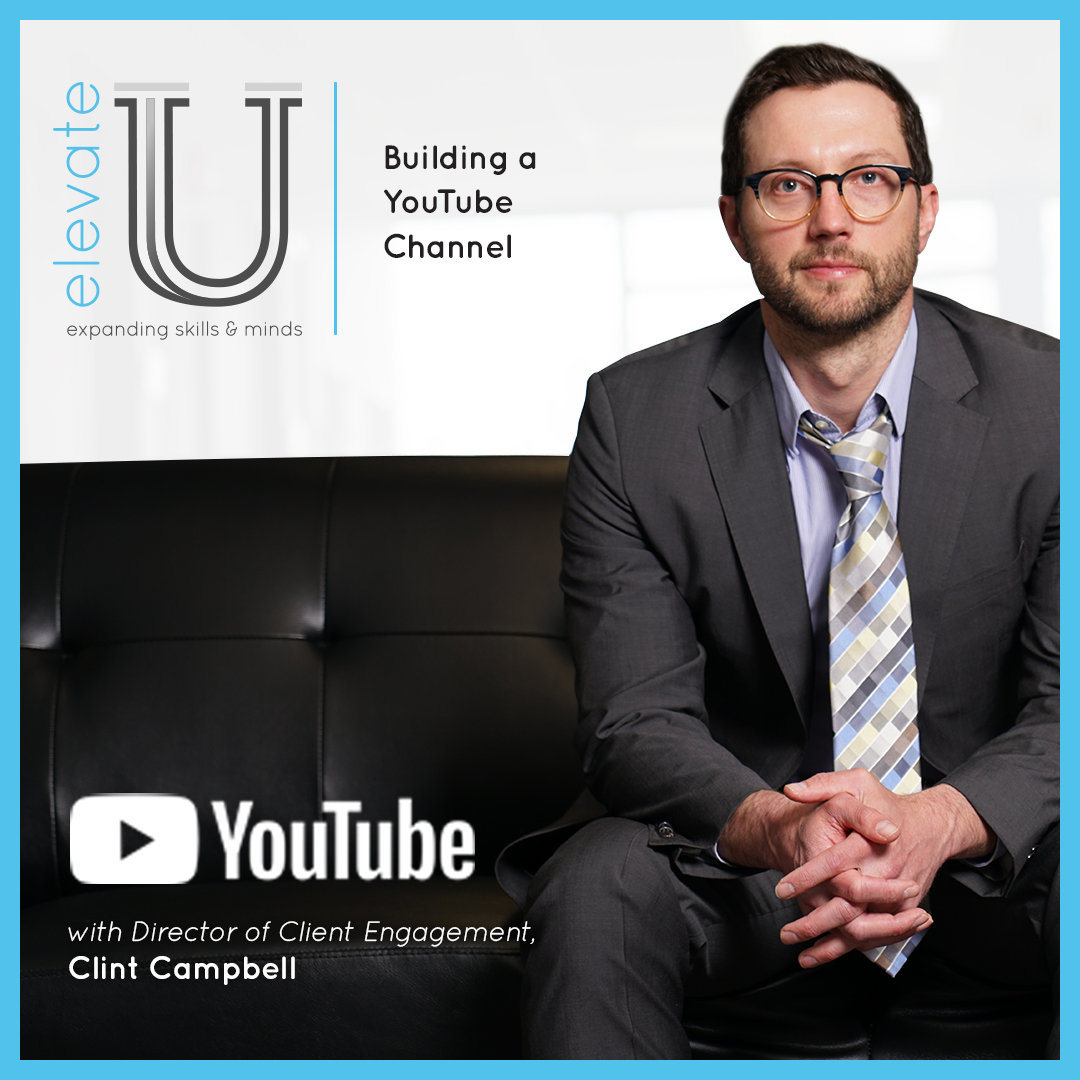 How to Build a YouTube Channel
ELEVATE YOUR CONTENT TO SPEAK TO PEOPLE, NOT ALGORITHMS
In our latest session of Elevate University, our internal initiative focused on employee growth and training, and we dove into YouTube, something most of us use every single day but might not realize how powerful it is. YouTube is the 2nd-most visited website globally, with 73% of US adults using it and 51% of YouTube users visiting the site daily.1,2 This is more than any other platform, website, or video player, making it a unique opportunity for marketers to deliver a message to speak to the audience.
Clint Campbell, Director, Client Engagement, walked the team through his research and learnings and showed us how best to use YouTube for marketing. First was discussing the 4 primary goals of YouTube: video starts (what content gets views onto YouTube), watch time (what do viewers spend time watching), session length (what content keeps viewers on YouTube), and satisfaction (return rate after viewing content). These viewer signals are what trigger sending the correct video to the correct person at the right time. That's where our opportunity lies. Understanding the goals of YouTube allows marketers to create the right content that will be most effective for the audience.
Clint said, "We're creating content for people, not robots. Rather than trying to decipher the algorithm, our job is to make something that speaks to human truths and connects to the person watching it."
Begin with the end in mind and develop every detail down to the thumbnail. The thumbnail is key for growing the audience, it needs to set the expectation and allow the video to deliver the message, and the value, to the viewer. An average video with a great thumbnail will outperform a great video with an average thumbnail. Once the video is published, the real work begins, with the distribution plan across various media continuing the brand's conversation.
There are 3 strong reasons for brands to advertise on YouTube: 1) it can be highly targeted, utilizing Google targeting capabilities, 2) creative can be A/B tested to see what audiences react to, and 3) it is cost effective at driving traffic. Navigating YouTube is more than having a page and posting videos; the right approach can be an incredible tool in a brand's strategy. We believe this widely untapped platform in healthcare marketing can create opportunities for our brands to connect to patients.
References: 1. Who uses WhatsApp, YouTube, and Reddit. PewResearch.org. Accessed February 10, 2021. https://www.pewresearch.org/internet/chart/who-uses-youtube-whatsapp-and-reddit/. 2. Perrin A, Anderson M. Share of U.S. adults using social media, including Facebook, is mostly unchanged since 2018. PewResearch.org. Accessed February 10, 2021. https://www.pewresearch.org/fact-tank/2019/04/10/share-of-u-s-adults-using-social-media-including-facebook-is-mostly-unchanged-since-2018/.