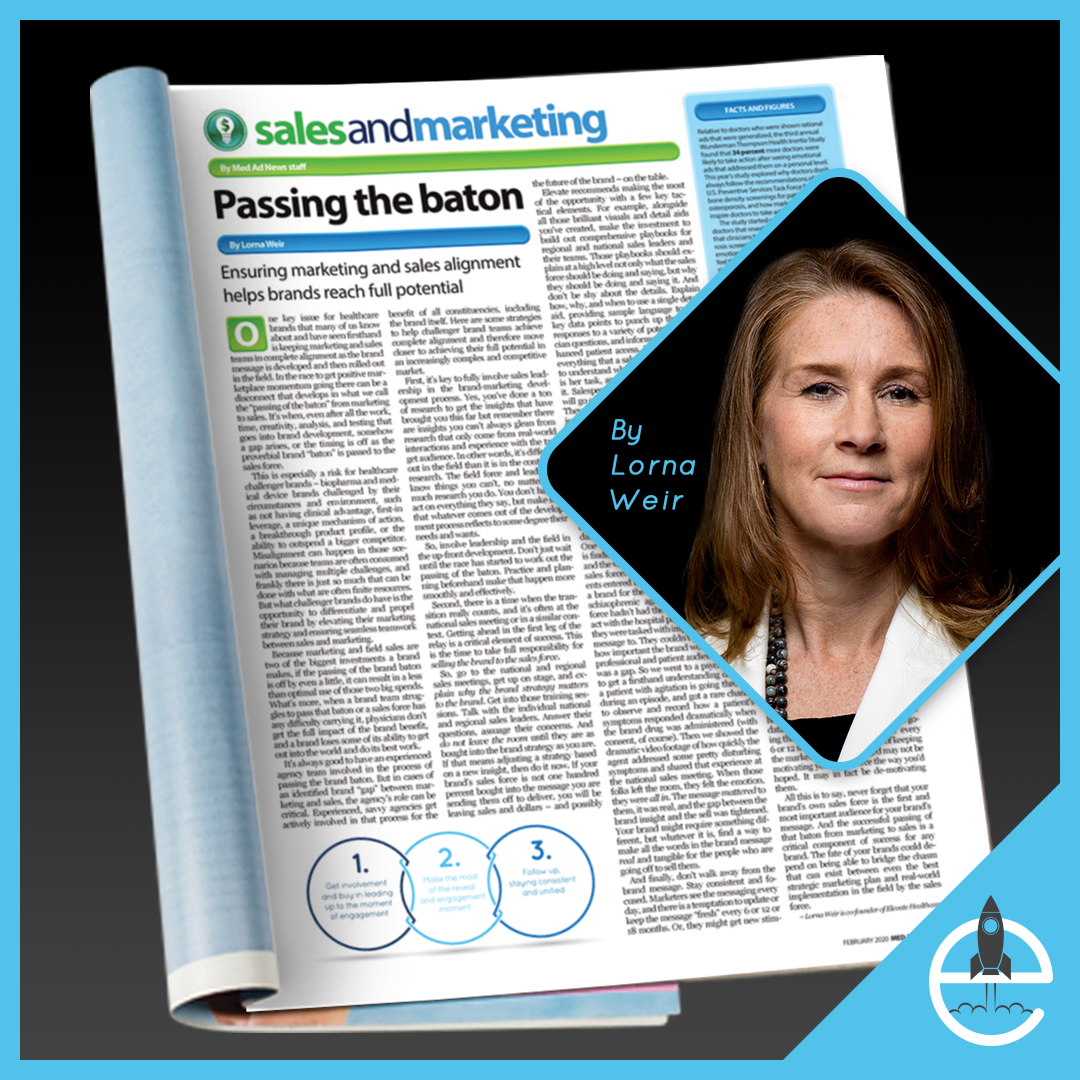 LORNA WEIR TALKS STRATEGY IN MED AD NEWS FEATURE
'PASSING THE BATON' ARTICLE WRITTEN BY ELEVATE CO-FOUNDER
Elevate co-founder Lorna Weir is featured in the latest issue of Med Ad News, lending her thoughts for their "Passing the Baton" article series. In her article, Lorna talks about the different tactics and thinking to ensure marketing and sales alignment which allow brands to reach full potential. The meaning of "passing the baton" is when the timing is off, even after all the work, time, creativity, analysis, and testing that go into brand development, as the proverbial brand "baton" is passed to the sales force.
Lorna writes, "This is especially a risk for healthcare challenger brands-biopharma and medical device brands challenged by their circumstances and environment, such as not having clinical advantage, first-in leverage, a unique mechanism of action, a breakthrough product profile, or the ability to outspend a bigger competitor … But what challenger brands do have is the opportunity to differentiate and propel their brand by elevating their marketing strategy and ensuring seamless teamwork between sales and marketing."
Lorna elaborates on how an experienced agency team can help pass the brand baton and offers some strategies to help challenger brand teams achieve success in a complex and competitive market.
First, it's key to fully involve sales leadership in the brand marketing development process. Second, there is a time when the transition really counts, and it's often at the national sales meeting or in a similar context. Getting ahead in the first leg of the relay is a critical element of success. This is the time to take full responsibility for selling the brand to the sales force. And Lorna says the third step is to stay consistent and focused and to not walk away from the brand message.
On why it's so important, Lorna advises, "Never forget that your brand's own sales force is the first and most important audience for your brand's message. And the successful passing of that baton from marketing to sales is a critical component of success for any brand."
That leadership and thinking from Lorna are what help drive Elevate – we understand the importance of getting actively involved for the benefit of the brand and all related parties. We partner with our clients to deliver work that makes a difference, and we create a relationship where we can pass the brand baton seamlessly.
Read Lorna's full article here at Med Ad News' website.
About Med Ad News
The pharmaceutical industry's publication of record for more than 30 years, Med Ad News provides broad coverage and incisive analysis of the issues, events, trends, and strategies shaping pharmaceutical business, marketing, and sales. More than 16,500 readers- comprising corporate executives, marketing, sales, and product managers – rely on Med Ad News and its staff for unparalleled content.