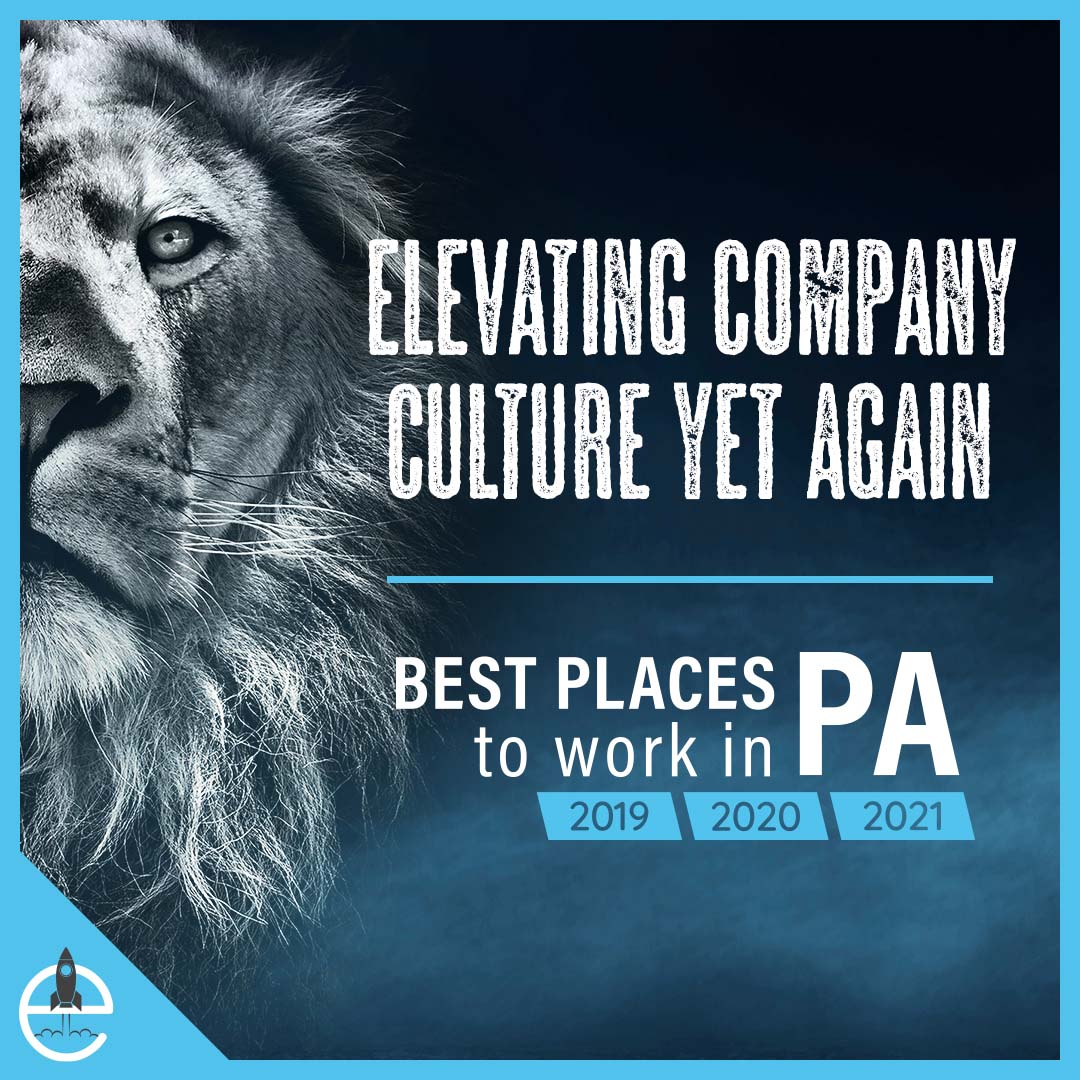 ONE OF THE BEST PLACES TO WORK IN PA AGAIN AND AGAIN AND AGAIN
ELEVATE RECOGNIZED FOR ATMOSPHERE AND CULTURE FOR THE 3rd STRAIGHT YEAR
Elevate has done it for the 3rd straight year, placing as of the Best Places to Work in PA list, coming in at #16 for 2021. In a time where the future seems uncharted, Elevate continues to lead the way in what a company can be by putting their best asset first—investing, trusting, and believing in its people above all else.
Agency co-founder Frank X. Powers said, "Landing on this list for the third time confirms what we set out to do in the beginning: create a welcoming and engaging company filled with creativity, respect, and determination. Culture is of the utmost importance, and each person at Elevate contributes to making this company special."
Frank X. Powers and Lorna Weir founded Elevate in 2015 with the plan to be a new breed of agency. It would feature the best talent in the business doing the hands-on, day-to-day work and everyone joining forces to become the champion for challenger brands. As time goes on and the agency grows, the core values instilled from day one continue to carry on. Collaboration, education, and positivity are the foundation. There are virtual company celebrations and happy hours, and employees host game nights.
The agency has multiple programs focused on learning and teamwork. Elevate U is an ongoing series of in-house presentations that grow employee expertise and add new skills. The Elevate Me initiative was created to offer employees a self-care toolkit to assist with stress management while working remotely and beyond. Part of self-care includes reducing stress in the workplace, and Elevate colleagues are mindful of reducing meeting fatigue by making meetings more efficient.
That's what sets up Elevate for success, and achievements like being the best place to work are the true testament to teamwork.
See more about the Best Places to Work in PA here.
About Team Pennsylvania
Team Pennsylvania is a nonpartisan, nonprofit organization focused on connecting leaders in the state of Pennsylvania to achieve and sustain progress for the state. By focusing on forging collaborative connections between the public and private sectors, Team Pennsylvania helps improve the state's competitiveness and economic prosperity.