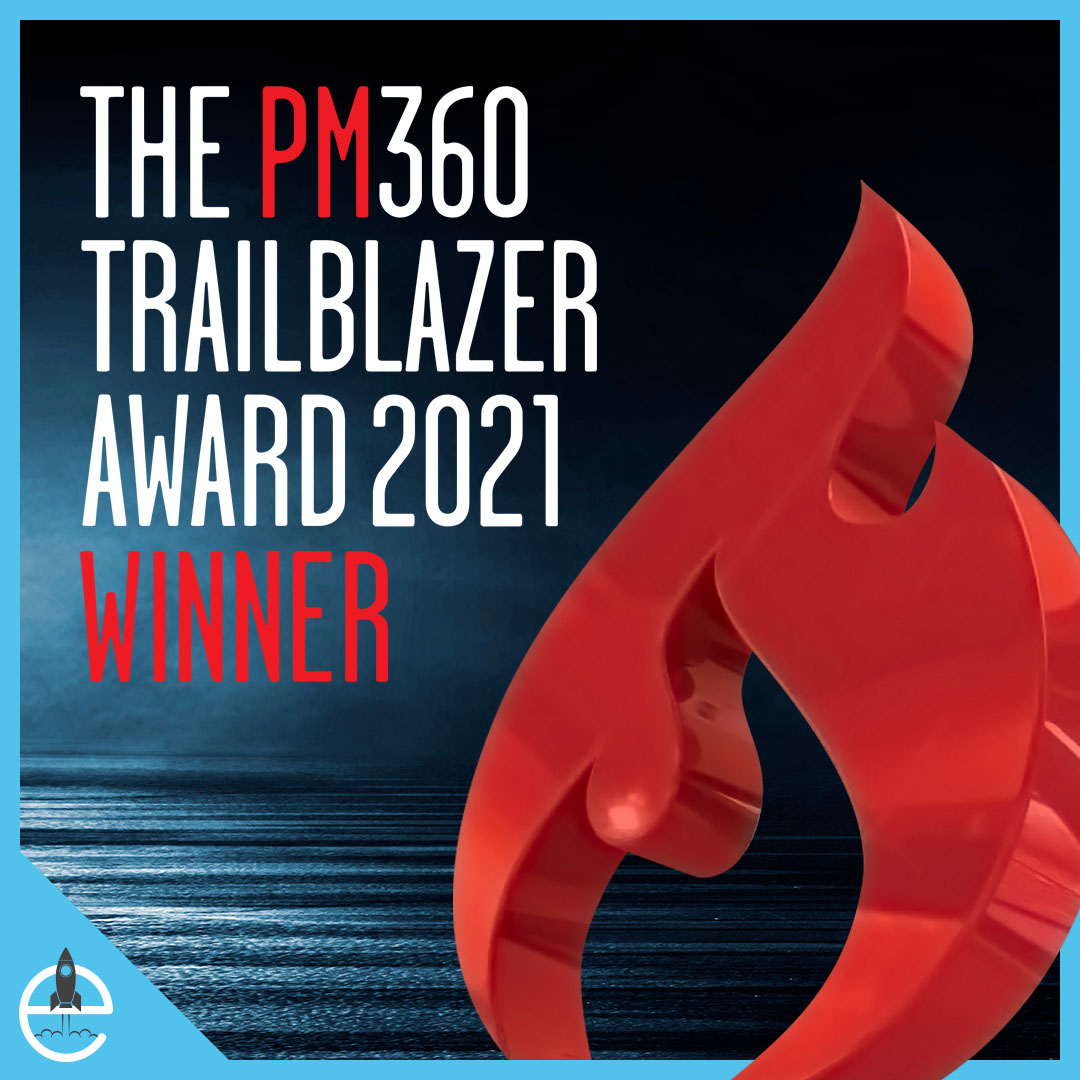 PICK 6—ELEVATE A FINALIST FOR SIX PM360 TRAILBLAZER AWARDS
"SIMPLICITY" SHINES WITH BEST INTERACTIVE MARKETING PROGRAM
Blazing a trail and forging a new path is what Elevate Healthcare has set out to do from day one. That makes the news of Elevate being a finalist in six categories at the 2021 PM360 Trailblazer Awards even more special. Elevate took home gold for best Interactive Marketing Program and silver for App/Digital Solution or Suite for "Simplicity" for DePuy Synthes. The "Simplicity" campaign was also a finalist in the Product/Service Launch, and Sales Aid categories. In addition to that campaign, Elevate was nominated for Advertising Agency of the Year and Direct to Consumer Campaign for "The Nerve" from LivaNova.
Elevate is used to helping challenger brands transcend limitations and achieve their full potential, but the pandemic presented a set of obstacles like none seen before. Overcoming adversity for its clients is what makes this 100% independent agency shine.
Frank X. Powers, co-founder, said, "We saw the landscape changing around us and knew we had to focus even more on agility, speed, and communication during these unique times. We always strive to deliver work that makes a difference, and that has never been more important than right now."
In a time where most companies are simply focusing on adapting to a dynamic, ever-changing world, Elevate was executing the biggest launch campaign in the agency's history for Johnson and Johnson medical device company DePuy Synthes and its VELYS Robotic-Assisted Solution. "Simplicity" being recognized as one of the best product launch campaigns is a major accomplishment for the agency and our client. Throughout the launch, the team was able to create a cutting-edge immersive experience, a demo video, and a sales aid that communicate the groundbreaking technologies, important statistics, and education and support to the surgeon audience. A special thanks to our DePuy Synthes clients and agency partners for this successful launch.
"The Nerve" from LivaNova targeted patients with drug-resistant epilepsy who experience uncontrollable seizures and are looking for more from their treatment. This campaign focused on empowerment and helping these patients find a new way forward.
While awards let us know that it's a job well done, the work Elevate creates on behalf of clients to ensure launch success is the real standard to measure success. That's because clients define Elevate by its performance as the champion of brands—by its ability to create challenger ideas that help disrupt the status quo, compel an action, inspire a belief, change a mindset, and overcome a market challenge.
Thanks are in order, as always, to our team and our client partners for creating compelling work with impact.
For more on the Trailblazer awards, check out their site here.
About PM360
PM360 is the premier, must-read magazine for marketing decision makers in the pharmaceutical, biotech, diagnostics, and medical device industries. Published monthly, PM360 is the only journal that focuses on delivering the full spectrum of practical information necessary for product managers and pharmaceutical marketing professionals to succeed in the complex and highly regulated healthcare environment. By providing the full circle of enriching content, PM360 is truly an indispensable tool for busy and productive marketing professionals to stay at the top of their game.