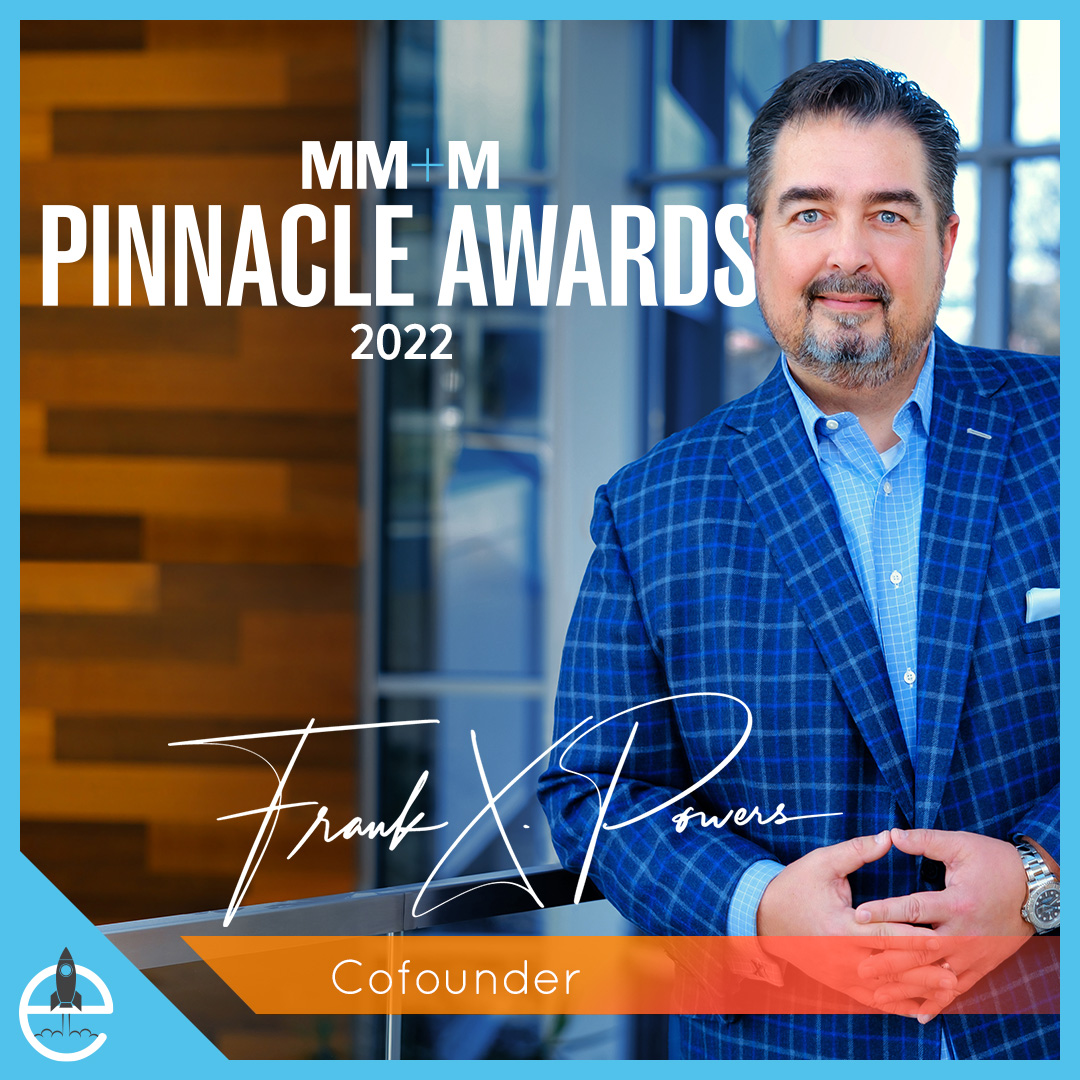 Powers Honored with MM+M Pinnacle Award
Elevate Cofounder named one of pharma marketing's 25 top marketers
MM+M's second-ever Pinnacle Awards honor the medical marketing industry's most venerable marketers, strategists, and creators. Out of many impressive nominations, MM+M selected 25 industry professionals to be inducted into the 2022 Pinnacle Awards class, including Frank X. Powers, Elevate cofounder. As a member of this prestigious group, Frank has not only made his mark in the healthcare industry, but has also paved the way for those who will follow in his footsteps to achieve greatness.
Lorna Weir, Elevate cofounder, echoes that sentiment. "For those of us who have had the good fortune and pleasure of working with Frank over the years, we remain in awe of his ability to nurture and illuminate the very best in the many brands and people he's supported. He leaves an indelible 'X' for which we are all better."
In its second year, the Pinnacle Awards select industry leaders who have reached the peak of their career, but are not quite done yet. They have helped build the industry into what it is today and will continue their efforts through innovation and transformative work for years to come.
"Medical marketing is an ever-changing business, which makes staying ahead of trends and new technologies almost a full-time job in itself," said MM+M editor-in-chief Larry Dobrow. "That makes the achievement of MM+M's Pinnacle Award honorees even more impressive: Not only have they evolved with the times, but they've continued to operate at a high level throughout.
Check out the story of the Pinnacle, and the talented company Frank is in, here.
About MM+M
MM+M, first published in 1966 as Medical Marketing + Media, is the media brand of record for pharmaceutical marketing and commercialization, delivering the most balanced and relevant coverage of its subject matter. The 50-year-old business title produces an essential mix of online breaking news and analysis combined with monthly print features — timely, objective, original editorial content for an executive audience of leaders and thinkers who work in pharma, medical device, diagnostics, and greater healthcare marketing. Every year the magazine produces exclusive lists, like the Pinnacle, 40 Under 40 and the Hall of Femme, honoring the year's health-tech innovators and leading female healthcare marketers, respectively, as well as surveys with the latest data about industry salaries and marketing trends, plus an annual Agency Issue, featuring profiles of the top 100 healthcare marketing agencies in North America.