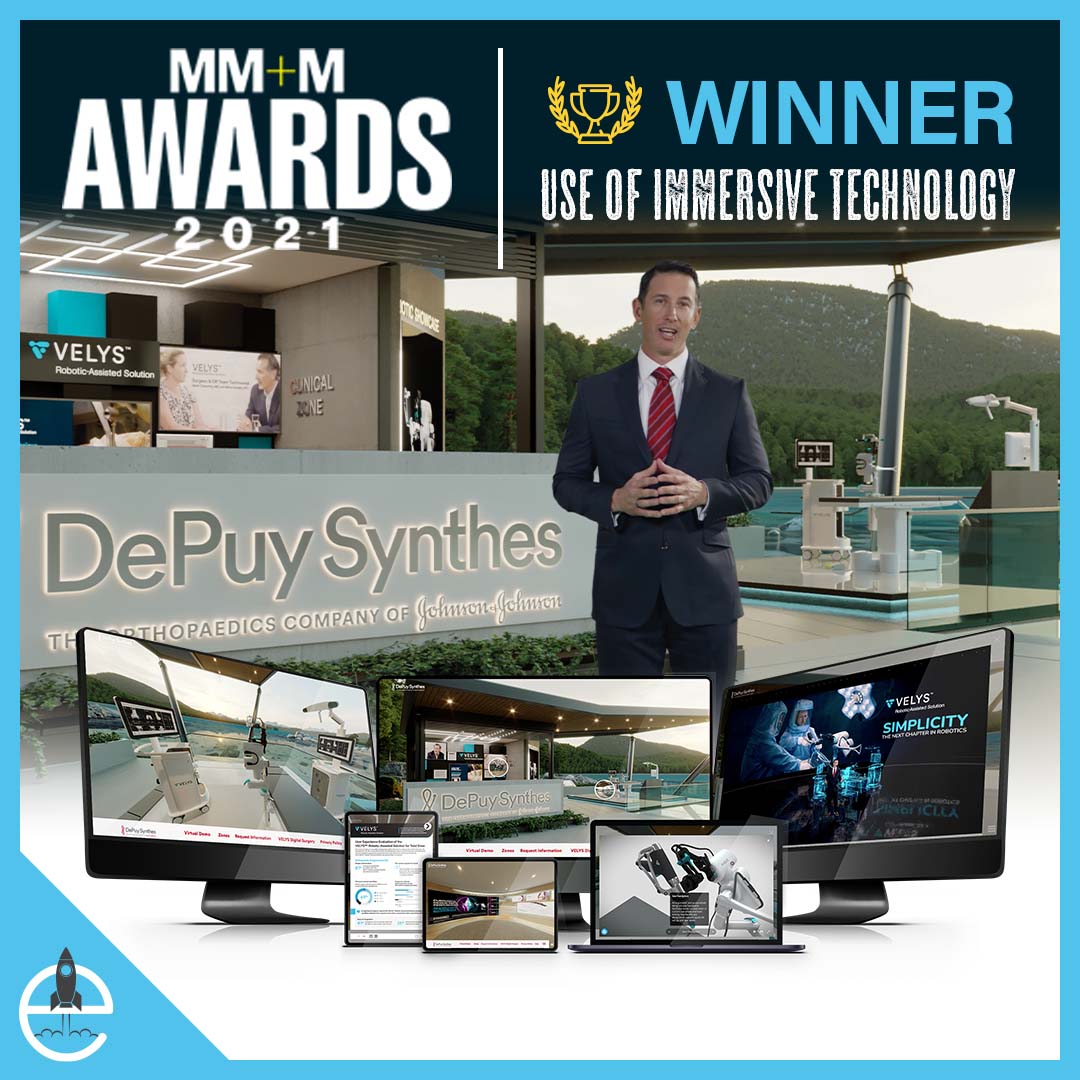 ELEVATE RISES TO THE TOP AT THE 2021 MM+M AWARDS
TWO WINS INCLUDE 2ND STRAIGHT AGENCY OF THE YEAR
As one of the biggest nights of the year in the healthcare marketing industry, the 2021 MM+M Awards was one to remember. The MM+M Awards recognizes the best initiatives, companies, and creative work in healthcare advertising. With more than 90 judges made up of industry leaders and hundreds of entries, the best work in each category rose to the top.
Elevate was honored to take home the gold award for the Use of Immersive Technology for the VELYS™ Robotic-Assisted Solution. We strive to help our clients navigate today's evolving digital world and the VELYS Robotic-Assisted Solution was a great example of how Elevate partnered to meet that challenge for client DePuy Synthes—which in this case included launching a robotic surgical brand in a pandemic—along with marketing partners Plexus Productions, Brawl Agency, and FleishmanHillard.
Additionally, Elevate was honored as a finalist for the VELYS Robotic-Assisted Solution product brochure that communicates the differentiating technologies, the key statistics, and the education and support the brand makes available to the surgeon audience. A special thank you to our DePuy Synthes clients and agency partners for collaborating with us to create the work for this campaign launch. These short-list nominations and wins are recognition not only for Elevate but also for everyone who played a vital role in creating these initiatives.
In the big award for the night, Elevate won the 2021 Award for Small Agency of the Year for the second consecutive year. Additionally, Elevate was a finalist for Independent Agency of the Year, and co-founder Frank X. Powers was a finalist for the 2021 Agency Entrepreneur of the Year award.
Co-founder Lorna Weir said, "For over 20 years I've worked with and watched Frank leave his "X" mark on countless brands. This honor confirms his unrivaled commitment to and passion for doing great work on behalf of his clients, their brands, and his team. We're forever grateful for the entrepreneurial spirit—and great fun—Frank has brought to Elevate."
For the first time since 2019, Elevate gathered in-person with healthcare marketing professionals to celebrate the game-changing work created over the past year. It was a night not just for celebration, but it was also a chance to be inspired by the work being created across the entire industry. Elevate was honored to be recognized among these agency and industry leaders.
For the full list of nominations and winners, visit MM+M's site here. 
About MM+M 
MM+M is the media brand of record for pharmaceutical marketing and commercialization, delivering the most balanced and relevant coverage of its subject matter. The 50-year-old business title produces an essential mix of online breaking news and analysis combined with monthly print features—timely, objective, original editorial content for an executive audience of leaders and thinkers who work in pharma, medical device, diagnostics, and greater healthcare marketing. MM+M also develops annual conferences and live and virtual events, and it runs the industry's premier awards program, the MM+M Awards, which celebrates creativity and effectiveness in healthcare marketing.