Cannabidiol, also known as CBD, is a superhot business trend gaining national attention with hundreds of new products coming to market seemingly every day. Sourced from the hemp plant, CBD is used for health benefits like pain relief, reduced anxiety, and depression, and studies show it may also provide benefits for a range of serious diseases, including epilepsy, diabetes, and certain types of cancers.
Aspen Green is a start-up CBD company bringing a new family of pure, full-spectrum hemp and CBD products to the marketplace. Focusing on science and purity, Aspen Green employs an exacting process to produce only the highest-quality, premium CBD products for its customers.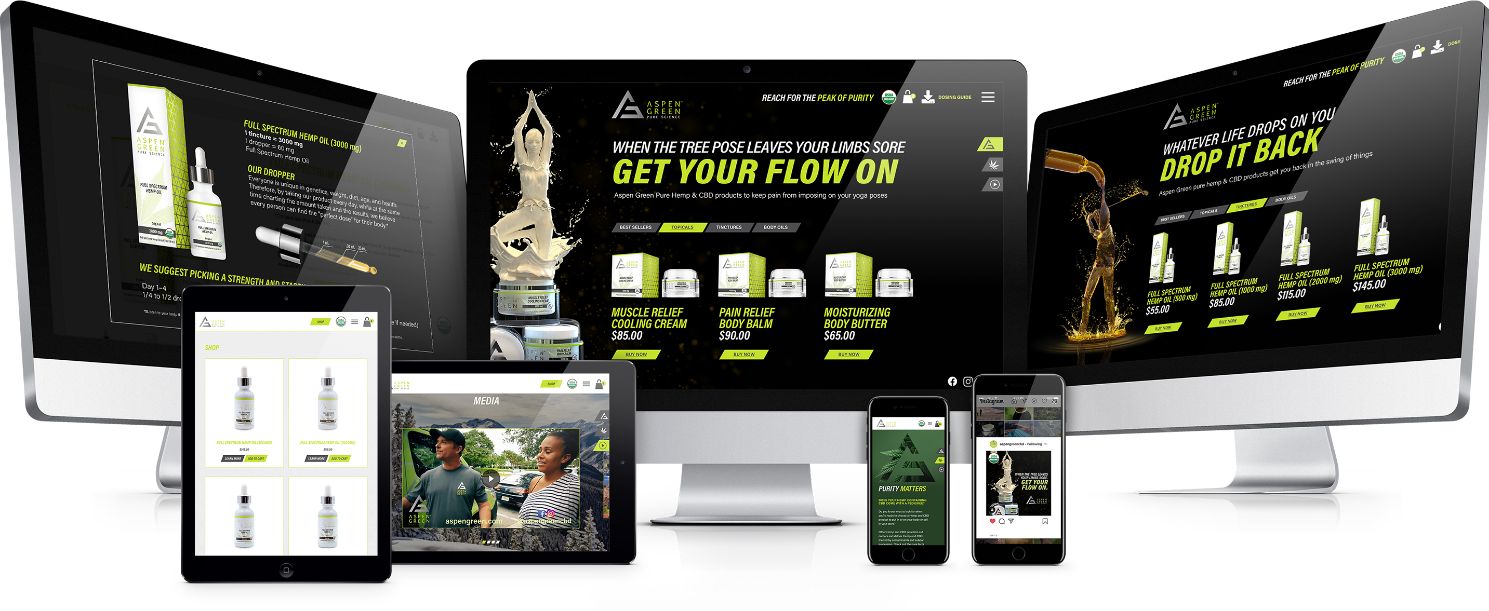 Elevate leveraged the opportunity to deliver a powerful campaign to brand Aspen Green and launch its new product line with eye-catching images and undeniably compelling copy and content.
Our task was to build the brand from the ground up. From logo to packaging, sales materials to in-store displays, to the website, Elevate crafted the entire branding suite. By showcasing the combination of science and innovation, we brought the strategy to life with awe-inspiring images of natural beauty.
With CBD being relatively new to the market, education was also a priority. We created a cache of resources and information for the website to provide answers, facts, and encouragement and help customers really feel what makes Aspen Green different. It's all about the quality, integrity, and transparency. The packaging lists all the ingredients and highlights the potential benefits of the tinctures, balms, oils, and creams.
The excitement is already spreading throughout the cannabis, hemp, and CBD industry, and also among the agency world. The Aspen Green logo was awarded Best Rx Logo at the 2019 LOUIX Awards.