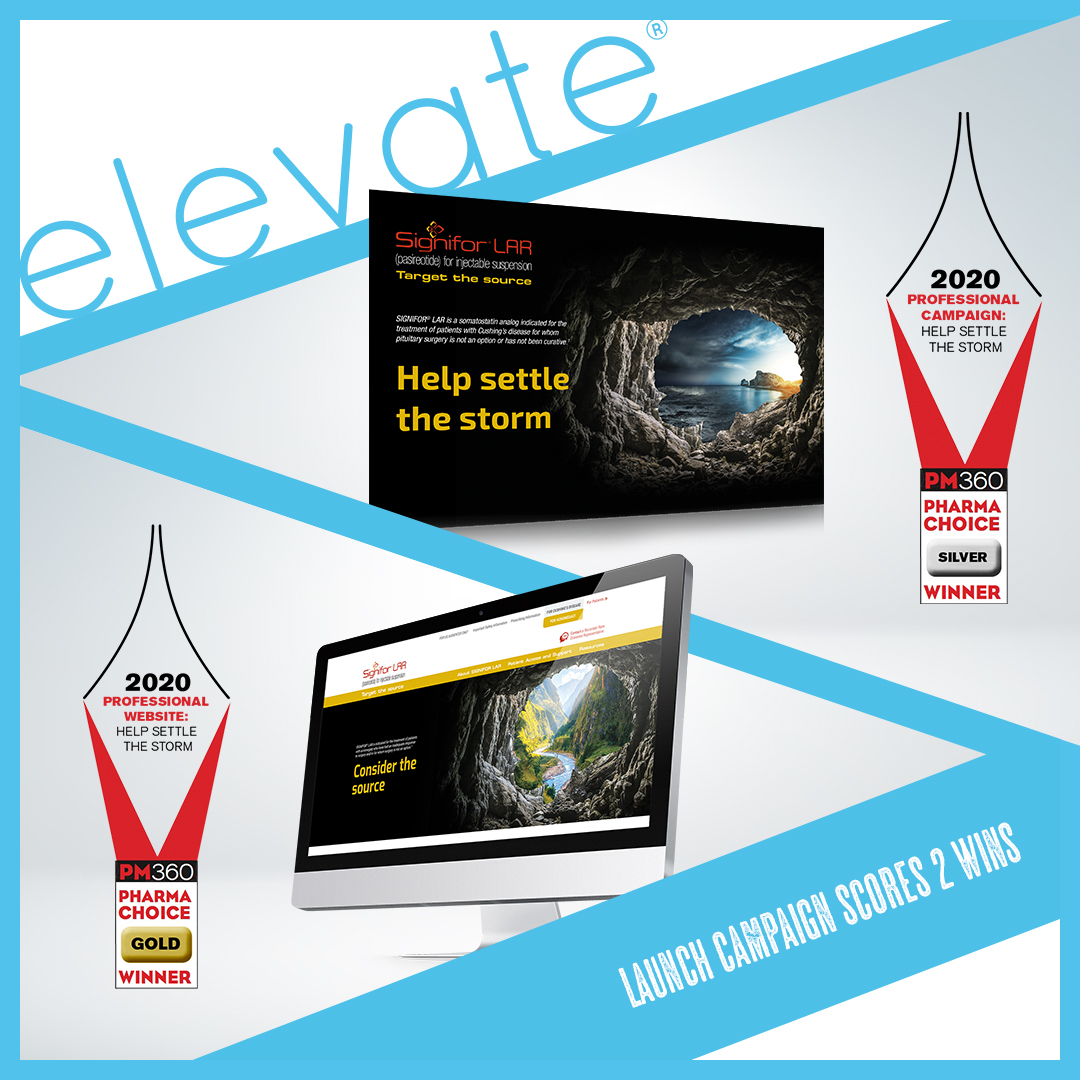 ELEVATE ROARS AS "HELP SETTLE THE STORM" WINS AT 2020 PM360 PHARMA CHOICE AWARDS
BRAND CAMPAIGN SCORES 2 INDUSTRY-VOTED WINS
People affected by a rare disease can feel overlooked and forgotten. For those living with Cushing's disease and acromegaly, the road from diagnosis to treatment can be long and turbulent. That inner storm was the foundation for the "Help Settle the Storm" campaign, which aimed to connect how those people feel to the healthcare providers looking to help.
The 2020 PM360 Pharma Choice Awards featured two wins for "Help Settle the Storm": gold for "Professional Website" and silver for "Professional Campaign." Because the Pharma Choice awards are voted on by the members of the healthcare marketing industry, winning means our peers recognized our extraordinary work.
Tara Powers, VP, Creative Director, said, "This is an amazing achievement for our team and our clients, who helped us strategize this approach. The goal was to aim high and push beyond the expectations for a typical campaign. We wanted to showcase the struggle alongside the solution, and this campaign does a remarkable job of that and gives HCPs a glimpse inside their patients' minds."
The campaign aims to highlight the feeling of living with Cushing's disease and acromegaly. Creating a campaign that spoke to providers and connected them to their patients was the key for the marketing team at Recordati Rare Diseases. A strong campaign needs a strong website to match, and it needed to be clear across both indications. Striking imagery combined with modern graphic treatments and intuitive user experience help deliver a website that was a complete package.
"Help Settle the Storm" has made a big impact for orphan brand SIGNIFOR® LAR; built on trust and fearlessness, the campaign has seen tremendous success, as this campaign has won several creative accolades in the last year.
For 12 years, the Pharma Choice Awards have been the only ones in the industry that allow everyone an opportunity to decide who wins. Over 8,000 votes, the most ever, were cast to decide this year's winners. That makes these wins that much better. Congratulations, team!
For more on this year's winners, visit PM360.
About PM360
PM360 is the premier, must-read magazine for marketing decision makers in the pharmaceutical, biotech, diagnostics, and medical device industries. Published monthly, PM360 is the only journal that focuses on delivering the full spectrum of practical information necessary for product managers and pharmaceutical marketing professionals to succeed in the complex and highly regulated healthcare environment.