ALL EYES ON A PAIR OF STANDOUT WINNERS AT THE 2023 COMMUNICATOR AWARDS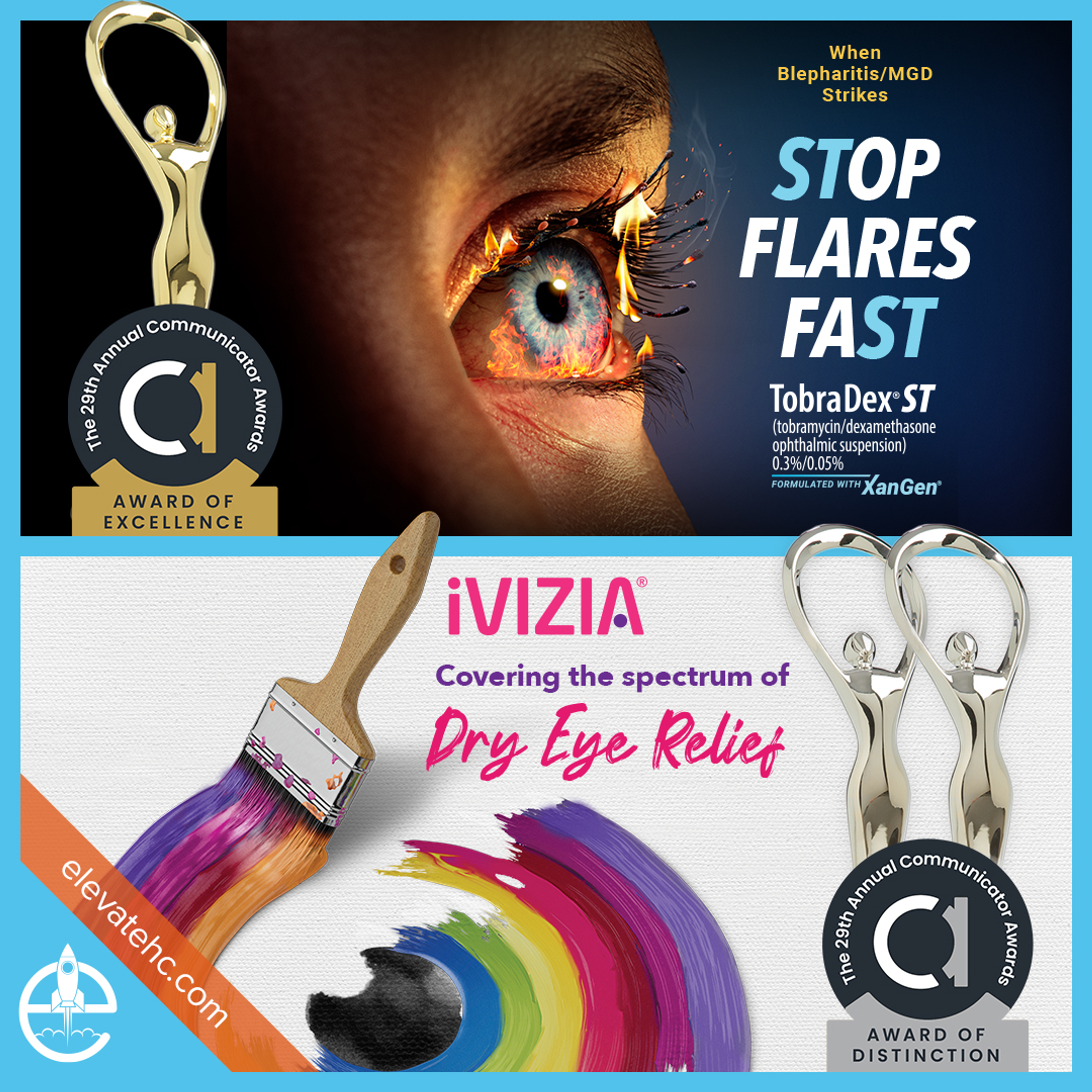 ALL EYES ON A PAIR OF STANDOUT WINNERS AT THE 2023 COMMUNICATOR AWARDS
Within the highly competitive field of marketing, it is a true honor to stand out and be recognized among the rest of your peers. This proves especially true when one is praised across all areas of communication, one of the key tenets of the healthcare marketing industry. That praise has turned to pride, as it's time to congratulate Elevate client partners Thea Pharma Inc. and Santen Pharmaceuticals for their campaigns seeing success at at the 2023 Communicator Awards.
iVIZIA®, from Thea Pharma Inc., was commended not once, but twice with distinction within the "Print Content—Medical & Pharma" and "Features—Use of Emerging Technology" categories! The day-to-day drive of the iVIZIA client team helped bring the campaign to light, with bold colors backing key information with a "splash" of creativity. "Covering the spectrum of dry eye relief" has stood out in a competitive eye drop market, largely due to the passion of the Thea team and the collaborative environment that's resulted in great success for the product.
The "ex" at the end isn't short for excellence, but TobraDex® ST and its campaign "Stop Flares Fast" has been given the Award of Excellence in the "General—Medical & Pharma" category. The highest honor at the Communicator Awards, it is given to companies whose communication is the best in the field. Being client partners with the Santen team behind the TobraDex ST campaign, this is absolutely the case. Strategy and determination have allowed for a striking campaign that demands attention.
Frank X. Powers, Elevate cofounder and managing partner, said, "Communication is the heart of our industry. To be recognized as the best of the best within this field is a true testament to the effort and collaboration we strive for in every creative opportunity."
Being acknowledged at the Communicator Awards is more than a title. It shows that these campaigns and their effectiveness and innovation have been noticed across all areas of communication. It proves that the work has moved people and made a lasting impact in the field. Congratulations again to the iVIZIA and TobraDex ST client and agency teams for these amazing achievements!
View all the rest of the 2023 award winners at the official 2023 Communicator Awards website.
About The Communicator Awards
The Communicator Awards is dedicated to recognizing excellence, effectiveness, and innovation across all areas of communication. It is the leading international awards program honoring talent in a highly competitive field. Founded nearly three decades ago, The Communicator Awards receives almost 5,000 entries from companies, agencies, studios, and boutique shops of all sizes, making it, globally, one of the largest award shows of its kind.