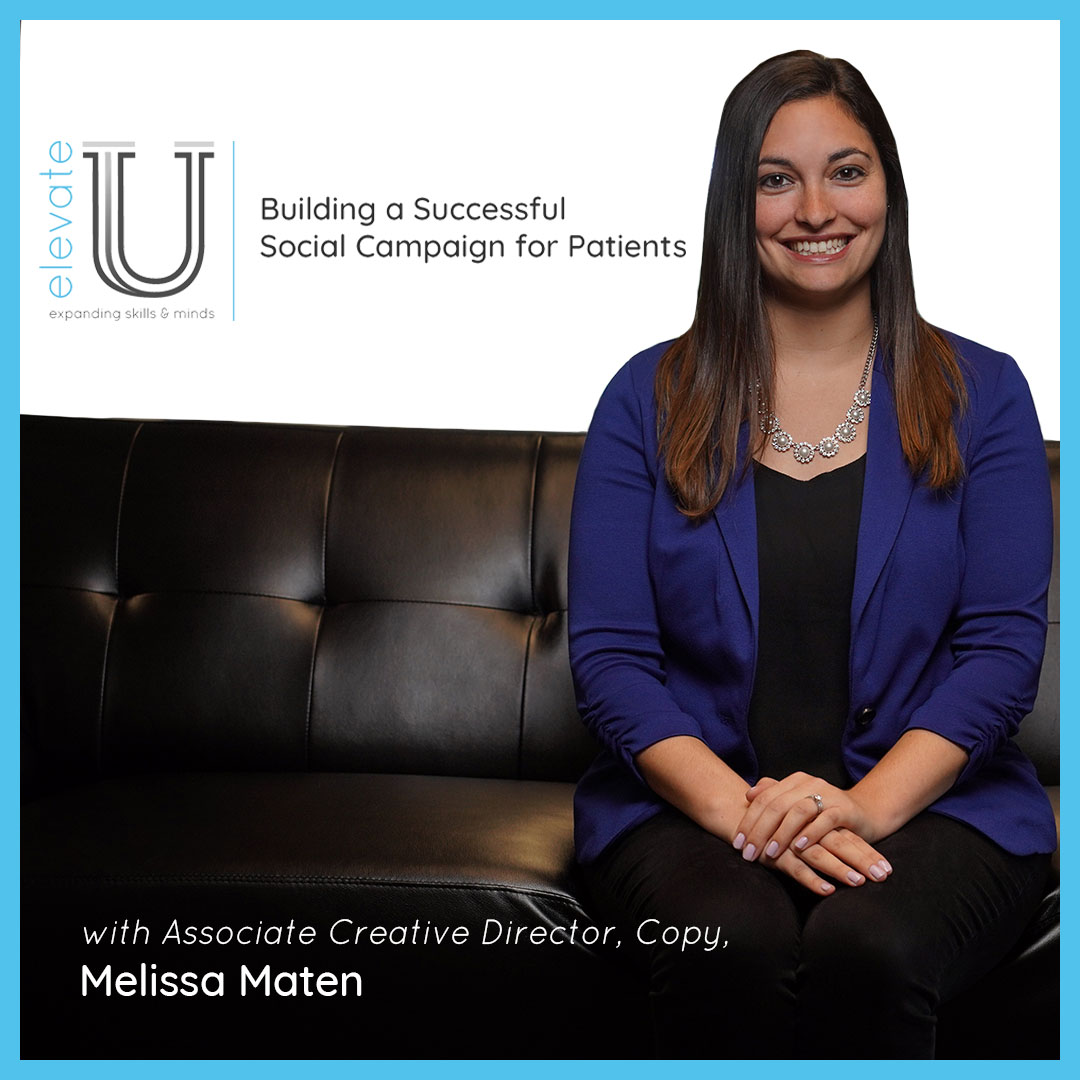 BUILDING A SUCCESSFUL SOCIAL CAMPAIGN FOR PATIENTS
A HOW-TO ON CREATING GENUINE CONNECTIONS THROUGH SOCIAL MEDIA
The latest installment of Elevate University, our internal employee growth and education initiative, focused on using social media to drive pharmaceutical brand engagement with patients. Despite being one of the primary sources used by patients to seek health information, many brands struggle to forge meaningful interactions with their target audiences, and in some cases, inadvertently create PR nightmares.1
Melissa Maten, ACD, Copy, helped the team understand the power of social media, as well as the prerequisites for building an effective social media campaign. These include (but are not limited to) taking the time to research the audience, understanding relevant hashtags and influencers, developing targeted personas and objectives, marrying strategy and execution, and remembering that the main priority should always be engagement rather than making a sell.2-4
Melissa said, "Your message can have a lasting effect, which means every word matters. If you haven't done due diligence to understand the platform you're using and how the community engages with it, your audience won't be afraid to call you out if you say something that doesn't fit with the ongoing narrative."
Beyond the specific considerations one needs to account for when building a social campaign, Melissa also went through the importance of involving all stakeholders and partners in the process. In the case of a pharmaceutical brand, this could include people from the medical, legal, and regulatory teams, as well as media companies and data specialists.
Ultimately, the value of social media cannot be overstated. By using the proper channels and engaging communities with an informed and purpose-driven mindset, social media can be the difference-maker for many brands. Now that the Elevate team understands what it takes to create effective social campaigns, we can tell deeper, more relevant stories for our clients, no matter who their audience might be.
References: 1. Newberry C. How to use a social media in healthcare: a guide for health professionals. Accessed February 5, 2021. https://blog.hootsuite.com/social-media-health-care/. 2. Honigman B. Social media marketing foundations. LinkedIn Learning. 3. Khoros Staff. 10 social media best practices for 2021. Accessed February 5, 2021. https://khoros.com/blog/10-social-media-marketing-best-practices. 4. Gil C. Social media marketing tips. LinkedIn Learning.