ELEVATE HEALTHCARE FINDS THE SPOTLIGHT IN MED AD NEWS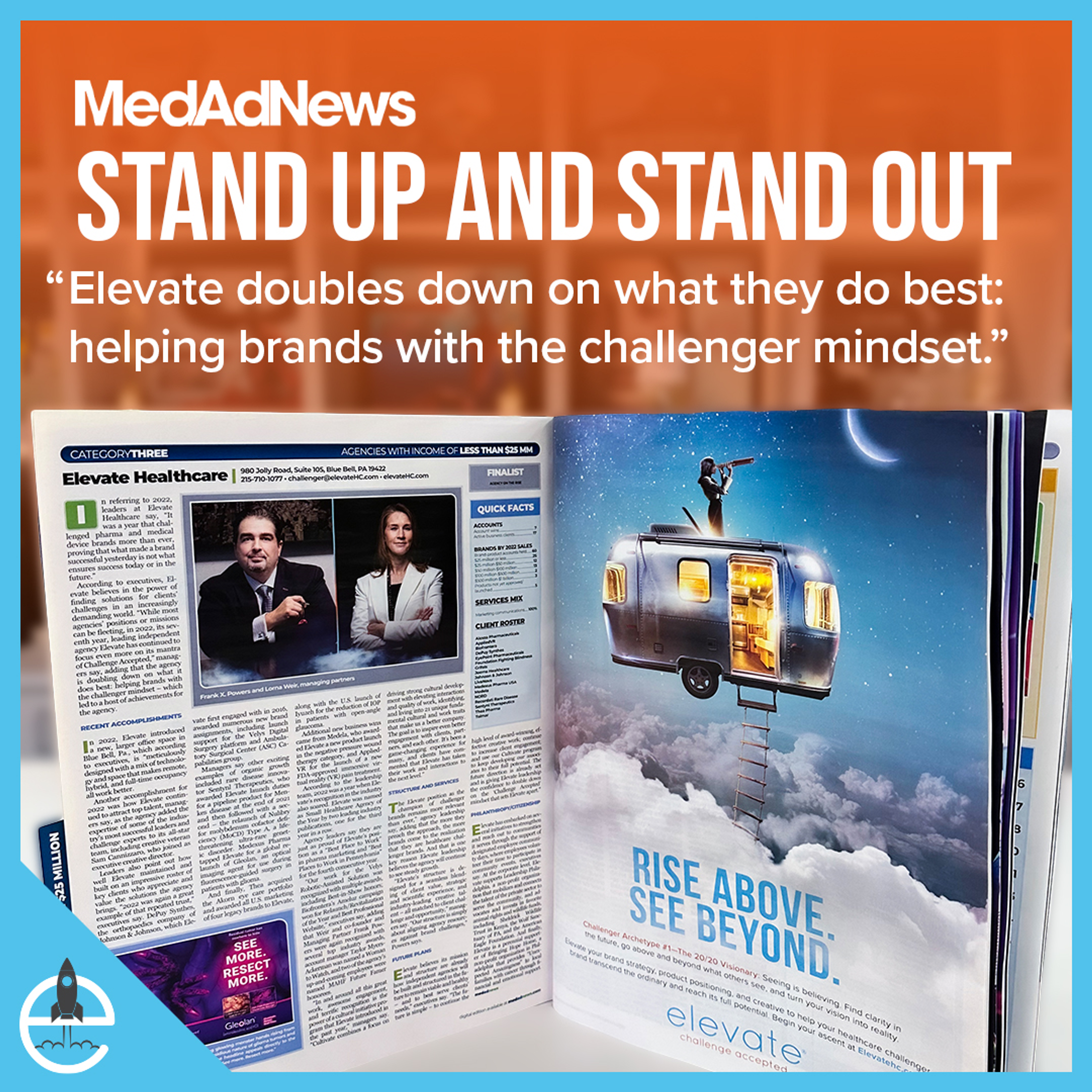 ELEVATE HEALTHCARE FINDS THE SPOTLIGHT IN MED AD NEWS
ANNUAL AGENCY ISSUE RECAPS ACCOMPLISHMENTS AND MORE
Now accepting all challenges. Elevate has always been the champion for challenger brands, resulting in award wins and client successes. The entire team shows grit and dedication on every new endeavor, and it's that effort that was highlighted in the 2023 Med Ad News Agency Issue. The healthcare marketing landscape has evolved in the last few years, and Elevate has needed the speed and resourcefulness to do the same. The mission is to stay connected while keeping brands one step ahead of the competition.
Elevate cofounder Lorna Weir said, "What an incredible year for the agency. Full of exciting change, including a change in scenery with our new headquarters, and even more exciting work. We're really raising the bar for our clients and how their brands communicate. Success is a team effort, both internally and externally."
Different teams and disciplines work together at Elevate for the same goal, creating campaigns with a positive impact. Positive for the audience, the sales force, and anyone in between. The best work happens when everyone aims high, takes risks, and thinks big. When it comes to challenges, they're handled the Elevate way: delivering compelling strategic and creative ideas that disrupt status quo, compel action, inspire beliefs, and change mindsets.
This recognition by Med Ad News is appreciated by the entire company and the colleagues who give their all, all the time.
Read more on the Med Ad News website.
About Med Ad News
The pharmaceutical industry's publication of record since 1982, Med Ad News provides broad coverage and incisive analysis of the issues, events, trends, and strategies shaping pharmaceutical business, marketing, and sales. More than 30,000 readers — comprising corporate executives, marketing, sales, and product managers — receive Med Ad News, which is a publication of Outcomes LLC. To view the publication, visit medadnews.com.