Elevate Healthcare Wins Multiple Pharma Choice Awards
PM360 named Elevate as a Pharma Choice Winner for Best Sales Aid, Print Campaign, and Self-Promotion 
PM360, a leading trade magazine for marketing decision makers in the pharmaceutical, biotech, and medical device industries, has named Elevate Healthcare a 2017 Pharma Choice winner. Elevate Healthcare was honored with the Gold award for Best Sales Aid for ADASUVE (loxapine) inhalation powder and two Bronze awards—one for Best Print Campaign for the MAXFRAME Multi-Axial Correction System and one for Best Agency Self-Promotion.
Chief Creative Officer, Barry Schmader, explained the process behind the development of the ADASUVE creative that won Gold for Best Sales Aid: "We asked patients with schizophrenia and bipolar I disorder to describe and draw their escalating agitation episodes. The idea behind the campaign was to highlight and translate their emotions into insights for HCPs on this misunderstood condition. The results were remarkable portraits that inspired this professional HCP campaign for ADASUVE (loxapine) inhalation powder featuring One Breath Technology."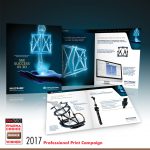 The campaign for DePuy Synthes Trauma's MAXFRAME received a Bronze award for Best Print Campaign. Depuy Synthes is a leader in trauma, and the MAXFRAME Multi-Axial Correction System is a revolutionary fixation system with 3-D software. This new system allows surgeons to visualize their treatment plan and see projected results of a multiple-month course of treatment to correct bone deformity—providing the power to literally see success in 3 dimensions.
Additionally, the agency was received a Bronze award for the "Welcome to the Jungle" Self-Promotion campaign. Agency co-founder, Frank X. Powers shared, "It is time that someone stepped up to help the challenger brands of the healthcare world to survive and reach their full potential in the jungle of bigger, better-funded competitors. We help them steal a lion's share without getting mauled, outwit 800 lb. gorillas, and get big lethargic markets moving."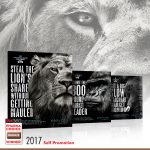 Since 2009, the PM360 Pharma Choice awards have served as the only industry awards to recognize outstanding achievement and creativity in healthcare marketing by allowing the industry as a whole to choose the winners. All submissions are placed online where anyone in the industry can vote for their favorites based on content, format, imagination, influence on the industry, and overall quality. More than 7,000 votes were cast to decide this year's winners.
"These awards continue to provide a unique way for the industry to recognize the most creative ideas in life sciences marketing from the past year," says Anna Stashower, CEO and Publisher of PM360. "All of the winners should take extra pride for receiving a Pharma Choice Award—they know it means their work was respected by their peers throughout the industry."
In total, 39 winners were named in 13 distinct categories: App, Consumer Website, DTC/DTP, Multichannel, Philanthropic, Professional Print Campaign, Professional Website, Sales Aid, Self-promotion, Social Media, Unbranded, Variety, and Video. A Gold, Silver, or Bronze award is given to the top three vote-getters in each category.
The winning work is featured in the January 2018 issue of PM360. And can be viewed online at www.pm360online.com/2017-pm360-pharma-choice-award-winners.
About PM360
PM360 is the premier, must-read magazine for marketing decision makers in the pharmaceutical, biotech, and medical device industries. Published monthly, PM360 is the only journal that focuses on delivering the full spectrum of practical information necessary for product managers and pharmaceutical marketing professionals to succeed in the complex and highly regulated healthcare environment.
The journal's targeted and insightful editorial focuses on issues that directly impact critical decision making, including: Planning and implementation of cutting edge strategies, trends, the latest technological advances, branding/marketing, advertising/promotion, patient/professional education, sales, market research, PR, and leadership. Additionally, the "360" in the title signifies the span of this critical, how-to info with personal and career insights for an enjoyable and thought-provoking read.
By providing the full circle of enriching content, PM360 is truly an indispensable tool for busy and productive marketing professionals to stay at the top of their game.
About Elevate Healthcare
Elevate is the only agency specializing in helping guide healthcare challenger brands—biopharma and medical device brands that need to overcome more powerful competitors, market limitations, and internal obstacles to achieve their full potential. Based in suburban Philadelphia, Elevate was founded in 2016 by two successful former healthcare agency presidents, Lorna Weir and Frank Powers, as a new kind of agency, purpose-built to serve clients in the current challenging and dynamic healthcare marketing landscape.