GLEOLAN FEATURED IN PM360 2023 GREATEST CREATORS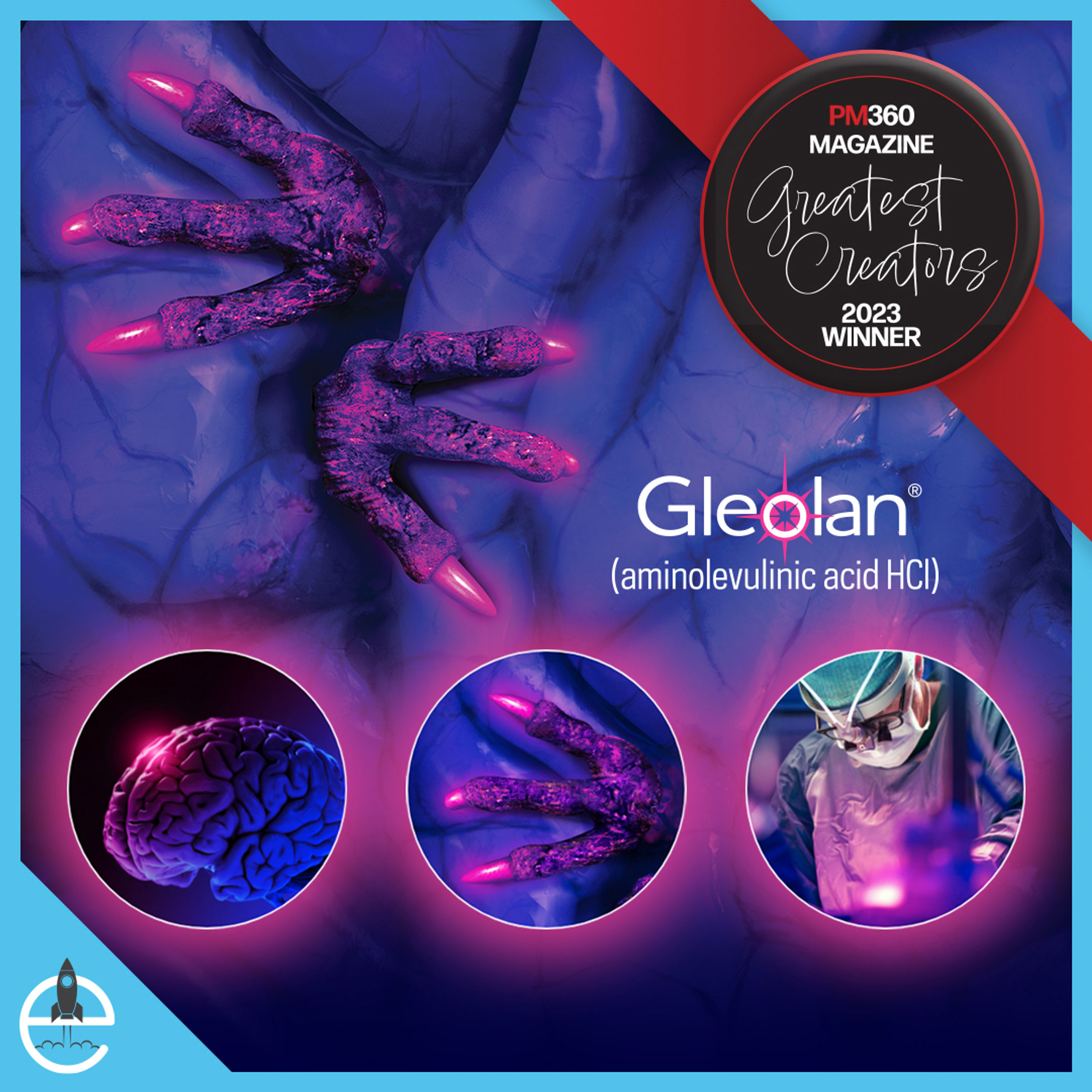 GLEOLAN FEATURED IN PM360 2023 GREATEST CREATORS
"SEE MORE. RESECT MORE." CAMPAIGN FROM MEDEXUS PHARMA SHINES IN ANNUAL ISSUE
What makes Gleolan® (aminolevulinic acid HCl) such a unique product is how it illuminates high-grade gliomas that have infiltrated healthy brain tissue and allows surgeons to see more of the gliomas, and then resect more. That's why it was such an honor for the "See More. Resect More." campaign to be featured in the 2023 Greatest Creators issue of PM360.
Sam Cannizzaro, EVP, Executive Creative Director, said, "Lighting up the monster hiding within the margins shows the real impact Gleolan makes in the operating room. We all know the evils of cancer, and the campaign needed to deliver on this incredible product that illuminates the tumors, so there is nowhere for them to 'hide.'"
This campaign spotlights the sinister nature of gliomas and helps Gleolan stand out in healthcare. Thank you to our client partners at Medexus Pharma, Inc. for recognizing the need to elevate their brand's creative to deliver for the audience and disrupt the market.
In addition to the work for Gleolan, Elevate had another appearance in the issue, as Rachele Holt, Corporate Operations, Coordinator, had her original artwork featured in the magazine as a cover art runner-up. Rachele's submission was a print that blended monotype and xerox lithography, entitled "Incorporeal II."
The Elevate team is honored by PM360 and promises to keep delivering impactful creative for all our client's brands!
For more on the 2023 Greatest Creators, visit PM360.com.
About PM360
PM360 is the premier, must-read magazine for marketing decision makers in the pharmaceutical, biotech, diagnostics, and medical device industries. Published monthly, PM360 is the only journal that focuses on delivering the full spectrum of practical information necessary for product managers and pharmaceutical marketing professionals to succeed in the complex and highly regulated healthcare environment. By providing the full circle of enriching content, PM360 is truly an indispensable tool for busy and productive marketing professionals to stay at the top of their game.