HONORING THE ELEVATE CLIENT PARTNERS THAT JOINED THE 2023 ELITE SUITE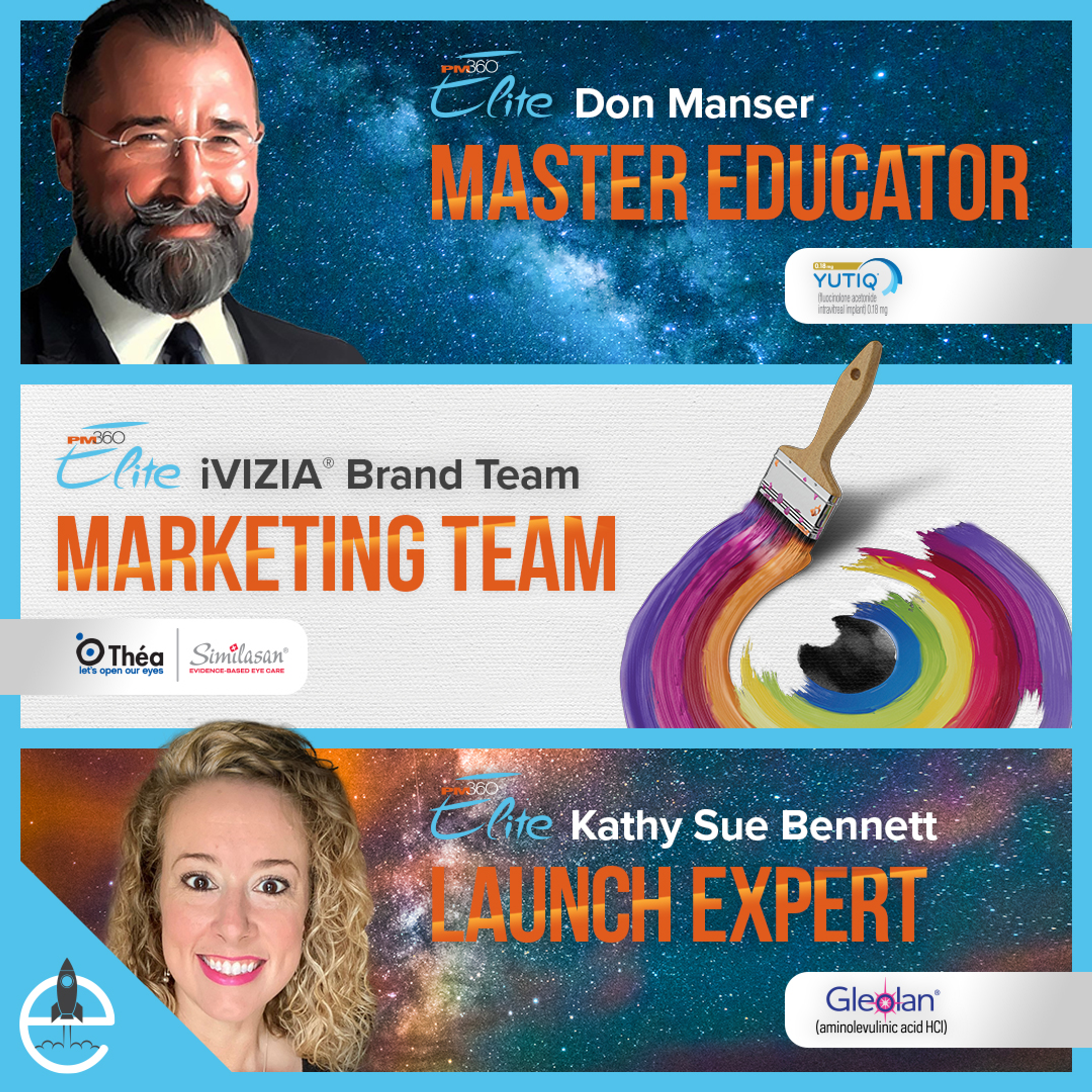 HONORING THE ELEVATE CLIENT PARTNERS THAT JOINED THE 2023 ELITE SUITE
THE PM360 ELITE 100 GAINS DEDICATED LEADERS IN HEALTHCARE MARKETING
The drive for creativity and innovation with brands isn't just how agencies stand out, and it's how clients do too. To be among the best in the industry is to be at the forefront of communication, delivering powerful campaigns that change a mindset and educate an audience. Such client partners, Don Manser, Senior Director, Marketing, for EyePoint Pharmaceuticals, Kathy Sue Bennett, Product Manager for Medexus Pharma, and the iVIZIA Brand Team of Thea Pharma Inc. and Similasan Corp. were recently named to the 2023 PM360 Elite 100!
Don regularly displays his leadership skills, decisiveness, and vision. Don takes feedback from the field and his audience and develops new initiatives to respond to them. A master of listening, reacting, and adapting, Don works with his agency partners to provide educational resources every chance he can for patients and healthcare professionals. He treats every opportunity as another touchpoint for learning, so Don being named an Elite 100 Master Educator is very fitting.
Kathy Sue was honored as an Elite 100 Launch Expert, which is impossible to disagree with. Kathy truly embraced eye-catching creative while developing the "See More. Resect More." campaign, focusing on impactful creative that highlights the product while connecting with the audience. Her efforts allowed the work to reach new heights of engagement and interest.
The iVIZIA Brand Team of Thea Pharma Inc. and Similasan Corp. were named the ELITE 2023 Marketing Team. When launching the IVIZIA lubricant drops for dry eye, the team partnered with eye care professionals (ECPs) to position iVIZIA as clinically proven, backed by scientific data. An Early Experience Program helped grow awareness and educate ECPs on the benefits of iVIZIA. Thea and Similasan focused on getting the product into people's hands, ensuring easy access, and the results speak loudly.
Lorna Weir, Elevate's cofounder and managing partner, said, "Our client partners never cease to amaze us, and now, they are making waves throughout the entire industry. This kind of partnership can be often overlooked, so it's especially exciting to see some of the best in healthcare get this recognition."
Being recognized as a PM360 Elite 100 is a challenging feat. Those who are chosen are the risk-takers and transformers, innovators and entrepreneurs, change agents and progress-makers found in healthcare marketing. Congratulations again to Don Manser, Kathy Sue Bennett, and the iVIZIA Brand Team!
You can view all the rest of the 2023 award winners here in the official PM360 Pharma Choice Awards issue.
About PM360
PM360 is the premier, must-read magazine for marketing decision-makers in the pharmaceutical, biotech, diagnostics, and medical device industries. Published monthly, PM360 is the only journal that focuses on delivering the full spectrum of practical information necessary for product managers and pharmaceutical marketing professionals to succeed in the complex and highly regulated healthcare environment. By providing the full circle of enriching content, PM360 is truly an indispensable tool for busy and productive marketing professionals to stay at the top of their game.