Welcome to the Jungle: A Year In Review
Elevate's 2018 Med Ad News Agency Profile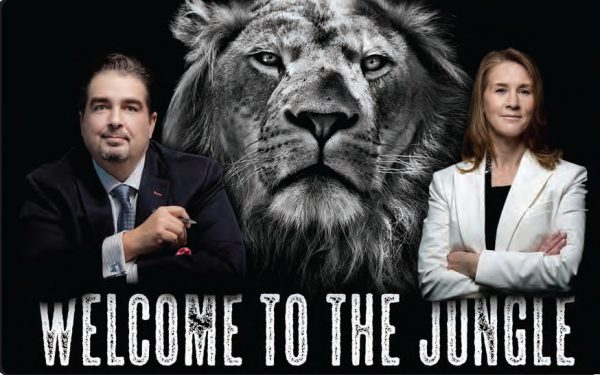 As Elevate Healthcare completes its second year, the agency's growth is elevating right along. Agency leaders say the mission, model, and makeup of Elevate has resulted in people paying attention—and clients queuing up for fresh strategic thinking and award-winning creative brand ideas.
According to its executives, double-digit growth in 2017 came with very few challenges for this fresh agency with veteran players—not surprising for a company built to help clients take on their most significant obstacles in brand marketing. Helping biotech and medical device brands to transcend their marketplace (and even internal) challenges is such a part of Elevate's DNA, the agency is crystal-clear on how its describes what it does best—championing healthcare challenger brands, agency executives say.
Elevate's founders, Frank X. Powers and Lorna Weir, are no strangers to growing agencies while still being able to keep up the high standards of excellence servicing their roster of key accounts. They attribute Elevate's banner year to two main factors: a deeper understanding of the challenges marketers face in this landscape and a higher level of expertise in overcoming those challenges.
"It's important to understand the landscape of our business," Weir says. "We are in an evolving and challenging marketplace in which so many marketers of healthcare brands need a different way to interact with their agency to better and sometimes more efficiently serve the multiple constituents of their businesses, from their HCP customers to patients to their own internal sales teams. We built Elevate specifically to serve these needs and to help overcome these challenges. Our second year has been full of instances where clients have found us and are reaching out for the help they need and can't seem to get in many places."
2017 was a year of significant milestones for the Elevate team as it scaled the business to the next level of growth. Building several key new business relationships, launching new campaigns for core clients, and continuing to add key senior staff, comprising some of the professional agency world's best senior talent, were all important parts of the 2017 success, executives say.
Elevate has a unique position in helping healthcare, biotech, and device challenger brands overcome obstacles to reaching their full potential, agency executives say.
"In terms of structuring relationships and servicing these clients, it really is about providing whatever the marketers of nontraditional and innovative drugs and devices need," Powers says. "Elevate structures its flexible relationships on an AOR, project, or a hybrid model, depending on client need, lifecycle phase, and situation."
Read the entire Elevate Healthcare profile in the April 2018 edition of Med Ad News.
About Elevate Healthcare
Elevate is the only agency specializing in helping guide healthcare challenger brands—biopharma and medical device brands that need to overcome more powerful competitors, market limitations, and internal obstacles to achieve their full potential. Based in suburban Philadelphia, Elevate was founded in 2016 by two successful former healthcare agency presidents, Lorna Weir and Frank Powers, as a new kind of agency, purpose-built to serve clients in the current challenging and dynamic healthcare marketing landscape.