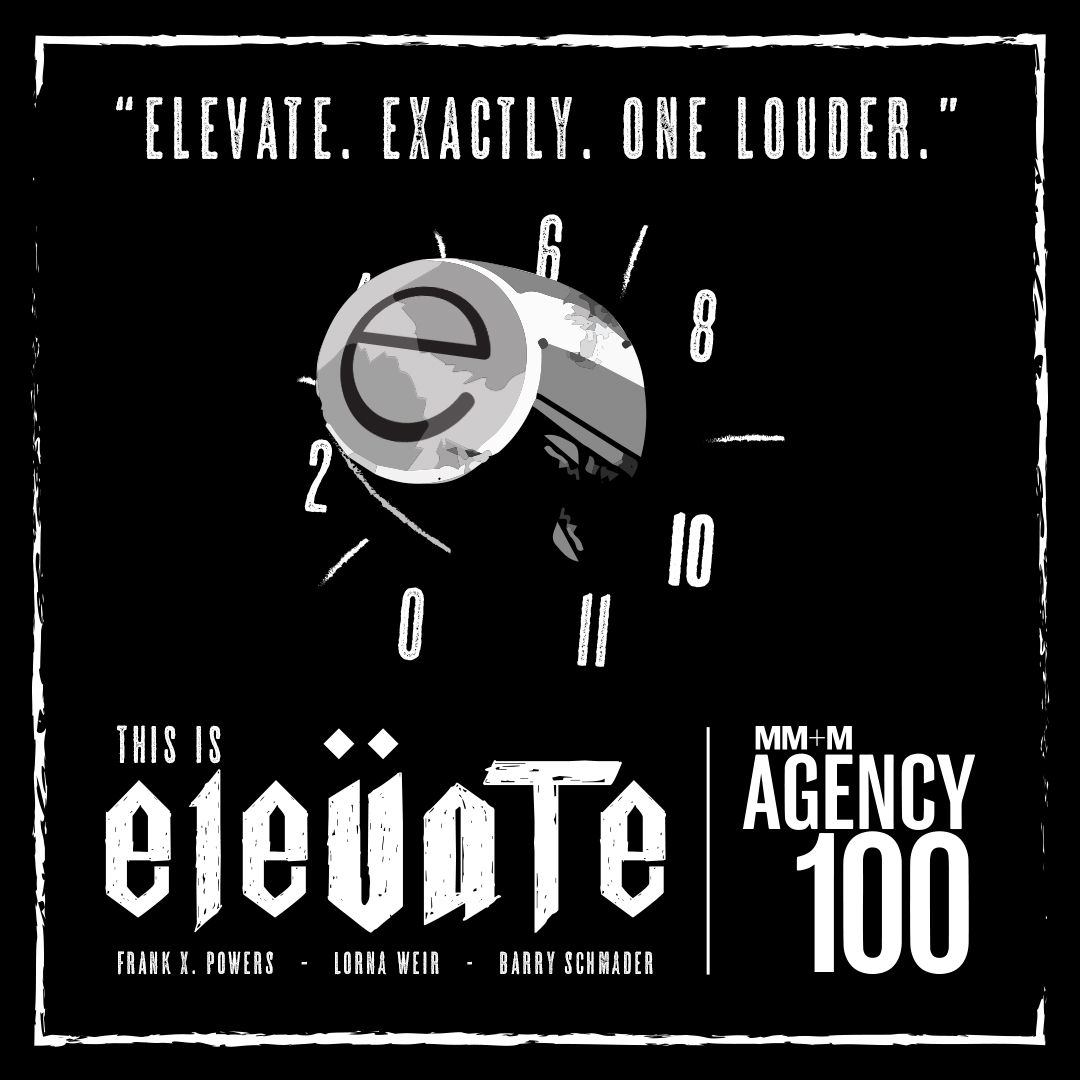 6 IN A ROW FOR ELEVATE IN THE MM+M TOP 100
AGENCY HAD 12% JUMP IN REVENUE YEAR-OVER-YEAR
This month, MM+M featured the annual Agency 100 noting the top agencies in medical marketing and communications. The Agency 100 is considered the premier showcase of the healthcare marketing industry. Elevate has been operating for 6 years and this marks the 6th year in a row of appearing in the Top 100.
While 2020 was a year that tested all of us, Elevate Healthcare saw high marks this past year. Elevate saw revenue increase by almost 12% in 2020 and added nine more full-time employees and six new accounts. Elevate's strategic and creative skills are getting noticed across the healthcare industry, delivering fast and innovative solutions. For Elevate, as the challenger brand champions, overcoming obstacles is what we do.
Agency co-founder Frank X. Powers said, "There is more of a need now for brands that are not the market leader to make noise in order to be noticed. In a year that's been disruptive, it's more important than ever for brands to be disruptive."
In 2020, Elevate was able to adjust, adapt, and advance as a team and create impactful work. Our company has the kind of talent that can overcome the pressure-test of an unprecedented crisis and continue to help brands climb to the top or fight off the oncoming competition.
Employees at Elevate are fueled by their shared hunger for greatness and collaboration.
Agency co-founder Lorna Weir said, "We are, by our nature and because of our experiences, people who are comfortable with fluidity and dynamic situations. We pressure-tested our culture, our organizational structure and our model, and it has served us well."
From the agency founders to the newest addition, everyone at Elevate is focused on lifting each other up and achieving new heights. The same goes with our clients, who want their brands to stand out in a competitive market. By working together, the sky is the limit.
Weir continued, "We do our best work with clients who are ready to do things differently and look at the world differently."
We are honored to be included in this year's Agency 100. Elevate is determined to set new standards with every new project, and when the industry acknowledges it, we're inspired to aim even higher.
Read the full Agency 100 article here.
About MM+M
MM+M is the media brand of record for pharmaceutical marketing and commercialization, delivering the most balanced and relevant coverage of its subject matter. The 50-year-old business title produces an essential mix of online breaking news and analysis combined with monthly print features – timely, objective, original editorial content for an executive audience of leaders and thinkers who work in pharma, medical device, diagnostics and greater healthcare marketing. MM+M also develops annual conferences and live and virtual events, and it runs the industry's premier awards program, the MM+M Awards, which celebrates creativity and effectiveness in healthcare marketing.