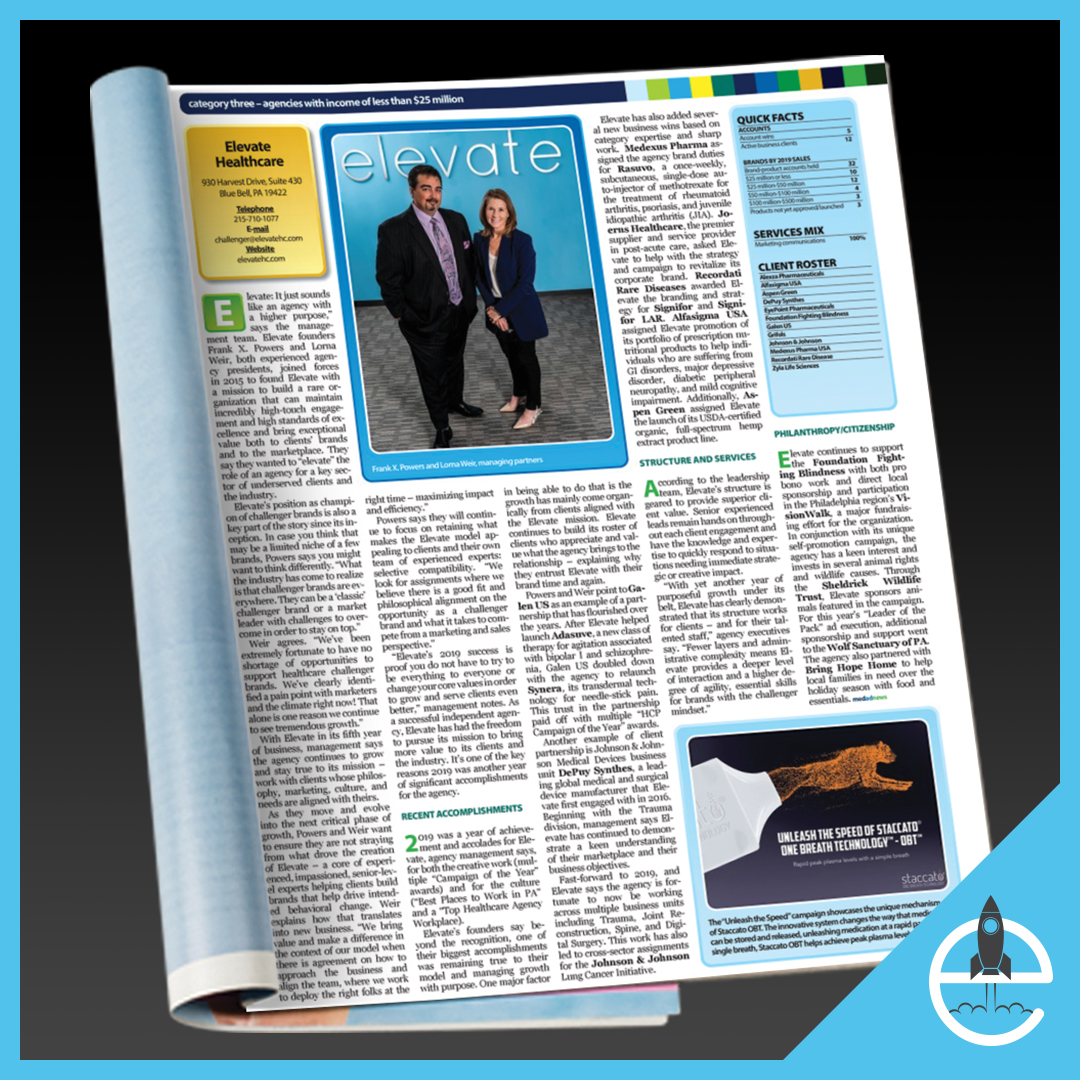 Elevate featured in Med Ad News Agency Edition
Agency showcased in the premier annual issue
Even after 5 years, helping challenger brands is still the core of the agency With no shortage of opportunities, it is evident that Elevate identified a flaw in the traditional agency system. The structure of Elevate was designed to deliver superior value by having experienced and passionate senior-level staff on all projects-bringing expertise to our clients without the extra layers. Our team has an understanding of the brand, landscape, and business objectives, helping to elevate challenger brands in the market. We partner with our clients to go bold, push boundaries, and develop a strategy that disrupts the current marketplace.
Cofounder Lorna Weir said, "We bring value and make a difference in the context of our model when there is agreement on how to approach the business and align the team, where we work to deploy the right folks at the right time-maximizing impact and efficiency."
One of the things that have led to Elevate's success is that we don't try to be everything to everyone. We are confident in who we are, what we stand for, and what we are able to deliver, which has allowed us to stay true to our core values and continue to grow and excel.
2019 was one of the best years for Elevate to date. Along with multiple Campaign of the Year awards, Elevate was named the 5th best place to work in PA and one of the top healthcare agencies to work at in the country.
Part of Elevate's success has also been organic growth. This growth is especially important because it means that our work and partnerships are speaking for themselves. Not only are our clients happy with their results, but they are also bringing us in to help with other challenger brands in their pipeline. To see multiple brands under one client is rewarding and validates our mission as an agency. It means that in 5 years the idea of what an agency could be doing has transformed into what an agency should be doing.
As we grow and evolve, Elevate will continue to deliver strategy and creative that reflect the high standards and engagement that we promise to our clients. Our team will keep finding innovative ways to drive behavioral change and maximize impact in the market. Elevate isn't like other agencies, and that's exactly how we want it. Read the full profile on the Agency List digital edition.
About Med Ad News
The pharmaceutical industry's publication of record for more than 30 years, Med Ad News provides broad coverage and incisive analysis of the issues, events, trends, and strategies shaping pharmaceutical business, marketing, and sales. More than 16,500 readers-composed of corporate executives, marketing, sales, and product managers-rely on Med Ad News and its staff for unparalleled content.