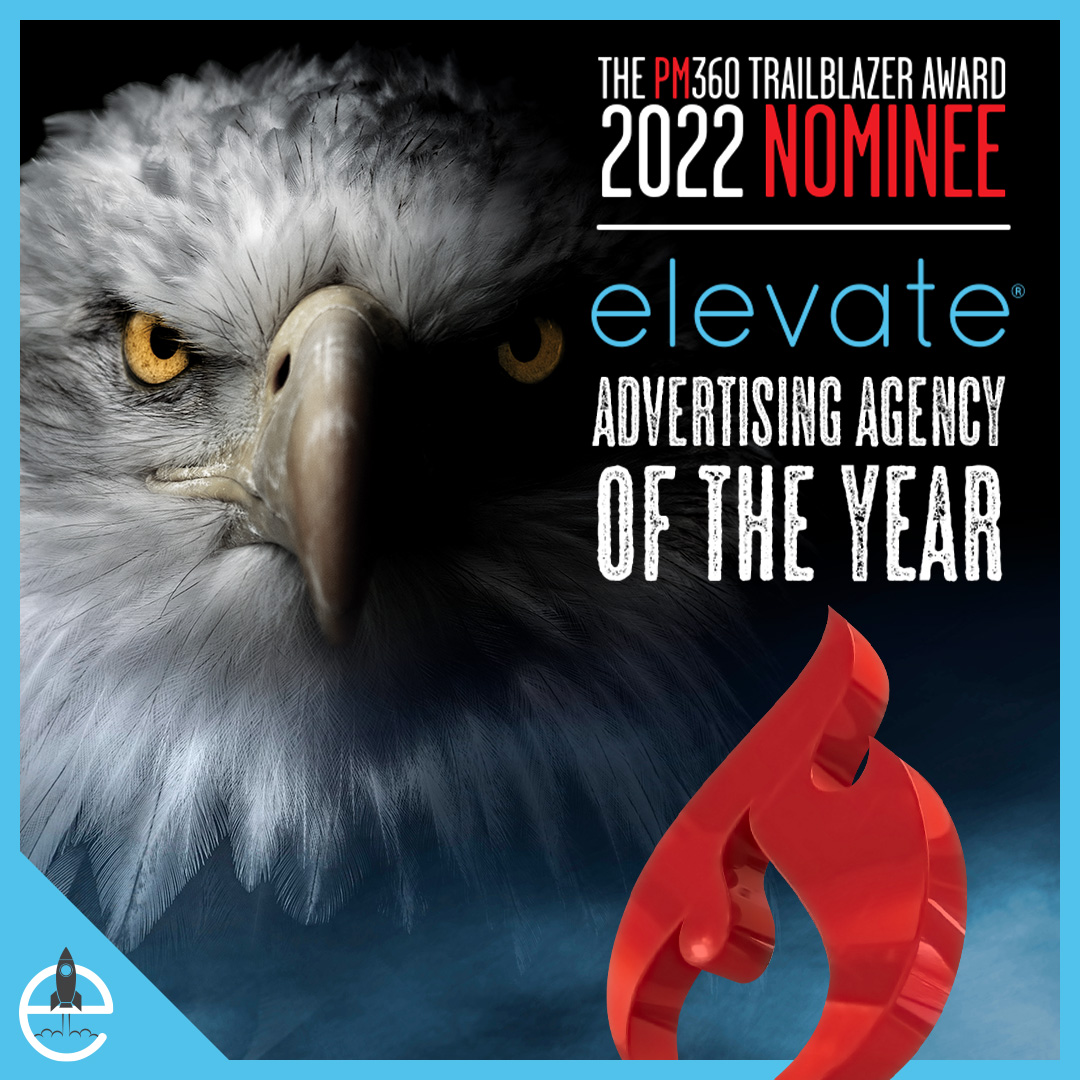 ELEVATE RISES TO THE TOP ONCE AGAIN
Named finalist for Agency of the Year in the upcoming 2022 PM360 Trailblazer Awar
It's always an honor to be recognized as a leader in your industry, and when the recognition comes in the form of being named finalist for the Advertising Agency "Company of the Year" Award at the 2022 PM360 Trailblazer Awards, it's especially significant. This prestigious award, given by one of the healthcare marketing industry's leading publications, recognizes substantial achievements each year. Those nominated for this "Company of the Year" honor have been evaluated on not just their outstanding work, but on key overall success measures like their level of innovation, employee development, and social responsibility. Only one ad agency will be named as best at the PM360 Trailblazer Awards on Thursday, September 22, 2022, in New York.

Managing an agency today is more challenging than ever—succeeding is a real accomplishment. Since Elevate's expertise is in guiding biopharma and medical device challenger brands in overcoming more powerful competitors, market limitations, and internal obstacles to achieve their full potential, there's even more required than the usual expectations. Elevate clients require a combination of medical category expertise, leading talent, and the ability to act at an ever-accelerating pace to meet their challenges.
Frank X. Powers, Elevate cofounder and managing partner, said, "It's all about being in the best possible position to serve our challenger brands and our clients better, and so that means you must be willing to just keep getting smarter, deliver even more impact, be even more creative, and yes, respond even faster. But we built Elevate purposefully in response to those needs, so it's just more of what we do."
Elevate was able to ascend to greater heights of success again in 2021 by helping its challenger brand clients find a way to soar. In 2021, Elevate achieved 32% growth, surpassing a milestone of $10M in billings with just over 50 employees in only their 6th year—a remarkable achievement for an independent agency built from the ground up.
Managing growth, delivering breakthrough creative, and adding to the client roster can feel like major accomplishments in themselves. But Lorna Weir, Elevate cofounder and managing partner, mentioned something else that may have helped distinguish Elevate as a "Company of the Year" finalist.
Lorna said, "We remain true to our principles, what worked to get us here. But we add more top talent, double down on our model of senior leadership involvement, institute internal flexibility and programs—all of it to keep our client focus strong, our work powerful, and our people productive and fulfilled. We adapt if it helps clients grow, but never compromise on our original vision."
This honor is a tribute to of all our employees, who continue to create bold, strategic work for our clients, and to our clients, who inspire us to keep pushing higher. Together, we approach each day looking to elevate respect, collaboration, and passion. It's what makes Elevate the agency it is today, and we are thrilled to be recognized as one of the best companies in the healthcare marketing industry. Thank you to PM360 and to our client partners!
Click for a full list of finalists at PM360.