ELEVATE RISES TO THE TOP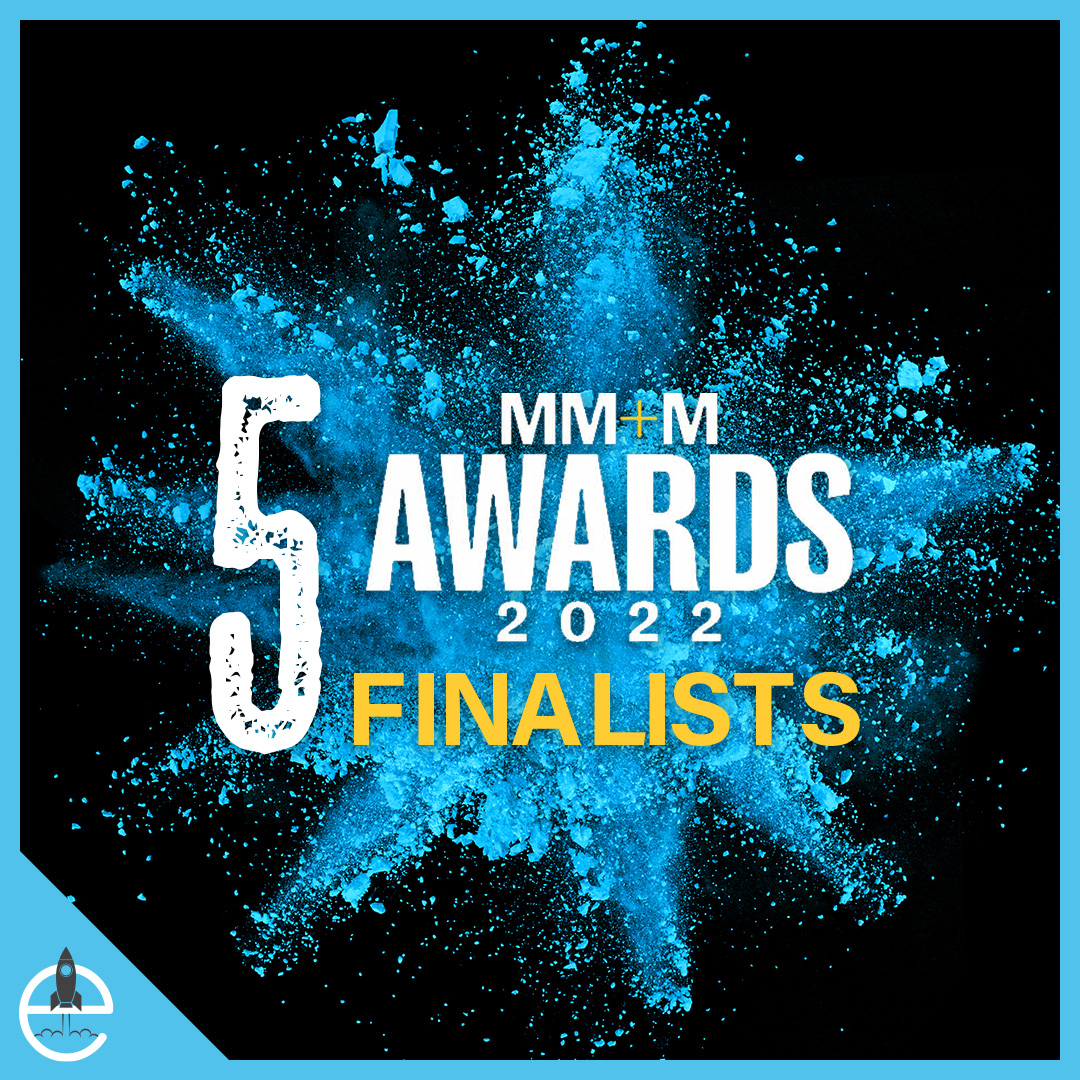 ELEVATE RISES TO THE TOP
MM+M FINALIST FOR 5 CATEGORIES
Elevate is honored to be named a finalist in 5 categories at the 2022 MM+M Awards, including a nomination for Small Agency of the Year, which Elevate has won for two consecutive years, and a nomination for cofounder Lorna Weir as Agency Entrepreneur of the Year. The MM+M Awards are one of the most prestigious award shows in healthcare marketing. They set out to recognize, champion, and celebrate effective creative in healthcare. Each year, the MM+M Awards showcases not only the best creative, but also initiatives that are taking healthcare marketing to the next level. Our finalists also include the Best Professional Sales Tool for Recordati Rare Diseases, the Use of Access Marketing for DePuy Synthes, and Agency Rare Talent.
Elevate is known for guiding biopharma and medical device challenger brands in overcoming more powerful competitors, market limitations, and internal obstacles to achieve their full potential. The two brand finalists are great examples of a challenger story and how Elevate can help take them to the next level.
The professional sales tool for Recordati Rare Disease, Taming the Cushing's Disease Rollercoaster, sought to address the effects of the ups and downs of hypercortisolism on patients. For people with Cushing's disease, finally getting diagnosed and treated can feel like a rollercoaster ride, and it can take years for the diagnosis to be made. There is a powerful sense of relief when Cushing's disease is finally under control. The goal of the sales tool for Isturisa was for physicians to think immediately of prescribing Isturisa when surgery fails.
As a finalist for the use of access marketing, the VELYS Robotic-Assisted Solution from DePuy Synthes, the Orthopaedics Company of Johnson & Johnson, helps shed light on the current data between healthcare economics and total knee arthroplasty procedures. This piece highlights specific information on how the VELYS Robotic-Assisted Solution can potentially be a tool to help optimize outcomes.
In addition to creating strong brand work, Elevate sets out to be a different type of agency. And managing a successful agency today is more challenging than ever. It requires a combination of category expertise, talent, and the ability to act at a seemingly ever-accelerating, often blistering, pace. Not only is the pace of business quickening, but even the cadence of building out campaigns has changed.
Elevate is also a finalist for Rare Talent award. While Elevate works with a number of brands, we are honored to be recognized for our work on rare disease. We are proud to partner with clients on the promotion of rare disease products that can help make an impact on the 300,000 plus rare disease patients and families searching for treatment options.
As a driving force behind Elevate's success, Lorna Weir, cofounder of Elevate, is a finalist for Agency Entrepreneur of the Year. Her dedication, strategy, and vision make her one of the biggest champions for challenger brands. Each day, she helps brands navigate through the industry, finding ways for them stand out and thrive in the market.
And finally, as two-time Small Agency of the Year, and now nominated for a third straight year, Elevate is officially defined as a "small agency." But our clients define Elevate by its big performance as the champion of brands—by its ability to create challenger ideas that help disrupt the status quo, compel an action, inspire a belief, change a mindset, and beat a market challenge. And culturally, Elevate is about doing small right. Small as a business philosophy means doing all the right things for clients—the small details of day-to-day work, as much and just as well as the major initiatives. We recognize that sometimes agency life can be trying, and it is our job to ensure that our staff is content and have the time they need to recharge and be their best. We offer a suite of programs and a culture that allows for flexibility, transparency, and peace of mind. This year only magnified our efforts to keep our people healthy, mentally strong, and productive, a key part of being considered again this year for MM+M Small Agency of Year.
See a full list of the 2022 MM+M Awards finalists here.