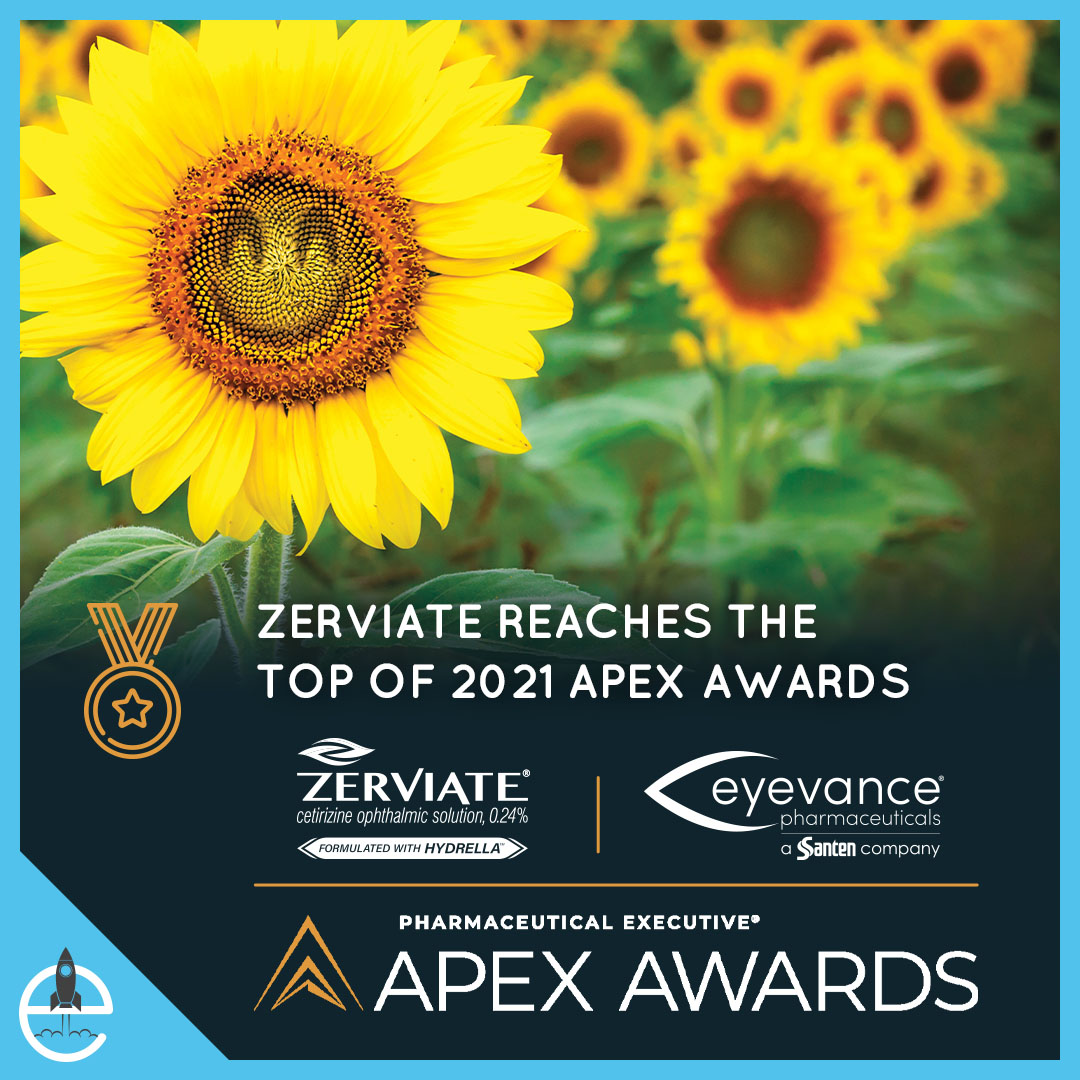 ZERVIATE CAMPAIGN WINS AT 2021 APEX AWARDS
ALL EYES ON EYEVANCE PHARMACEUTICALS FOR ITS BOLD WORK ON A GROUNDBREAKING OPHTHALMOLOGY BRAND CAMPAIGN
The Pharmaceutical Executive® APEX Awards is the only annual healthcare awards show where healthcare professionals—including doctors, nurses, and other specialists—choose the winners across 19 therapeutic categories. Elevate is proud to celebrate a win in the ophthalmology category for its work on the "INITIATE ZERVIATE® (cetirizine ophthalmic solution) 0.24%" campaign.
Working with our client partners at Eyevance Pharmaceuticals, the campaign focused on driving awareness around a major shift in the allergic conjunctivitis competitive landscape right before allergy season. Through messages of assurance and trust, the Eyevance team positioned ZERVIATE as a suitable choice for patients who require prescription treatment and cannot afford a gap in treatment efficacy. The campaign proved wildly successful from an ROI standpoint and has turned many heads in the process.
Rashmi Singh, Associated Director, Ocular Surface Franchise at Eyevance Pharmaceuticals, said, "The campaign is bright, bold, and confident in its tone and aligns perfectly with ZERVIATE!"
Elevate is exceptionally proud of the brand team responsible for bringing the "INITIATE ZERVIATE" campaign to fruition, which includes marketing and leadership at Eyevance Pharmaceuticals. Their dedication to being bold in a time of uncertainty is a testament to their talent and willingness to collaborate.
You can view all the 2021 winners here at the official APEX Award website.
About Pharmaceutical Executive
Pharmaceutical Executive is a premier resource for insights on the pharmaceutical industry. As a leader in pharmaceutical media, Pharmaceutical Executive publishes a monthly journal that profiles leaders and highlights critical news stories that affect the entire industry. Pharmaceutical Executive also produces relevant podcasts and videos and hosts the annual APEX Awards, which spotlights the top creative work from the perspective of healthcare professionals.